Main content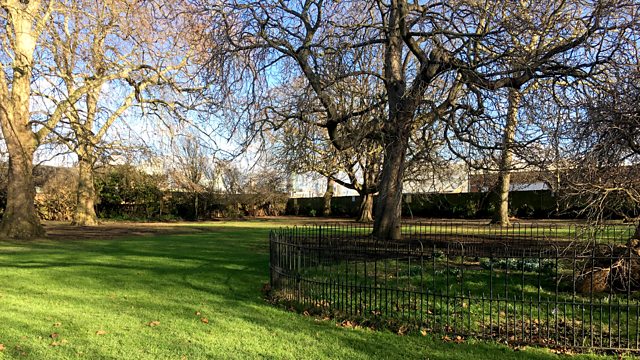 Hampshire WI
Horticultural panel programme. Peter Gibbs and his panel are hosted by the Hampshire WI at Sparsholt College.
Peter Gibbs and his panel are hosted by the Hampshire WI at Sparsholt College. Pippa Greenwood, Chris Beardshaw and Bunny Guinness are on hand to help this WI branch celebrate its 100th birthday..
This week the panellists face questions on replacing an old Bramley Apple, what to do with Ragwort, and when to pinch out sweet peas. They also offer advice on moving Mulberry trees, getting a Hibiscus to flower and combatting an invasive bamboo.
And Peter Gibbs visits Sayes Court where he meets Roo Angell to discuss the saving of John Evelyn's garden.
Produced by Dan Cocker
Assistant Producer: Laurence Bassett
A Somethin' Else production for BBC Radio 4.
Fact Sheet
Q – We lost our hundred-year-old Bramley Apple tree this year.  Should we replant and, if so, what will give us quick blossom and fruit?
Bunny – Don't plant in exactly the same place.  My favourite apple is 'Barnack Beauty'.  Let it fruit from the second year and in five years you'll have bumper crops.
Pippa – 'Discovery' is a delicious eater (not a great cooker). 
Chris – 'Keswick Codlin'.  It's self-fertile if it needs to be. 
Q – I've got an unidentified weed in my garden.  Should I be nurturing it or eradicating it… and how?
Pippa – It's Ragwort.  You should get rid of it and it is toxic to horses
Bunny – It's quite easy to eradicate but you do need to get all the roots out
Chris – Like a dandelion you need to get deep down to find all the roots.  Ragwort is actually a very good host for a beautiful caterpillar/moth called the Cinnabar.  Maybe leave it long enough to see them and then get rid of it.
Q – I planted sweet pea seeds in the autumn and they've grown well in my unheated greenhouse.  When should I pinch them out?  They're about 6-8 inches (15-20cm) tall at the moment.
Pippa – Get on with this asap.  Use your thumbnail.
Bunny – You can root the tops too
Chris – Once you've got two sets of full-sized leaves then you can pinch the top out
Q - We moved house a year ago and we've inherited two small Mulberry trees.  Should we be worried about the roots? They're about 10-15ft (3-4.5m) from the house.  We're on an acid soil.
Bunny – I'd find out the 'shrinkability' of the soil and what the house foundations are as that will have a bearing on what to do. Then think about shaping the top; when you prune the top the roots will reduce accordingly to keep in balance. 
Q – My Hibiscus does not flower, what can I do?
 Pippa – The plant could be too cold, possibly from cold winds.
Chris – Hibiscus like moist but free-draining soil and in full sun. If it is too shaded or moist, you could get some botrytis cinerea or mould growing on the buds.
Q – My daughter's garden is being invaded by neighbouring bamboo, what else can we do to get rid of it?
Chris – Invasive types of bamboo such as Phyllostachys and Sasas can mostly be prevented from invading if you go down about 3ft (0.9m) into the soil and put a root barrier in there. Check with the neighbours before you damage the entire plant, including the parts on the other side.
Bunny – You could offer to take care of it all and use a chemical such as glyphosate or translocated herbicide according to the manufacturer's instructions.
Q – I have a large acer in the garden which forms a very shady area and I would love to grow some hardy, evergreen bushes or ground coverings that offer vibrant colour all year round. Any suggestions?
Chris – There are plants that will tolerate a certain degree of shade such as Berberis, stranvaesias, the variegated skimmers. None of them are specifically designed to provide high colour in that shady environment. At the point when your acer is defoliated go for bulbs such as daffodils, snow drops, scillas, tulips and camassias.
Pippa – I would also try English bluebells or herbaceous geraniums. You could also try epimediums because they can be very colourful.
Q – I was given a Nandina domestica ('Sacred bamboo') 'Obsessed' for Christmas, what is the best way to plant it?
Bunny – It likes neutral to acid soil. I would prefer to keep it in the garden and add a good bark mulch and sulphur chips to help increase the acidity.