Main content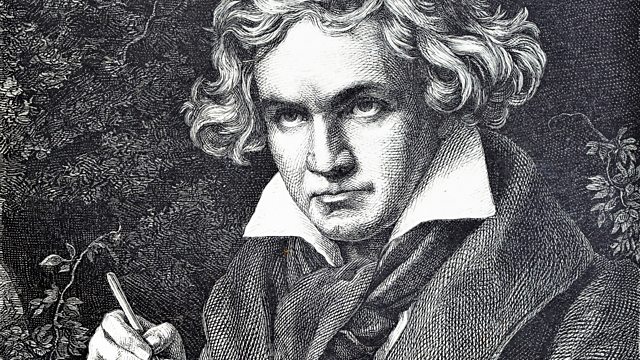 Beethoven the Devil
Donald Macleod delves into Beethoven's early years in Vienna and his public debut there.
Donald Macleod delves into Beethoven's early years in Vienna and his public debut there
Composer of the Week explores Beethoven the pianist and composer for the piano. He became renowned in his day both as a virtuoso performer at the keyboard, and for his ground-breaking works for the instrument. When first starting out on his musical career, he greatly admired Mozart for his piano works, particularly the concertos. Beethoven sought out the older composer for lessons, although these never took place. Similarly to Mozart's own career, Beethoven also made a name for himself initially not only as a composer, but as a pianist, and after Mozart's death was destined to take his place in Vienna as the leading composer there. From the outset, his works for the piano showed great skill and an independence of creative thought. In each programme this week, Donald Macleod explores one of Beethoven's five piano concertos, and the period in which it was written.
During Beethoven's early years in Vienna, although he was steadily making a name for himself, his finances were frequently in a precarious state. A work from this period, his Rondo a capriccio, has since earned itself the nickname Rage over a Lost Penny. It was a time when Beethoven was having lessons with Haydn, but the younger composer was already wowing the Viennese with his skills as a pianist. One musician who was pitted against Beethoven at a private party in a piano-playing duel, called him a Devil. By March 1795 Beethoven was making his public debut in Vienna, performing one of his own piano concertos. He was working on his C major concerto in the days leading up to this concert, so it is likely that this brand new work was the concerto he premiered in that concert.
Rondo a capriccio, Op 129 (Rage over a Lost Penny)
Evgeny Kissin, piano
Piano Sonata No 2 in A major, Op 2 (Scherzo & Rondo)
Angela Hewitt, piano
Piano Concerto No 1 in C major, Op 15
Alicia de Larrocha, piano
Berlin Radio Symphony Orchestra
Riccardo Chailly, conductor
Producer Luke Whitlock.