Main content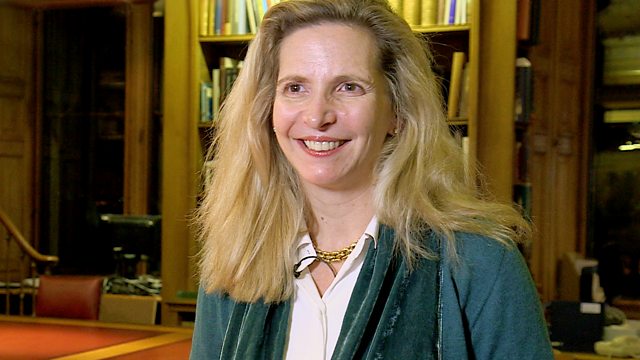 Stories from the Royal Collection
Amanda Foreman explores the stories, hidden - as it were - in plain sight amongst the documents, paintings and artefacts of the Royal Collection and Archives.
From the secret campaign waged by the Prince Regent (the future George IV) against the leading satirical artists of his time (Gillray, Cruickshank and Rowlandson) in order to protect his reputation, to the messages and memoranda penned by Prince Albert about the forthcoming Great Exhibition of 1851 - the Royal Collection and Archive reveal to historian Dr Amanda Foreman the captivating narratives hidden amongst the dry documents and ledgers. Such as the entry for £35 paid to a print-seller to halt his publication of a scurrilous engraving, or the blackmailed threats by another to crucify the Prince Regent in satirical verse unless he stumps up. It's only when all the documents are laid out - literally - on the beautiful map tables of the Print Room at Windsor Castle, that the full story begins to appear. Amanda, too, sees how Prince Albert was already planning the legacy of his Great Exhibition by drawing up plans for the development of what is today the great museum quarter of London, South Kensington. Art that was sold, then re-acquired, porcelain that was acquired, sold and bought up again... the ebb and flow of art and artefacts from the unique collections of our monarchs are brought vividly to life by the expert team of curators and archivists of the Royal Collection and historian Amanda Foreman.
Producer: Simon Elmes.
Last on
Andrew Graham-Dixon views drawings by da Vinci that have been lost for centuries.
Broadcast