Main content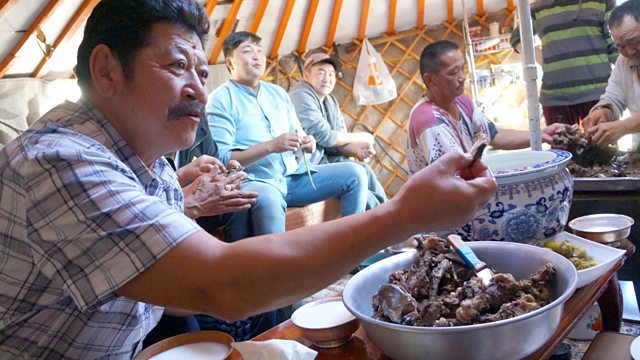 From the nomads of the vast steppe, to the glamour and adulation of the stage. Kate Molleson unravels the story of Mongolia's remarkable rise to being an opera superpower.
From the nomads of the vast steppe - to the glamour and adulation of the stage. Kate Molleson unravels the story of Mongolia's remarkable rise to being an opera superpower (2/2)
Mongolia is becoming a global leader in opera singing - and completely breaking the mould. Young nomadic herders and horsemen are being plucked from the vast plains and taken to Ulaanbaatar - where they're transformed into the next generation of top-flight tenors and baritones.
It's a fascinating synergy of young men with the perfect physique, often honed in a rugged, traditional outdoorsmen culture, and a superb Soviet-era music and arts education system that - just over half a century after its State Academic Theatre of Opera and Ballet first opened - is delivering the next generation of global singing superstars.
Radio 4 brings you a hypnotic audio portrait, taking you from the open plains, horse lullabies and throat singing of the endless Mongolian landscape to the cultural melee of Ulaanbataar - a place of stark contrasts where gleaming 21st century skyscrapers rise, yet where around half the population live in traditional gers (tents). A nation numbering just 3 million people, yet the size of Western Europe, and sandwiched between the gigantic superpowers of Russia and China - how much can Mongolia harness its cultural might to have a voice in global geopolitics?
In the concluding episode, Kate explores the political value of Mongolia's musical prowess. In the Soviet era, the communist government used the people's love of traditional song to advance opera, and with it a certain idea of "civilisation"; in 2017, the current government see Mongolia's operatic might as a way of punching above its weight in global geopolitics. The buzzword on everyone's lips is "soft power" - a way for Mongolia to be part of a global conversation with nations - like its neighbours Russia and China - they could never compete with militarily or economically.
But what does this mean for Mongolia's traditional culture? And in a digitally-connected world where international musical genres are consumed across old political boundaries, and a musician with an internet connection can become a global star without leaving their bedroom - how much do contemporary Mongolians get to pick and choose what constitutes their cultural identity?
As Mongolia's foremost opera star prepares to take the stage in Ulaanbaatar, Kate explores the diversity of Mongolia's musical makeup in 2017 - from breakout indie acts and hip hop DJs to women throat singers causing ripples in the nation's venerable traditional classical singing art.
Producer: Steven Rajam
Presenter: Kate Molleson
A BBC Wales production for BBC Radio 4.
More episodes
Next
You are at the last episode