Main content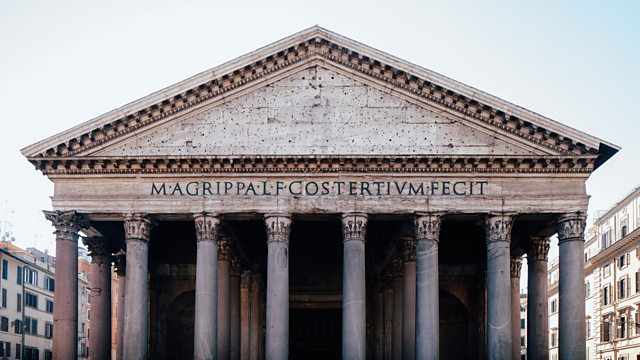 Pliny is invited to the Palatine, where he finds out to his horror just how much the Emperor Domitian knows about him. By Hattie Naylor.
Pliny feels under threat from the Emperor Domitian more than ever when he is invited to the Palatine, and the room where the Emperor tortures flies. Meanwhile, Marcella has a new slave, Sextus, who has supplanted Venta in Marcella's affections. By Hattie Naylor, based on real events in first century Rome.
Pliny the Younger . . . Kieran Hodgson
Venta . . . Nigel Barrett
Marcella . . . Joanna Scanlan
Emperor Domitian/Sextus . . . Ewan Bailey
Tacitus/Regulus . . . Matthew Gravelle
Music composed and performed by Pete Flood (percussion) with Laura Cannell (recorder, crumhorn), Rhodri Davies (Harp) and Paul Sartin (Oboe, Cor Anglais)
A BBC/Cymru Wales production, directed by Kate McAll.
Credits
| Role | Contributor |
| --- | --- |
| Pliny the Younger | Kieran Hodgson |
| Venta | Nigel Barrett |
| Marcella | Joanna Scanlan |
| Emperor Domitian | Ewan Bailey |
| Sextus | Ewan Bailey |
| Tacitus | Matthew Gravelle |
| Regulus | Matthew Gravelle |
| Director | Kate McAll |
| Writer | Hattie Naylor |