Main content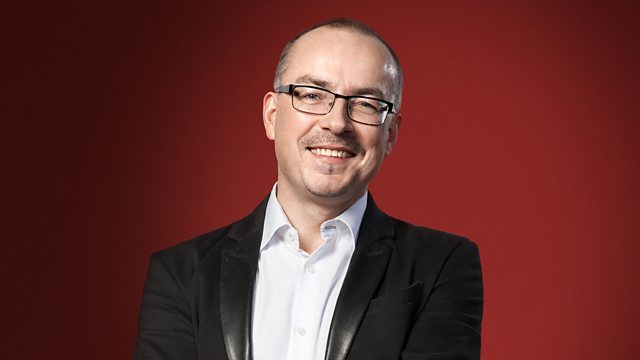 Andrew McGregor with Suzanne Aspden and Stephen Johnson
With Andrew McGregor. Including Building a Library.
0930
Building a Library on on Handel's oratorio 'Jephtha' with Suzanne Aspden.
'Jephtha' tells the Old Testament story of the warrior who promises God that in gratitude for victory he will, on returning from battle, sacrifice the first person he sees coming out of his house. Of course, it's his beloved only daughter.
Through a dazzling sequence of choruses and solo numbers, which deliver penetrating insights into the human condition and typically subtle characterisation, Handel explores humankind's enslavement to an implacable and inescapable destiny. Handel's final oratorio is a work of huge emotive power, a summation of a lifetime's composing for the stage, and considered by many to be his masterpiece in a genre he had developed further than any other composer.
1100
Stephen Johnson rounds up recent releases of symphonies by Mahler, Scriabin and Rachmaninoff.
1145
Andrew chooses an outstanding new release as his Disc of the Week.
Record Review
9.00am
VETRATE DI CHIESA, IL TRAMONTO AND TRITTICO BOTTICELLIANO
OTTORINO RESPIGHI:
Trittico Botticelliano; Il tramonto; Vetrate di chiesa, P. 150
Anna Caterina Antonacci (soprano); Orchestre Philharmonique de Liège;
John Neschling
BIS2250 (Hybrid SACD)

TIPPETT: SYMPHONIES NOS. 1 AND 2
SIR MICHAEL TIPPETT:
BBC Scottish Symphony Orchestra, Martyn Brabbins
Hyperion CDA68203 (CD)
GRIEG: PIANO CONCERTO AND INCIDENTAL MUSIC TO 'PEER GYNT'
EDVARD GRIEG:
Incidental Music to 'Peer Gynt', Op. 23
Piano Concerto, Op. 16
Jean-Efflam Bavouzet (piano); Lise Davidsen (soprano); Ann-Helen Moen (soprano);
Victoria Nava (soprano); Johannes Weisser (baritone); Håkon Høgemo (Hardanger Fiddle);
Bergen Philharmonic Orchestra and Choirs; Edward Gardner
Chandos CHSA5190 (Hybrid SACD) 
Composer: Handel
Piece: Jephtha
Reviewer: Suzanne Aspden
Recommended Recording:
HANDEL: JEPHTHA
James Gilchrist (Jephtha), Susan Bickley (Storge), Sophie Bevan (Iphis),
Robin Blaze (Hamor), Matthew Brook (Zebul), Grace Davidson (Angel)
The Sixteen; Harry Christophers (conductor)
Coro COR16121 (3 CDs)
Also Recommended:
Below is another recording which Suzanne also liked, although we can't guarantee the availability of these discs.
Handel: Jephtha
James Gilchrist (Jephtha), Elisabeth Jansson (Storge), Mona Julsrud (Iphis),
Marianne B. Kielland (Hamor), Håvard Stensvold (Zebul), Elisabeth Rapp (Angel)
Collegium Vocale Gent and Stavanger Symphony Orchestra; Fabio Biondi (conductor)
BISCD1864 (2 CDs)
10.20am
SONGS OF TRAVEL
VAUGHAN WILLIAMS:
Songs of Travel
Six Studies in English Folk Song
The Sky above the Roof
Orpheus with his Lute
Silent Noon
The Winter's Willow
Romance
Rhosymedre – arr. R. Morrison
Four Hymns
James Gilchrist (tenor); Philip Dukes (viola); Anna Tilbrook (piano)
Chandos CHAN10969 (CD)
SYMPHONIC POEMS
CAMILLE SAINT-SAËNS:
Phaéton – Symphonic Poem, No. 2, Op. 39
Marche héroïque, Op. 34
La Jeunesse d'Hercule – Symphonic Poem, No. 4, Op. 50
Le Rouet d'Omphale – Symphonic Poem, No. 1, Op. 31 (
Sarabande, Op. 93, No. 1
Rigaudon, Op 93, No. 2
Danse macabre – Symphonic Poem, No. 3, Op. 40
Orchestre National de Lille;  Jun Märkl
Naxos 8.573745 (CD)
MARISS JANSONS – PORTRAIT
HAYDN: Mass in B-Flat Major, Hob. XXII:14 "Harmoniemesse"
HAYDN: Symphony No. 88 in G major
BEETHOVEN: Symphony No. 4 in B flat major, Op. 60
BRAHMS: Symphony No. 4 in E minor, Op. 98
STRAUSS, R: Eine Alpensinfonie, Op. 64
STRAUSS, R: 4 Letzte Lieder, TrV 296
MAHLER: Symphony No. 9
VARÈSE: Amériques
STRAVINSKY: Symphony of Psalms
SHOSTAKOVICH: Symphony No. 6 in B minor, Op. 54
Anja Harteros (soprano)
Chor & Orchester des Bayerischen Rundfunks, Mariss Jansons
BR Klassik 900157 (5 CDs)
SONGS OF DESTINY
JOHANNES BRAHMS:
Schicksalslied (Song of Destiny)
Gesang der Parzen (Song of the Fates)
Nänie (Naenia), Op. 82
Begräbnisgesang (Funeral Song), Op. 13
Liebeslieder-Walzer 12:35 from Opp. 52 and 65
Eric Ericson Chamber Choir; Gävle Symphony Orchestra; Jaime Martín.
Ondine ODE 1301-2 (CD)
ELEGY FOR PAMELA
BEETHOVEN: String Quartet No. 13 in B flat major, Op. 130 - Cavatina
FRANCES-HOAD: Invocatio
HAASLER: A Fugue for Pamela
MCDOWALL: To a Nightingale
R PANUFNIK: Votive
WALEY-COHEN: Vitae
KNOTTS: At the Mid Hour of Night
ZINN: Kol Nidrei Memorial
Six new string quartets to commemorate the life and works of Pamela Majaro
Wihan Quartet
Nimbus NI6356 (CD)
11.00am – New Releases
SYMPHONY NO. 1 – LIVE IN CONCERT
SERGEI RACHMANINOV:
Symphony No. 1 in D Minor Op. 13
Philharmonia Orchestra; Vladimir Ashkenazy (conductor)
SIGNUM SIGCD 484 (CD)
OSLO PHILHARMONIC + PETRENKO
ALEXANDER SCRIABIN:
Symphony No. 2, Op. 29
Piano Concerto, Op. 20
Oslo Philharmonic Orchestra; Kirill Gerstein (piano); Vasily Petrenko (conductor)
LAWQ LWC 1139 (CD)
SYMPHONY NO. 8
GUSTAV MAHLER:
Symphony No. 8 in E-Flat Major
Part I – Hymnus: Veni, Creator Spiritus
Part II – Final Scene from "Faust"
Utah Symphony; Mormona Tabernacle Choir; The Madeleine Choir School;
Orla Boylan (soprano), Celena Shafer (soprano), Amy Owens (soprano), Charlotte Helekant (soprano), Tamara Mumford (mezzo-soprano), Barry Banks (baritone), Markus Werba (baritone), Jordan Bisch (bass); Thierry Fischer (conductor)
FR 725 SACD (2 Hybrid SACD)
SYMPHONY NO. 5
GUSTAV MAHLER:
Symphony No. 5 in C-Sharp Minor
Gürzenich-Orchester Köln; François-Xavier Roth (direction)
Harmonia Mundi HMM 905285 (CD)
SYMPHONY NO. 4
GUSTAV MAHLER:
Münchner Philharmoniker; Genia Kühmeier (soprano); Valery Gergiev (conductor)
MPHIL0005 (CD)
SYMPHONY NO. 1
GUSTAV MAHLER:
Symphony No. 1 in D Major
Düsseldorfer Symphoniker; Adam Fischer (conductor)
Avi 8553390 (CD)
11.45am – Disc of the Week
SONATAS FOR VIOLIN & HARPSICHORD NOS. 1-6, BWV1014-1019
JS BACH:
Sonata for Violin & Harpsichord No. 1 in B minor, BWV1014
Sonata for Violin & Harpsichord No. 2 in A major, BWV1015
Sonata for Violin & Harpsichord No. 3 in E major, BWV1016
Sonata for Violin & Harpsichord No. 4 in C minor, BWV1017
Sonata for Violin & Harpsichord No. 5 in F minor, BWV1018
Sonata for Violin & Harpsichord No. 6 in G major, BWV1019
Isabelle Faust (violin); Kristian Bezuidenhout (harpsichord)
Harmonia Mundi HMM 902256.57 (2 CDS)