Main content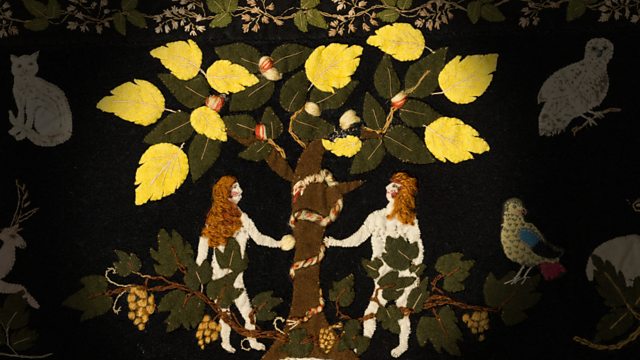 Hanging by Ann West
Cathy FitzGerald presents the series that allows listeners - using their phone, tablet or computer - to study great artworks, photographed in incredible detail.
Cathy FitzGerald invites you to discover new details in old masterpieces, using your phone, tablet or computer.
The average length of time spent looking at a painting in a gallery is 28 seconds. On Moving Pictures, we like to take a little longer. Each thirty-minute episode is devoted to a single artwork - and you're invited to look as well as listen, by following a link to an extraordinary high-resolution image made by Google Arts and Culture. Zoom in and you can see more than the artist - the pores of the canvas, the sweep of individual brushstrokes, the shimmer of pointillist dots.
In the first programme of this series, stroll along the high-street of a market town in Regency England - as imagined in a one-of-a-kind patchwork hanging, held in the collection of the V&A Museum. This needlework masterpiece features tiny applique scenes of everyday life - children flying kites, chimney sweeps heading home from work, a fishwife off to market. Cathy asks if one of the little characters might be the maker herself.
Interviewees: Jenny Lister, Kerry Taylor, Deb McGuire, Linda Seward, Tracy Chevalier
Producer and Presenter: Cathy FitzGerald
A White Stiletto production for BBC Radio 4
Ann West, Coverlet (c) Victoria and Albert Museum, London. Acquired with the support of the Friends of the V&A.
Last on
Look deep into the painting with Cathy FitzGerald and Joseph Koerner.

Find out more about the 19th-century tailor-embroiderer, and her work, with the V&A.
Broadcasts