Main content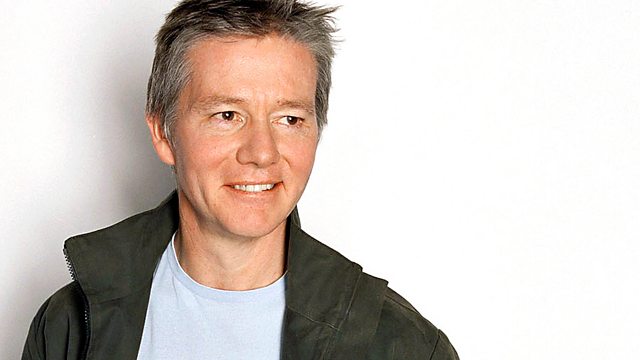 Programme 9, 2017-18
The South of England take on Northern Ireland in the game of lateral thinking and cryptic connections, with Tom Sutcliffe in the chair.
(9/12)
Last time they met, the South of England team of Marcus Berkmann and Paul Sinha inflicted a heavy defeat on newcomers Paddy Duffy and Freya McClements of Northern Ireland - so Northern Ireland will be out for revenge this week. Tom Sutcliffe is on hand to ensure fair play, and to make sure the points reflect the amount of help he has to give them in tackling such convoluted teasers as:
Why should the connection between an incipient flower, half of a Crazy duo, and the man who made up Barbie and the Munsters, be on the tip of your tongue?
The programme will, as always, also include a selection of the best question ideas received from listeners in recent months.
Producer: Paul Bajoria.
Last week's teaser
Tom asked how a hummingbird, Bruce Springsteen's disguise, a comic novel by Clive James and a diamond with 58 facets might all be said to excel?
The answer is that they are all 'brilliant'.
A brilliant is a name given to a group of species of hummingbird, because of their especially bright colours, mostly found in Central and South America. Bruce Springsteen's song 'Brilliant Disguise' appeared on his Tunnel of Love album in 1987. Clive James' first novel was Brilliant Creatures (1983), a satire on London literary society. And a gemstone - especially a diamond - cut so that it has 58 facets is referred to as a brilliant.
Rankings in the series so far
Going into today's contest the RBQ league table for 2017-18 (ranked according to the number of wins) stands as follows.
1  NORTH OF ENGLAND  Played 3  Won 2  Drawn 0  Lost 1  Total points 55
2  WALES  P2  W2  D0  L0  Pts 40
3=  SOUTH OF ENGLAND  P3  W1  D1  L1  Pts 54
3=  SCOTLAND  P3  W1  D1  L1  Pts 54
5  THE MIDLANDS  P3  W1  D0  L2  Pts 53
6  NORTHERN IRELAND  P2  W0  D0  L2  Pts 31
Questions in this programme
Q1 (from James Tween)  One was a President honoured for seeking "peaceful solutions to international conflicts"; another silenced a King who had received the same honour; and the third provided a king with his voice, though he's better known as a Lord. In conclusion, they all differ - but who are they?
Q2  Why should the connection between an incipient flower, half of a Crazy duo, and the man who made up Barbie and the Munsters, be on the tip of your tongue?
Q3 (from Peter Whitehead)  Music - What links these performers with an orphan who was expelled from Eton, yet is a companion of both St Michael and St George?
Q4  What do fizzy water, a double or triple decker, and keep-fit meels have in common with Dudley Moore and Tutankhamun, and why might they suit you?
Q5 (from David Pracy)  Forty-five minutes of news, analysis and comment; in art, a pilgrimage to the island of love; and a versatile Australian all-rounder who survived an onslaught from Wahab - why would all of this sound familiar to friends of Bertie?
Q6  Music - What initial amendments might you make to link Joe's boys with a Desperately suburban setting and a poisoner in the milk?
Q7 (from Ivan Whetton)  Explain how, by losing a bar for skiers, the nation was celebrating the 2016 achievements of an expression of merriment, a game played in SW19 and a British surgeon who described a bone disease?
Q8 (from Sacha Weinberg)  Why might Rovio's smash hit; James Fox, Terry-Thomas and Gert Frobe; and an unlikely pig, send you Back to the Future?
This week's teaser
Take Peggy Mitchell's sister to the Dance of the Seven Veils, going via the Italian Social Republic and a tragic Spanish motorcyclist.
There are no prizes for getting the answer - but you can see if you're right when Tom reveals the solution at the beginning of the next edition.