Main content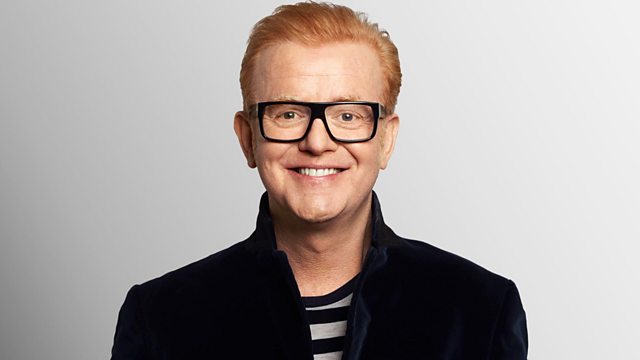 George Ezra, Jessie Ware, Tom Kerridge and Kirstie Allsopp
Chris has a joy-filled Friday show with the first play of George Ezra's new single, chef Tom Kerridge and Kirstie Allsopp. Plus Jessie Ware performs live in the studio!
Chris is joined by super soulful singer George Ezra who pops in to give us the first play of his brand new single Paradise. Plus Chris tries to persuade George to play a sneak preview of his second album Staying At Tamara's. Culinary king Tom Kerridge tells us how to shed the pounds with his number 1 best-selling cook book Lose Weight For Good. Craft queen Kirstie Allsopp shares the behind-the-scenes gossip on Channel 4's Kirstie and Phil's Love it or List it. Plus the uber-talented Jessie Ware serenades us live in the studio with music from her new album Glasshouse. Jessie performs Alone and her new single Your Domino as well as covers of Sam Cooke's You Send Me and Womack & Womack's Teardrops. Vassos has the latest sport and Writer Abdul-Rehman Malik provides the daily Pause For Thought.
Last on
Music Played
The KLF

Justified & Ancient (Stand by The JAMs) (feat. Tammy Wynette)

(CD Single).
K.L.F. Communications.

Naughty Boy

&

Joe Jonas

One Chance To Dance

(CD Single).
Virgin Records.

Aerosmith

Dude (Looks Like A Lady)

Aerosmith - Big Ones.
Geffen.

ABC

Poison Arrow

Abc - The Lexicon Of Love.
Mercury.

Elvis Presley

Way Down

Presley - The All Time Greatest Hits.
RCA.

Elvis Costello

&

The Attractions

Radio Radio

The Very Best Of Elvis Costello.
Universal Music Tv.

The Monkees

I'm A Believer

Rediscover The 60's-With A Little Hel.
Old Gold.
7.

Don McLean

American Pie

20 Number 2's Of The 70's (Various).
MFP.

Queen

We Will Rock You

News Of The World.
Island.
1.

Led Zeppelin

Rock And Roll

Led Zeppelin - Early Days.
Atlantic.

AC/DC

You Shook Me All Night Long

AC/DC - Back In Black.
EMI.

Suzi Quatro

Devil Gate Drive

The Greatest Hits Of 1974 (Various).
Premier.

Blondie

Hanging On The Telephone

Atomic: The Very Best Of Blondie.
EMI.
1.

Pratt & McClain

Happy Days

Television's Greatest Hits Volume 3 70s & 80s.
Silva Screen Records Ltd.

Jessie Ware

You Send Me (Radio 2 Session, 19 Jan 2018)

Portugal. The Man

Feel It Still

Jessie Ware

Alone (Radio 2 Session, 19 Jan 2018)

SZA

&

Calvin Harris

The Weekend (Funk Wav Remix)

(CD Single).
Top Dawg Entertainment/RCA Records.
1.

Jessie Ware

Your Domino (Radio 2 Session, 19 Jan 2018)

Jessie Ware

Teardrops (Radio 2 Session, 19 Jan 2018)
Pause for Thought
Abdul-Rehman Malik, journalist and broadcaster:
Chris, I have to admit, I have been feeling a bit discombobulated this past week. I've been waking up at night and finding that, for a few moments, I am not exactly sure where I am.
I think my travels over the past few months have taken their toll. I ask myself if I'm in my mother and father's place in Toronto sleeping in my old bed surrounded by stacks of dusty CDs and old novels? Or maybe I'm back in New Haven, Connecticut feeling nervous that I haven't finished the readings for my class the next day?
I am amazed at Kirstie's skill in helping even the quirkiest people navigate all the difficult questions of what makes a place home-worthy. London has been my home for almost 15 years but I know there are many places I feel "at home" – places where I have left a piece of myself, where memories of friends or a life-changing experience perhaps, bring me back. Returning to those places makes me feel whole again.
In some ways we should be able to feel at home anywhere, since so much of what makes a home has to do with us – how confident we feel about ourselves and how comfortable we are in our skin. I believe as we become better versions of ourselves, we are better able to navigate the challenges life throws at us. Tom's example in getting his body back to health is inspirational. He shows us, especially big guys like myself who've struggled with weight all their lives that there's a roadmap for making big personal change happen. But it does take a bit of courage.   
"Don't watch the roses from away, fearful of the thorns," mused the Punjabi sufi poet Mian Muhammad Baksh. "Unless you're able to endure being pricked, you won't be able to fill your basket with the most fragrant flowers."
I shared my dislocation quandary with my son the other day. He gave me a hug and said, "Abba, wherever you and Mama are is my home." I reckon becoming a better version of our self means keeping close to the people we love most. After all, a home is always better when it's filled with the fragrance of love. 
Broadcast