Main content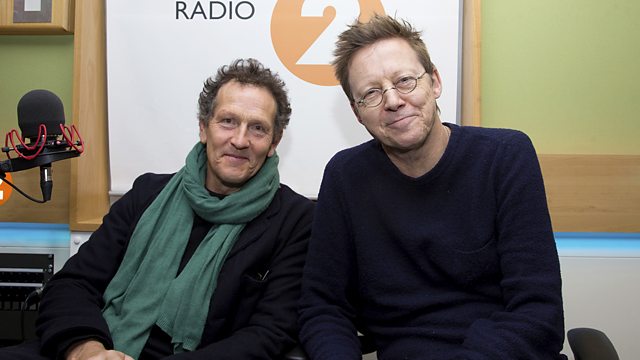 Monty Don, Steely Sister Confession, X Marks The Spot
Gardening legend Monty Don joins Simon to discuss his new BBC 2 series Monty Don's Paradise Gardens.
Gardening legend Monty Don joins Simon to discuss his new BBC 2 series 'Monty Don's Paradise Gardens'.
In this series Monty Don travels across the Islamic world in search of Paradise Gardens. The Koran, the holy book of Islam, tells of these magical places; green spaces filled with flowers and fruit where shade and water provide a safe haven from the harsh climate that dominates the Arab world. For Muslims, these gardens are an earthly vision of the real paradise awaiting believers in heaven.
In the first episode Monty starts in Spain where he discovers the basic building blocks of Paradise gardens and their symbolism; green spaces divided into four by channels of water that meet at a central fountain. Given the desert heats and climate of many of these gardens, water is the key feature.
In Morocco, Monty discovers the variety of paradise gardens from an enormous royal walled meadow, to a secret inner city courtyard garden, and a contemporary paradise garden with a twist.
Finally in Iran he explores the huge influence of the gardens in what was Persia and in the desert comes across the secret to their creation. At Pasargadae lie the ruins of the 6th century palace of Cyrus the Great, and recent excavations show that at its heart there was a garden. The garden was divided into four representing not the Islamic, but the sacred Zoroastrian elements of water, wind, fire and earth. When the Arabs invaded Persia in the 6th century, it was these Zoroastrian gardens that influenced their ideas not only of what a garden should be, but of paradise itself.
In the second episode Monty explores Islamic gardens that take the concept of Paradise in a different direction. In Turkey Monty is dazzled by tulips and visits the opulent gardens of the Ottoman Empire that embraced nature in an entirely new way.
In India he learns about the spirituality of Mughal tomb gardens and visits the Taj Mahal, one of the most famous gardens in the world. And he discovers that far from being places of contemplation, these gardens are places full of life.
In the last part of the series Monty returns to the UK where he discovers how the notion of a Paradise garden has been interpreted by different communities from a Royal courtyard to public spaces- each suits their own needs.