Main content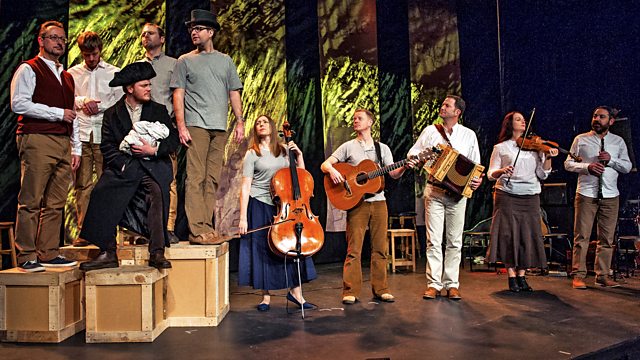 The Transports
Recorded live at the Radio Theatre, Peter Bellamy's ballad opera The Transports, the true story of Susannah Holmes and Henry Kable, transported on the First Fleet to Australia.
Verity Sharp presents the new production, featuring many of Britain's finest younger folk musicians, of Peter Bellamy's famous ballad opera The Transports, recorded live at the Radio Theatre in Broadcasting House.
7.30 The Transports: Part One
8.20 Interval Feature: A Portrait of Peter Bellamy
Verity Sharp sketches a portrait, in words and music, of The Transports' composer, Peter Bellamy, revealing a complex, troubled character and rather an outsider. He admired Rudyard Kipling, when most dismissed him as an imperialist, for giving voice to ordinary soldiers, and set his Barrack-Room Ballads. There are contributions from Heather Wood, who sang with Bellamy in The Young Tradition, in which he came to fame in the 1960s; the singer Martin Carthy; fellow Norfolk musician Damien Barber, who was mentored by Bellamy; Jon Boden, a musician much influenced by Bellamy; and his widow, Jenny Bellamy. It features, too, Bellamy's own music, with his distinctive singing.
8.40 The Transports: Part Two
Cast
Susannah Holmes ..... Rachel McShane (cello, vocals)
Henry Kable ..... Sean Cooney (vocals)
Narrator ..... Matthew Crampton (vocals)
Abe Carman ..... David Eagle (vocals, accordion)
The Coachman ..... Michael Hughes (vocals)
The Mother ..... Nancy Kerr (fiddle, vocals)
The Convict ..... Benji Kirkpatrick (guitar, bouzouki, vocals)
The Shantyman ..... Saul Rose (melodeons, vocals)
John Simpson, the humane turnkey ..... Greg Russell (guitar, vocals)
The Father ..... Paul Sartin (oboe, cor anglais, fiddle, vocals)
The Transports tells true story of Susannah Holmes and Henry Kable. She was convicted of stealing £2's-worth of spoons and linen. He broke into a house. Both were sentenced to death in 1784. This was commuted to transportation. They met in Norwich gaol, fell in love and had a child and, after forced separation and great anguish, and the stubborn compassion of a humane turnkey, sailed on the First Fleet to Australia. This sounds like a traditional song and it inspired the folk singer Peter Bellamy to compose a cycle of ballads. The Transports was recorded in 1977, with arrangements by Dolly Collins and a glittering roster of musicians - Dave Swarbrick, Nic Jones, June Tabor, Mike & Norma Waterson and Martin Carthy - and this album is one of the monuments of English folk music. The new production features a new generation of musicians of similar calibre: BBC Folk Award winners The Young 'Uns, Nancy Kerr, members of Bellowhead and Faustus. Bellamy's songs have been arranged afresh by Paul Sartin and narrator Matthew Crampton weaves the story through them with new material linking Susannah Holmes and Henry Kable's story with the experience of refugees and migrants today.
Producer: Julian May.
The women erased from musical history