Main content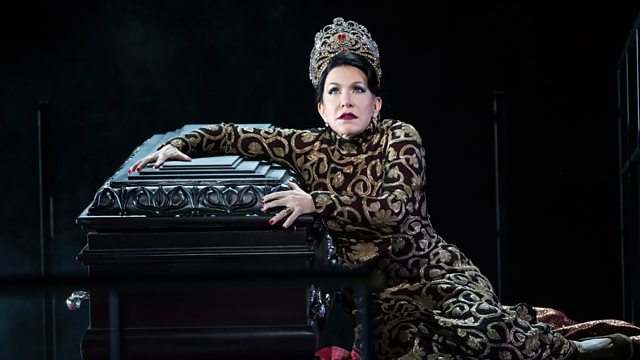 Rossini's Semiramide at the Royal Opera House, Covent Garden
Rossini's Semiramide at the Royal Opera House with Joyce DiDonato in the title role. Antonio Pappano conducts the orchestra and chorus of the ROH. Presented by Donald Macleod.
Presented by Donald Macleod, a Rossini masterpiece not seen at the Royal Opera House for more than 120 years: Semiramide, the dramatic story of the Queen of Assyria, who conspired with her then lover Assur, an army commander, to poison her husband, King Nino, whose corpse comes back from the underworld to claim justice. As if things weren't complicated enough, Semiramide now loves a younger warrior, Arsace, and wants him to be king, but unbeknown to her, he's her long-lost son - and discovering it triggers an ending of tragic proportions. Superstar mezzo-soprano Joyce DiDonato takes the title role, with mezzo-soprano Daniela Barcellona as Arsace and the bass Michele Pertusi as Assur. Sir Antonio Pappano conducts the Orchestra and Chorus of the Royal Opera House, Covent Garden, in a production by David Alden.
Semiramide ..... Joyce DiDonato (mezzo-soprano)
Assur ..... Michele Pertusi (bass)
Arsace ..... Daniela Barcellona (mezzo-soprano)
Idreno ..... Lawrence Brownlee (tenor)
Azema ..... Jacquelyn Stucker (soprano)
Oroe ..... Bálint Szabó (bass)
Mitrane ..... Konu Kim (tenor)
Nino's Ghost ..... Simon Shibambu (bass)
Royal Opera Chorus
Orchestra of the Royal Opera House
Sir Antonio Pappano (Conductor).
Synopsis
Act I
In the Temple of Baal, Oroe, the high priest, falls into a state of ecstasy while praying. The deity informs him that the moment for revenge and justice is nigh. The Babylonians as well as rulers and people from other countries, among them the Indian Prince Idreno and his retinue, stream into the temple: they all expect that Semiramide will finally announce the successor to the throne. Assur is convinced that she will name him as king because of his loyalty over many years. Semiramide tries to postpone making the decision as she is awaiting the arrival of the young commander, Arsace. The crowd urges her to make a quick decision. Just as she is on the point of announcing the name of the future king, the sacred flame on the alter is extinguished. Everyone sees this as a sign that disaster will befall Babylon.
Arsace arrives in Babylon. He is longing to see Princess Azema, whom he has loved ever since he saved her life. Oroe reveals to Arsace how King Nino fell victim to betrayal.
Arsace and Assur realize that they are rivals for Azema's hand. They accuse each other of only aspiring to becoming king. There is also a third person wooing Azema: Prince Idreno. Azema is in love with Arsace.
Semiramide awaits the arrival of Arsace, with whom she is secretly in love. She hopes that he will be able to put an end to her emotional turmoil – an oracle has told her that she will find peace on Arsace's return to Babylon. Semiramide decides to keep her feelings for Arsace secret for the time being.
Arsace expresses his love for Azema without, however, mentioning her name. Semiramide mistakes his expressions of passion as being meant for herself.
Semiramide holds audience over the tomb of King Nino. To general surprise, she announces that she has chosen Arsace to be king and that he will also become her husband. She grants Idreno Azema's hand in marriage. When Semiramide orders Oroe to marry her to Arsace she is again interrupted by thunder and lightning. The tomb opens, and to everyone's horror Nino's ghost speaks. He prophesies that Arsace will reign; before that, however, an old crime must be expiated and a sacrifice offered. Arsace swears to the ghost that he will follow his instructions and asks him whom he should kill, but the ghost disappears without saying another word.
Act II

Semiramide and Assur engage in mutual recrimination over the crime of Nino'sdeath. Assur demands that Semiramide should keep her promise to make him king. She, on the other hand, stays firm in her intention to marry Arsace. Assur swears revenge.
Oroe discloses to Arsace his true identity: Arsace is, in fact, Ninia, the son of Semiramide and Nino. Arsace learns from a letter written by Nino as he lay dying that the latter was murdered on Semiramide's orders. Oroe gives Arsace the sword that once belonged to Nino in order that he can be avenged.
Idreno learns from Azema that she is still in love with Arsace. He reminds her that Semiramide has given him her hand in marriage, and Azema decides to obey the queen. Idreno promises that they will be happy together.
Arsace reveals to Semiramide that he is the son she assumed was dead. She expects that he will kill her in revenge for his father's murder, but Arsace forgives his mother. He hurries to Nino's tomb to kill Assur.
Assur has a terrifying vision: he imagines he is at the mercy of a ghost who is threatening to destroy him. Assur enters the tomb. He comes across Arsace in the company of Oroe. Oroe commands Arsace to strike Assur with the sword, but in the darkness he stabs his mother. Assur is arrested on Oroe's orders. Oroe prevents Arsace from taking his own life in despair. Meanwhile the people celebrate and rejoice in the new King of Babylon. Semiramide dies.
Episode Image (c) ROH / Bill Cooper
Featured in...
We broadcast more live and specially-recorded concerts and opera than any other station.