Main content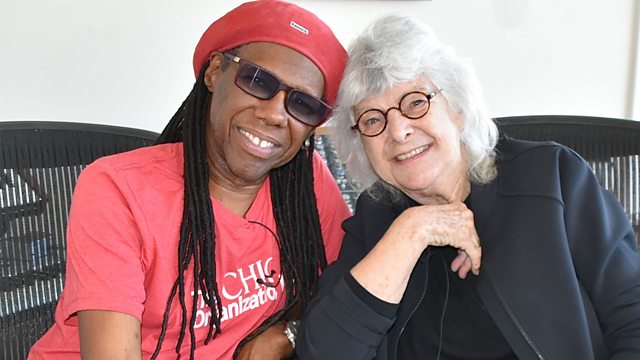 Episode 2
Guitarist, songwriter, producer and co-founder of Chic, Nile Rodgers talks to music aficionado Vicki Wickham about his career as well as some of the classic hits he has worked on.
Nile Rodgers talks in more detail about his musical partnership with Bernard Edwards. They met at a club in the Bronx called the Fairtree Lounge, and they hit it off straight away complimenting each other on guitar and bass. Bernard had a wonderful personality and was a great band leader, and could get you to do things you hadn't thought of and he persuaded Nile to switch from his big jazz guitar to a Fender Stratocaster - now known as the famous 'Hitmaker' that Nile still plays today.
Nile has had insomnia since he was a small child so he gets by on 2 or 3 hours a night and Bernard had a wife and kids and slept all the time; so Nile did the bulk of writing, and Bernard would do the editing. Nile would spend hours working on a lyric and a complicated jazz piece of music, and Bernard would come in and edit things - saying 'get rid of this and get rid of that, and just say Dance, Dance, Dance!' Luther Vandross then added the background vocals with 'Keep on Dancing' - and that became Chic's first hit 'Everybody Dance'. It got them a record deal - and Nile thought - I'm never going to write another song without this dude taking a look at it first!
Nile was a wacky hippy type with a 'green afro' and weird clothes, Bernard protected him from getting stick from other musicians when they were doing sessions. His crazy hairstyle probably got him the job playing for the Sesame Street Band. During the 70s they were supporting act for the Jackson Five and were on the tour bus with the Jacksons. Michael's father Joe was a strict disciplinarian and would shout at them, and Nile got very close to Michael as he was always a rebel and would do the opposite to what Joe was ordering.
Nile talks about the sudden death of his friend Bernard which happened while they were doing a television special in Japan. Nile was being honoured as producer of the year in 1996 and Chic played a series of concerts the final one was at the Budokan in Tokyo. Bernard had felt unwell at the start of the evening and a doctor was called and advised rest and to postpone the concert, but Bernard persuaded him that the show must go on and that he would rest straight after. The show was a great success and included special guests Sister Sledge, Slash and Steve Winwood. The following morning when Bernard failed to join everyone for breakfast Nile discovered that he had died during the night. He was only 43 years old and he and Nile had been musical partners for over 25 years. To honour Bernard's memory the re-constituted Chic Organization went back to Japan the following year and played a Tribute concert in his memory.
Nile also talks about the We Are Family Foundation he set up in the wake of 9/11 and its work with underprivileged children who want to pursue a music career.