Main content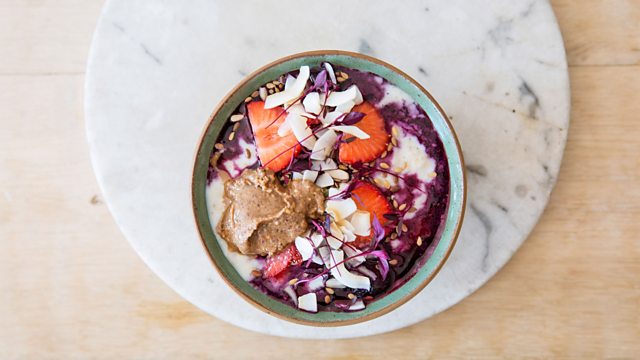 Porridge
Sheila Dillon explores the history, and current fashionability, of porridge.
The sudden proliferation of porridge is there for all to see, across the country. Café chains like Pret, Starbucks, McDonalds; instant tubs on offer in your local supermarket; on the train, even. Sheila Dillon explores the current fashion for porridge, and meets the "porridge pioneers" who have ridden the sticky porridge wave and created booming porridge businesses. She eats breakfast with Alex Healy Hutchinson, founder of the Covent Garden porridge restaurant 26 Grains; she tours the Edinburgh factory of Stoats Oats, a business which started from a mobile porridge van at rock festivals and is now on track for a turnover of £10 million. She hears from contestants from all over the world at this year's Golden Spurtle International Porridge Championship, and she talks to the Harvard scientist who published the largest study about the health benefits of porridge. (Yes it certainly is good for you.) Finally, back in her kitchen Sheila convenes her own porridge championship with Jamaican chef Levi Roots, Scandinavian chef Trine Hahnemann and Scottish chef Shirley Spear. Whose porridge will taste best? And which Bob Marley song has a verse about cooking porridge?
Last on
3 porridge recipes featured in the programme


Levi Roots' Jamaican Porridge
Ingredients:
175g organic porridge oats
720 ml water
400ml can coconut milk
½ tsp all spice ground
A cinnamon stick or ½ tsp ground cinnamon
A good grating of nutmeg or ½ tsp ground
1 bay leaf
large pinch of salt
1 tsp vanilla essence
1 tsp almond essence
Sweetened condensed milk to taste
Method:
Put the water in the pan in which you want to cook your porridge. And the spices and bay leaf and bring to a simmer. Stir in the coconut milk and add the salt.
Add the porridge oats to the fragrant spiced liquid, bring to the boil and then turn down the heat to a gentle simmer for 5-10 minutes, stirring often. Personally, I don't like porridge too stiff, I like to make sure it can still move around the pan adding more coconut milk or water if necessary.
Spoon your porridge into bowls and add whatever takes your fancy. I like my porridge sweet so add a bit of condensed milk.
Trine Hahnneman's Rustic Porridge
Serves 2 for either a morning or an evening meal.
Ingredients:
125g mixed flakes e.g. oats, rye and spelt
300ml water
1 apple, cored and diced
40g almonds, chopped
40 g raisins
Pinch of salt
Cold milk to serve (optional)
Method:
Put the flakes, water, apple, almonds and raisins in a small saucepan, bring to a boil and lower the heat and let them simmer for 12-15 minutes, stirring frequently, then add the salt and serve right away, with cold milk if you like. 
Shirley Spear's Porridge – The Three Chimneys, Isle of Skye
There cannot be many cookery columns that publish a recipe for porridge and some readers may find it quite insulting to read instructions!  However, there will be others who have never made porridge and for whom it may be a mystery. There are various methods handed down through the years, but the habit of making it with milk in the microwave is all wrong in my opinion and stems from the era of "Ready-Brek", a more refined alternative to the real thing which grew in popularity as microwaves became an increasingly common item of kitchen equipment.
There are die-hards who will never make porridge without steeping oatmeal in water overnight before cooking it in the morning in customary style and serving it piping hot with a bowl of cream or fresh, cold milk on the side. This method is also associated with traditions of stirring with the right hand as you slip the handful of oatmeal into the water in a steady stream, with your left. The skill comes with knowing exactly when to add the salt, which should be done part-way through the cooking process. There has also been a debate as to where the best oats are grown in Scotland, believe it or not!
Throughout my lifetime, oats have been milled in Scotland, steamed and rolled to create the perfect product for "instant" porridge making in a saucepan, packaged and sold as a very well-known brand. This is the most unadulterated way to enjoy a bowl of "modern" porridge, as even the microwaveable portions are mixed with some additives to enable them to cook instantly. There is no need to add sugar, but once the cold milk has been added to the bowl of hot cereal, a sprinkling of something sweet to melt into the hot mixture is appealing.  Soft brown sugar, or unrefined muscovado sugar are my personal favourites.  Some love a spoonful of runny honey and others add cinnamon and perhaps some fresh fruit or berries as a topping, such as sliced bananas.  A spoonful of fresh double cream and a dash of whisky is a great favourite for those seeking a touch of luxury on a special day. Heather honey with whisky and oats is an age-old combination in Scotland's culinary heritage.
Recipe serves 1. 
Ingredients:
1 cupful of rolled porridge oats
2 cupfuls of cold water
1 good pinch of cooking salt
Method:
Place the oats and water in a saucepan.
Place over a medium heat and bring slowly to the boil, stirring from time to time.
Once it comes to the boil and is starting to thicken, reduce heat to the lowest simmer, add the salt and cover the saucepan with a lid.
Credits
| Role | Contributor |
| --- | --- |
| Presenter | Sheila Dillon |
| Interviewed Guest | Alex Healy Hutchinson |
| Interviewed Guest | Levi Roots |
| Interviewed Guest | Trine Hahnemann |
| Interviewed Guest | Shirley Spear |
| Producer | Elizabeth Burke |
Broadcasts