Main content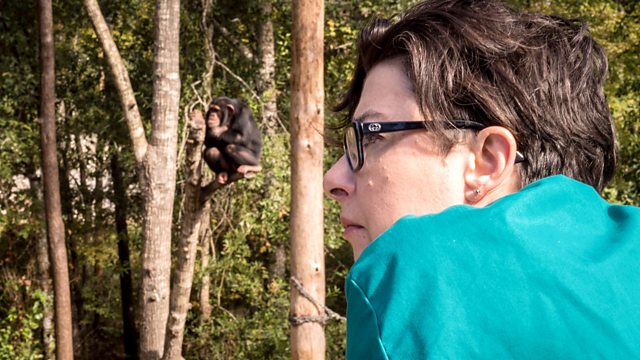 Sue Perkins and the Chimp Sanctuary
Sue Perkins travels to Chimp Haven in Louisiana to meet six female ex-laboratory chimpanzees starting their retirement and meeting a group of male chimps for the first time.
In an hour-long film for BBC Two, animal lover Sue Perkins travels to America to meet a group of newly retired female chimpanzees at Chimp Haven, the US national chimpanzee sanctuary. After a recent change in US law, decades of medical testing on chimpanzees has been brought to an end and cameras follow as Jill, Whitney, Paula-Jean, Tessa, Martha and Ariah settle in to the sanctuary after an 800-mile journey from a laboratory in New Mexico to rural Louisiana.
Sue meets chimpanzee Jill, 24 years old, who has been used in hepatitis research all her life. In total Chimp Haven houses over 200 medical research chimps who have been retired from laboratories to live out their days in beautiful forested surroundings. In the wild, chimps live in mixed-sex troops, but these six girls have never lived with a group of boys before. When Sue first meets them, Jill gives off a clear warning bark to Sue to alert her to 45-year-old boisterous alpha male Pierre in a nearby enclosure. Pierre is poised ready to spit a mouthful of water and show newcomers who is boss. The introductions are a tense time for both the sanctuary staff and the chimps. Using fixed-rig cameras inside the enclosures, the film captures the moment the two groups come together to form their new chimp family. Will it all run smoothly? How will Jill get on when she starts her new life with the boys for the first time?
And after seeing undercover footage of conditions in one of the labs Jill once lived, Sue travels to meet a representative from the National Institutes of Health, the government agency responsible for federal chimpanzee testing. She wants to know if they think the medical advances to human health have been worth it and how the US government defends the conditions in which the animals were kept.
Credits
| Role | Contributor |
| --- | --- |
| Presenter | Sue Perkins |
| Director | Tom Currie |
| Executive Producer | Sophie Leonard |
| Editor | Martin Thompson |
| Producer | Francis Longhurst |
| Production Company | Minnow Films |