Main content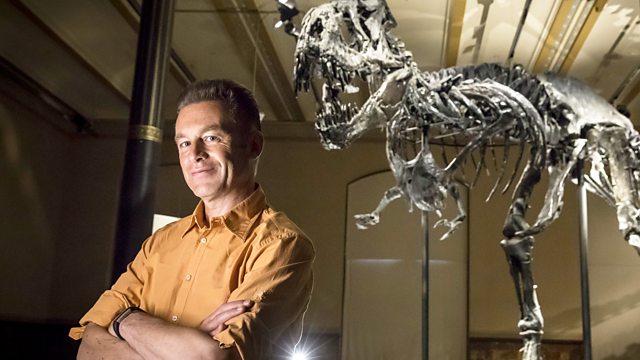 The Real T Rex with Chris Packham
Chris Packham discovers the animal behind centuries of Hollywood misrepresentation. Using groundbreaking science and the latest CGI, Chris creates the most authentic T rex ever.
Chris Packham goes on an investigative journey into the mysteries of planet Earth's super predator - Tyrannosaurus rex. The latest groundbreaking palaeontological discoveries combined with studies of modern animals are redefining this iconic dinosaur. Tackling everything from the way he looked, moved, socialised - even down to his terrifying roar - Chris strips away Hollywood myths to uncover the amazing truth, and utilizing the latest CGI wizardry, he rebuilds the most authentic T rex ever seen from the bones up.
Chris's journey begins in the badlands of Montana, where he has the chance to touch a T rex fossil still emerging from the 65-million-year-old rocks. From here he travels to Berlin to visit Tristan, a T rex skeleton recently excavated from the badlands. These bare bones pose more questions and Chris decides his challenge is to rebuild Tristan with CGI, using the latest discoveries to fill in the gaps. He visits palaeontologist Greg Erikson in Alabama, who is exploring the power of T rex's jaws by comparing them to what we can gauge from modern alligators.
Chris learns that although T rex bore similarities to reptiles, his musculature shows him to be more like a bird. He then takes a prehistoric paddle in the rivers of Dino-State Park in Texas, where exposed dinosaur footprints form long trackways that are the passion of dino-paw expert Glen Kuban. His findings lead Chris to compare T rex with modern flightless birds in an effort to work out just how fast he could move. With the help of palaeontologist and biomechanics expert John Hutchinson, he discovers that the huge tail was not a drag but the source of T rex's locomotive power - but that there were limits which we learn when they put a virtual Tristan on a treadmill.
Chris visits Larry Witmer in Ohio, who has used CT scanners to look into a fossilized skull and find the precise shape of T rex's brain. From this, he has identified supersized sensory zones - proving that he is a great hunter - but also an inner ear that indicates he was designed to hear ultra-low frequency infrasounds. Taking this lead, Chris goes to a sound studio in Berlin with palaeontologist Julia Clarke to experiment with recreating the surprising true roar of T rex.
In order to add the final look to Tristan, Julia Clarke, who has scoured microscopic samples of dinosaur skin for evidence of coloration, helps Chris find a palette based on melanin, as seen in modern birds of prey. Just before Tristan is finished, Chris takes one more trip to Alberta, Canada, where he meets palaeontologist Phil Currie, who suggests on the evidence of a recent fossil find that T rex may have been social predators, living in prides like African lions. Finally, Chris sets Tristan free and in a scene Chris has imagined his whole life, he finally gets to go nose to nose with an animal he has longed to meet.
Music Played
Timings (where shown) are from the start of the programme in hours and minutes
00:04

T. Rex

20th Century Boy

00:04

T. Rex

Twentieth Century Boy

00:05

T. Rex

Twentieth Century Boy

00:19

The Wailers

Get Up Stand Up
Credits
| Role | Contributor |
| --- | --- |
| Presenter | Chris Packham |
| Young Chris Packham | Toby Stewart |
| Special thanks | Museum fur Naturkunde Berlin |
| Special thanks | Royal Tyrell Museum Alberta |
| Special thanks | Peter Falkingham |
| Composer | Patrick Lavoie |
| Director of photography | Robert Vroom |
| Camera Operator | Victor Wong |
| Sound Recordist | Marco Fiana |
| Production Manager | Martha Fernandez |
| Production Manager | Nicola King |
| Assistant Producer | Dom Walter |
| Editor | Matt Lowe |
| Assistant Editor | Luke Flight |
| Executive Producer | Glen Salzman |
| Producer | Andre Barro |
| Director | Mark Everest |
| Writer | Ruth Roberts |
| Producer | Ruth Roberts |
| Director | Martin Williams |
| Executive Producer | Martin Williams |
| Production Company | Talesmith Limited |
Featured in...
Must watch shows from across the BBC

The home of Christmas 2017 across BBC television.