Main content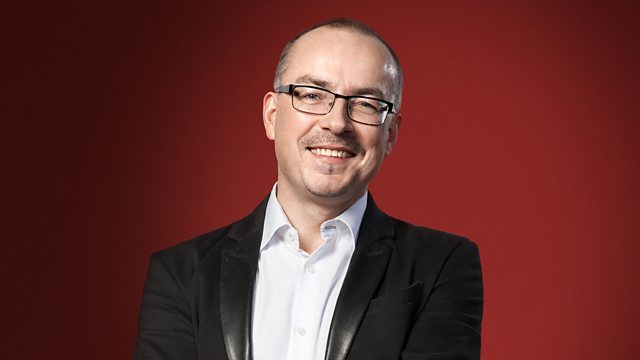 New Year New Music: Andrew McGregor with Gillian Moore and Hannah French
Building a Library: Ligeti survey by Gillian Moore; plus Hannah French reviews new releases of baroque music.
with Andrew McGregor
0930
Building a Library: As part of New Year New Music Gillian Moore surveys recordings of music by György Ligeti (1923 - 2006). He was born in Hungary, one the most important avant-garde composers in the latter half of the twentieth century. He emigrated to Austria in 1956, and became an Austrian citizen in 1968. His works include Atmosphères for orchestra and the "anti-opera" Le Grand Macabre
1030
Andrew talks to Hannah French about new recordings of Baroque music including Handel's opera, Lotario and recitals from Philippe Jaroussky, Chantal Santon Jeffery and Delphine Galou.
1145
Andrew chooses an outstanding new release as his Disc of the Week.
Record Review
9.00am
ATMOSPHÈRES
GYÖRGY LIGETI: Atmosphères; Volumina; Lux Aeterna; Organ Study No. 1; Lontano; Ramifications; Melodien
Wiener Philharmoniker/Claudio Abbado (conductor); Gerd Zacher (organ);
Chor des Norddeutschen Rundfunks/Helmut Franz (conductor); Ensemble Intercontemporain/Pierre Boulez (conductor); London Sinfonietta/David Atherton (conductor).
Deutsche Grammophon 002089 479 0567 (CD)
PA'DAM SINGS BACH: GOLDBERG VARIATIONS
J.S. BACH arr G Trujillo: GOLDBERG VARIATIONS
Padam (choir); Collegium Delft (ensemble); Maria van Nieukerken (conductor)
Cobra Records 0050 (CD)
HIDDEN
CHAYA CZERNOWIN: Adiantum Capillus-Veneris; Hidden
Inbal Hever (mezzo-soprano); Jack Quartet
Wergo WER 73552 (CD)
SCHUBERT QUARTET 15
FRANZ SCHUBERT: String Quartet in G Major, D.887
Artea Quartet
Champs Hill CHRCD127 (CD)
9.30am – Building a Library
Composer: Ligeti
Piece: Survey of his works
Reviewer: Gillian Moore
Recommended Recording:
THE LIGETI PROJECT: VOLUMES 1-5
Various artists
Warner 2564696735 (5 CDs)
Other Recommended Recordings:
Below is a shortlist of other recordings which Gillian also liked, although we can't guarantee the availability of these discs.
LIGETI: WORKS FOR STRING QUARTET
Arditti String Quartet
Sony G0100012229128 (CD – Volume 1)
LIGETI: A CAPELLA CHORAL WORKS
London Sinfonietta Voices; Terry Edwards
Sony G010001222911A (CD – Volume 2)
LIGETI: WORKS FOR PIANO
Pierre-Laurent Aimard
Sony SK62308 (CD – Volume 3)
LIGETI: NONSENSE MADRIGALS & OTHER VOCAL WORKS
Pierre-Laurent Aimard (piano); Irina Kataeva (piano); The King's Singers; The Philharmonia Orchestra; Esa-Pekka Salonen
Sony G010001222917X (CD – Volume 4)
LIGETI: WORKS FOR BARREL-ORGAN & PLAYER PIANO
Pierre Charial (barrel organ); Jürgen Hocker (piano); Françoise Terrioux (metronomes)
Sony G010001222916Z (CD – Volume 5)
LIGETI: KEYBOARD WORKS
Pierre-Laurent Aimard (piano); Irina Kataeva (piano); Elisabeth Chojnacka (harpsichord); Zsigmond Szathmáry (organ)
Sony G0100012229136 (CD – Volume 6)
LIGETI: CHAMBER MUSIC
Pierre-Laurent Aimard (piano); Saschko Gawriloff (violin); Marie-Luise Neunecker (french horn); Philippa Davies (flute); Michael Collins (clarinet); Gareth Hulse (oboe); Robin O'Neill (bassoon); Richard Watkins (french horn); Tabea Zimmermann (viola)
Sony G010001402139L (CD – Volume 7)
LIGETI: LE GRAND MACABRE
Sibylle Ehlert; Laura Claycomb; Charlotte Hellekant; Jard van Nes; Philharmonia Orchestra; Esa-Pekka Salonen
Sony S2K62312 (2 CDs)
GYORGY LIGETI: CLEAR OR CLOUDY
Various artists
DG 4776443 (4 CDs)
GYORGY LIGETI: COMPLETE PIANO MUSIC
Frederick Ullen
BIS BISCD1683/84 (2 CDs)
10.30am – New Releases
SYMPHONIES NOS. 2 & 5
FRANZ SCHUBERT:
Symphony no. 2 in B flat major, D125
Symphony no. 5 in B flat major, D485
Andtwerp Symphony Orchestra; Philippe Herreweghe (conductor)
PHI LPH028 (CD)
FORELLENQUINTETT – TROUT QUINTET
FRANZ SCHUBERT:
Piano Quintet in A major "The Trout" D 667
Piano Trio in E flat major "Notturno" D 897
Ständchen D 957/4 (arr. for violin and piano)
Ave Maria D 839 (arr. for violin and piano)
Anne-Sophie Mutter (violin); Daniil Trifonov (piano); Hwayoon Lee (viola); Maximilian Hornung (cello); Roman Patkolò (double bass)
Deutsche Grammophon 4797570 (CD)
SYMPHONIES Nos. 1-4
ROBERT SCHUMANN:
Symphony No. 1 in B-flat major, Opus 38 Spring (1841)
Symphony No. 2 in C major, Opus 61 (1846)
Symphony No. 3 in E-flat major, Opus 97, Rhenish (1850
Symphony No. 4 in D minor, Opus 120 (1841/1851)
San Francisco Symphony; Michael Tilson Thomas (music director and conductor)
SFS Media SES0071 (2 hybrid SACDs)
AGITATA
ANTONIO VIVALDI: 'Agitata Infido Flatu' from Juditha Triumphans
NICCOLÒ JOMMELLI: 'Prigionier Che Fa Ritorno' from Betulia Liberata
GIOVANNI LORENZO GREGORI: Concerto Grosso Op.II, No.2
NICOLA PORPORA: In Procella Sine Stella
ANTONIO CALDARA: Sinfonia Dalla Passione Di Gesù Cristo
ALESSANDRO STRADELLA: Et Egressus Est
GIUSEPPE TORELLI: Cantata Lumi Dolenti Lumi
GIOVANNI BATTISTA BREVI: O Spiritus Anglici
Delphine Galou (Contralto); Accademia Bizantina; Ottavio Dantone (Harpsichord and Direction)
Alpha 371 (CD)
HÄNDEL: LOTARIO
Opera in three Acts, HWV 26
Sophie Rennert (Lotario); Marie Lys (Adelaide); Ursula Hesse von den Steinen (Matilde); Jorge Navarro Colorado (Berengario); Jud Perry (Idelberto); Todd Boyce (Clodomiro)
FestspielOrchester Göttingen; Laurence Cummings (direction)
Accent ACC26408 (3 CD)
STRADELLA
ALLESANDRO STRADELLA: Lagrime E Sospiri
Moro Per Amore
SanGiovanni Battista
Le Gare Dell'Amore Eroico
La Forza Dell'Amor Paterno
Santa Pelagia
La Susanna
Chantal Santon Jeffery (soprano); Galilei Consort; Benjamin Chéinier (violin and direction)
Alpha 297 (CD)
A DUE ALTI
Chamber duets by Bononcini, Steffani, Marcello et al.
BENEDETTO MARCELLO: Felice chi vi mira
GEORGE FRIDERIC HANDEL: Caro autor di mia doglia
CRISTOFARO CARESANA: Lamento degli occhi
BENEDETTO MARCELLO: Lontan dall'idol mio
AGOSTINO STEVANI: lo mi parto
GIOVANNI BONONCINI: Per la morte di Ninfa; Lasciami um sol momento;
Sempre piango/Sempre rido
Antonio Papetti (violoncello); Chiara Granata (baroque harp); Gabriele Palombra (theorbo);
Gluca Oberti (harpsicord); Claudio Cavina (direction).
Glossa GCD 920942 (CD)
THE HÄNDEL ALBUM
A selection of arias from Imeneo; Riccardo primo; Siroe; Serse; Radamisto; Flavio;
Amadigi di Gaula; Tolomeo; Giustino; Ezio;
Philipppe Jaroussky (countertenor and direction); Artaserse
Erato 0190295774455 (CD)

11.45am – Disc of the Week
SMETANA: MÁ VLAST
Czech Philharmonic; Jiří Bělohlávek
Decca 483 3187 (CD)