Main content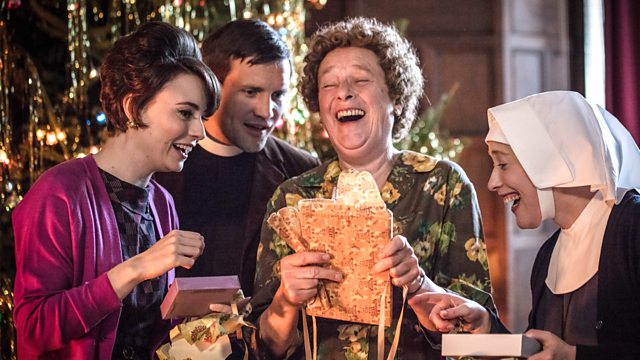 Christmas Special 2017
It's the big freeze of 1963, and the midwives strive to provide the best care for their patients whilst battling against blizzards and burst pipes.
Boxing Day brings a large snowfall that covers the country. The adverse weather causes major disruption across Poplar as roads become blocked and pipes freeze. The milk float struggles to make its deliveries and families must queue outside for water from standpipes. Trixie's holiday with Christopher is cancelled due to the snow. Valerie helps Linda and Selwyn, an unmarried couple living in a caravan, prepare for their baby. As the labour progresses, unforeseen complications knock Valerie's confidence in her ability as a midwife.
Elsewhere, the freezing weather takes the life of Dr Turner's patient, Percy Tillerson. Sister Julienne must inform the family of his death and uncovers an uncomfortable truth about the chirpy late Percy.
Tom is offered a new position in Birmingham, but it would mean him and Barbara leaving Poplar for at least six months. It's all hands on deck to help during the weather crisis, so Shelagh comes back to work. Nurse Crane meets her match in Sergeant Woolf as he challenges her driving ability and Akela leadership. Proving him wrong, Nurse Crane is instrumental in bringing the milk float back to Poplar.
Music Played
Timings (where shown) are from the start of the programme in hours and minutes
Credits
| Role | Contributor |
| --- | --- |
| Sister Julienne | Jenny Agutter |
| Nurse Phyllis Crane | Linda Bassett |
| Sister Monica Joan | Judy Parfitt |
| Trixie Franklin | Helen George |
| Shelagh Turner | Laura Main |
| Sister Winifred | Victoria Yeates |
| Violet Buckle | Annabelle Apsion |
| Nurse Valerie Dyer | Jennifer Kirby |
| Nurse Barbara Hereward | Charlotte Ritchie |
| Tom Hereward | Jack Ashton |
| Dr Patrick Turner | Stephen McGann |
| Fred Buckle | Cliff Parisi |
| Reggie Jackson | Daniel Laurie |
| Timothy Turner | Max Macmillan |
| Angela Turner | Alice Brown |
| Christopher Dockerill | Jack Hawkins |
| Percy Tillerson | Peter Quince |
| Sergeant Woolf | Trevor Cooper |
| Auntie Florrie | Nicky Goldie |
| LInda Openshaw | Francene Turner |
| Selwyn Garvey | Joel Morris |
| Dilys | Lizzie Muncey |
| Irene | Helen Colby |
| Mabel Tillerson | Anita Dobson |
| Anthea Sweeting | Rebecca Callard |
| Voice of Mature Jenny | Vanessa Redgrave |
| Executive Producer | Pippa Harris |
| Executive Producer | Heidi Thomas |
| Executive Producer | Ann Tricklebank |
| Writer | Heidi Thomas |
| Producer | Ann Tricklebank |
| Director | Syd Macartney |
| Production Company | Neal Street Productions |