Main content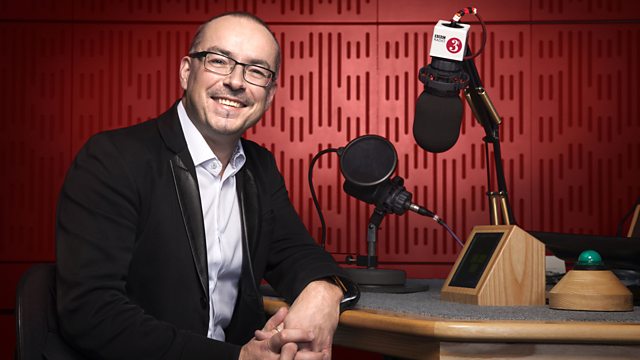 Andrew McGregor with Sara Mohr-Pietsch and Tom McKinney
Andrew McGregor features Building a Library: Bach's Brandenburg Concertos with Sara Mohr-Pietsch; plus Tom McKinney reviews contemporary music.
0930
Building a Library: Sara Mohr-Pietsch on The Brandenburg Concertos by Johann Sebastian Bach, possibly the most famous set of concertos of the Baroque era. Bach presented these six instrumental works to Christian Ludwig, Margrave of Brandenburg-Schwedt, in 1721. Each is scored for a different (often unusual) combination of instruments.
1030
Andrew talks to Tom McKinney about a group of new releases of contemporary music including music by Alberto Posadas, Graham Fitkin, Arturo Fuentes and Thomas Hyde.
1145
Andrew chooses an outstanding new release as his Disc of the Week.
Last on

Record Review
9.00am
IN DULCI JUBILO
HEINRICH SCHEIDEMANN: Preambulum in F major
CHRISTIAN GEIST: Wie schön leuchtet der Morgenstern; Pastores dicite quidnam vidistis
JOHANN CHRISTOPH BACH: Merk auf, mein Herz
DIETRICH BUXTEHUDE: Nun komm der Heiden Heiland; Fürchtet euch nicht; Das neugeborene Kindelein; In dulci jubilo; Jesu dulcis memoria; Wie schön leuchtet der Morgenstern
JOHANN ADAM REINCKEN: Fuga in G minor; Preambulum in D minor
FRANZ TUNDER: Ein kleines Kindelein
MATTHIAS WECKMANN: Rex virtutum
JAN PIETERSZOON SWEELINCK: Ab Oriente venerunt Magi
Theatre of Voices; Paul Hillier (artistic director)
DaCapo 6.220661 (Hybrid SACD)
A CAVALIER CHRISTMAS (MUSIC FROM THE TIME OF THE ENGLISH CIVIL WAR)
ORLANDO GIBBONS: See, see the Word is incarnate
WILLIAM BYRD: Behold I bring you glad tidings; O God, that guides the cheerful sun
RICHARD DERING: Laetamini cum Maria; Quem vidistis, pastores
ALESSANDRO GRANDI: O quam tu pulchra es
MARTIN PEERSON: Upon my lap my sovereign sits
WILLIAM LAWES: Aire
HENRY LAWES: Hark, shepherd swains
GEORGE JEFFREYS: Hark, shepherd swains; Busy time this day; Brightest of days
JOHN JENKINS: Newark Siege
The Ebor Singers; Chelys Consort of Viols; Paul Gameson
Resonus RES10202 (CD)
WINTER'S NIGHT
GREGORIO ALLEGRI: Salvatorem expectamus
PLAINCHANT: Corde natus ex parentis
HUGO DISTLER: Es ist ein Ros entsprungen, variations 1-7 from Die Weihnachtsgeschichte
HERBERT HOWELLS: A Spotless Rose
GIOVANNI BERNANDINO NANINO: Salve Regina
PIERRE VILLETTE: Hymne à la Vierge
JOHN TAVENER: Today the Virgin
JEAN MOUTON: Nesciens mater
REGINALD JACQUES: Away in a Manger
GEORGES DUPUY DE MÉRY: Marie berçant l'Enfant Jésus
PETER WARLOCK: Bethlehem Down
ELIZABETH POSTON: Jesus Christ the Apple Tree
Skylark Ensemble; Matthew Guard (artistic director)
HMR-002 (CD)
JESU, JOY OF MAN'S DESIRING
TRADITIONAL: Christmas Proclamation; Emmanuel; Angels We Have Heard on High; Adeste Fideles; Gaudete; Of the Father's Love Begotten; Gabriel's Message; We Wish You a Merry Christmas
JOHANN SEBASTIAN BACH: Jesu, Joy of Man's Desiring; Wake, Awake, For Night is Flying
FRANZ GRUBER JR.: Sleep, Little Jesus
MYKOLA LEONTOVYCH: Carol of the Bells
JOSEPH ANDREW BODANOWICZ: Snowflakes
WILLIAM J. KIRKPATRICK: Away in a Manger
LOWELL MASON: Joy to the World
PETER JOSEPH WARDLAW: Madonna's Lullaby
Dominican Sisters of Mary, Mother of the Eucharist, Sr. Joseph Andrew Bogdanowicz. OP (organ and acoustic guitar), Sr. Mary Esther Downey, OP (flute), Sr. Peter Joseph Wardlaw, OP (violin), Sr. John Michael Wynne, OP (xylophone)
Sony 88985417412 (CD)
ORIENTALE LUMEN III
MIKHAIL GLINKA: Cherubimic hymn
TRADITIONAL: St Peter's Lament; Christ is risen
INTERLUDE: Easter Bell prayer; Interludio for folk flute; Bell prayer
TAMÁS BUBNÓ: Psalm 127
GRIGORY LVOVSKY: Lord, have mercy
PAVEL TCHESNOKOV: We sing unto Thee; The Pre-eternal Council
ELLIOT COLE: Postludes
GEORGY SVIRIDOV ARR. ALEXANDER SEMENOV: Saintly love
ALEXANDER SEMENOV: Your birth, oh Christ, our God; Heaven and Earth
STANISLAV LUDKEVICH: Wondrous news
GYÖRGY PHILIPP: Christmas bell prayer; Hark, how the bells
MÁRK BUBNÓ: Bells of Annunciation; Mal'ka moma dvori mete
LEONID KULIKOVOJ: Three magi came
HEGUMEN FEOFAN ZIBOROV: Christ is born
Saint Ephraim Male Choir
Budapest Music Centre Records BMC CD 251 (CD)
THE SILVER STARS AT PLAY
PAUL AYRES: Hodie Christus natus est
CHERYL FRANCES-HOAD: This Time is Born a Child
ANDREW CUSWORTH: Of a rose synge we
HUW MORGAN: Make we Joy now in this Fest
PETER PARSHALL: That Yongë Child
DAVID FAWCETT: The Angel Gabriel
JOHN TURNER: Away in a Manger
FREDERICK FRAHM: Unto Us a Son is Given
CHERYL CAMM: Cantate Domino
PHILLIP COOKE: Susanni
PETER MAXWELL DAVIES: Child of the Manger
JOHN MCCABE: Peace Carol
ANDREW MAYES: Christmas Music
JENNI PINNOCK: Christmas Bells
SIMON CUMMINGS: Infant holy, Infant lowly
DOUGLAS STEELE: Two Carols; Come ye now at Christmas; The Child of God
COLIN HAND: He left the silver stars at play
MATTHEW COLERIDGE: Balulalow
SARAH RIMKUS: Brightest and Best
ANDREW TOOVEY: Alleluya for Christmas
SADIE HARRISON: As-salāmu 'alaykum Bethlehem
MARK HEWITT: Silent Night
Kantus Chamber Choir; Elspeth Storach (director); Simon Passmore (piano)
Prima Facie PFCD075 (CD)

9.30am – Building a Library
Composer: Johann Sebastian Bach
Piece: Brandenburg Concertos, BWV 1046-1051
Reviewer: Sara Mohr-Pietsch
Recommended Recording:
BACH: BRANDENBURG CONCERTOS
English Baroque Soloists; John Eliot Gardiner (conductor)
Solo Deo Gloria SDG 707 (2 CDs)
Other Recommended Recordings:
Below is a shortlist of other recordings which Sara also liked, although we can't guarantee the availability of these discs.
Freiburger Barockorchester; Gottfried von der Golz (conductor)
Harmonia Mundi HMC 902176.77 (CD)
European Brandenburg Ensemble; Trevor Pinnock (conductor)
Avie AV2119 (CD)
10.15am
JOHANN SCHELLE: ACTUS MUSICUS AUF WEYH-NACHTEN – CHRISTMAS CANTATAS
JOHANN SCHELLE: Uns ist ein Kind geboren; Vom Himmel kam der Engel Schar; Da die Zeit erfüllet ward; Uns ist ein Kind geboren; Machet die Tore weit; Ehre sei Gott in der Höhe; Actus Musicus auf Weyh-Nachten
Monika Mauch (soprano); Myriam Arbouz (soprano); Marian Dijkhuizen (alto); Georg Poplutz (tenor); Jakob Pilgram (tenor); Raimonds Spogis (bass); Concerto Palatino; Kölner Akademie; Michael Alexander Willens (director)
CPO 555 155-2 (CD)
JOHANN KUHNAU: COMPLETE SACRED WORKS III
JOHANN KUHNAU: Magnificat; O heilige Zeit (for Soprano & Bass); O heilige Zeit (for Soprano, Alto, Tenor & Bass); Frohlocket, ihr Völker, und jauchzet, ihr Heiden
Opella Musica; camerata lipsiensis; Gregor Meyer (director)
CPO 555 021-2 (CD)
CHRISTOPH GRAUPNER: EPIPHANIAS-KANTATEN
CHRISTOPH GRAUPNER: Was Gott thut, das ist wohl gethan, er ist mein Licht; Erwacht, ihr Heyden; Die Waßer Wogen im Meer sind groß; Was Gott thut, das ist wohl gethan, es bleibt gerecht sein Wille; Gott, der Herr, ist Sonne und Schild
Andrea Lauren Brown (soprano); Kai Wessel (alto); Georg Poplutz (tenor); Dominik Wörner (bass); Kirchheimer BachConsort; Sirkka-Liisa Kaakinen-Pilch (director and violin)
CPO 555146-2 (2 CDs)
DAQUIN: NOUVEAU LIVRE DE NOËLS
LOUIS-CLAUDE DAQUIN : Nouveau Livre de Noëls
Adriano Falcioni (Jean-Pierre Cavaillé organ of the Abbey of Gellone à St Guilhelm-le Désert (Hérault))
Brilliant Classics 94895 (CD)
IT'S A WONDERFUL LIFE
JAKE HEGGIE: It's a Wonderful Life – An Opera in Two Acts
William Burden (George Bailey); Talise Trevigne (Clara); Andrea Carroll (Mary Hatch); Rod Gilfry (Mr. Gower/Mr. Potter); Joshua Hopkins (Harry Bailey); Anthony Dean Griffey (Uncle Billy Bailey); Houston Grand Opera Orchestra and Chorus; Patrick Summers (conductor); Gene Scheer (librettist)
Pentatone PTC 5186 631 (2 Hybrid SACDs)
IN WINTER'S ARMS
BOB CHILCOTT: Wenceslas; Jesus, Springing; My Perfect Stranger; The Nine Gifts; Gloria
James Shaffran (baritone); Todd Fickley (organ); Marian Rian Hays (harp); Julie Angelis Boehler (timpani); Cantus Primo Youth Choir; The Classical Brass Quintet; Gretchen Kuhrmann (conductor)
Signum Classics SIGCD512 (CD)
10.55am – New Releases
GRAHAM FITKIN: STRING QUARTETS
GRAHAM FITKIN: Servant; Inside; A Small Quartet; Another Small Quartet; String; Pawn
Sacconi Quartet
Signum Classics SIGCD518 (CD)
ARTURO FUENTES: GLASS DISTORTION
ARTURO FUENTES: Broken mirrors; Liquid crystals; Ice reflection; Glass distortion
Quatuor Diotima
KAIROS 0015015KAI (CD)
ALBERTO POSADAS: SOMBRAS
ALBERTO POSADAS: Elogio de la sombra; Tránsito I; La tentación de las sombras; Tránsito II; Del reflejo de la sombra
Quatuor Diotima; Sarah Maria Sun (soprano); Carl Rosman (clarinet)
Naive V5442 (CD)
STEFAN WĘGŁOWSKI: CONTEMPORARY JEWISH MUSIC
STEFAN WĘGŁOWSKI: Beginning; Kohelet; Modeh ani; Anthem; Appendix
David Krakauer (clarinet); Cezary Konrad (percussion); Adam Kośmieja (piano); Mikołaj Trzaska (saxophone); Maciej Jaroń (violin); Weronika Dziedzic (voice); Mateusz Łasowki (voice); Justyna Ptaszyńska (voice); Dawid Szurmiej (voice)
KAIROS 0015026KAI (CD)
THOMAS HYDE: THAT MAN STEPHEN WARD
A One-man Opera to a libretto by David Norris
Damian Thantrey (baritone); Nova Music Opera Ensemble; George Vass (conductor)
Resonus RES10197 (CD)
11.45am – Disc of the Week
THE WAGNER PROJECT
RICHARD WAGNER: Overtures, preludes and scenes from Tristan und Isolde, Die Meistersinger von Nürnberg, Das Rheingold, Die Walküre, Der fliegende Holländer, Tannhäuser and Parsifal
Matthias Goerne (baritone); Swedish Radio Symphony Orchestra; Daniel Harding (conductor)
Harmonia Mundi HMM 902250.51 (2 CDs)
Broadcast