Main content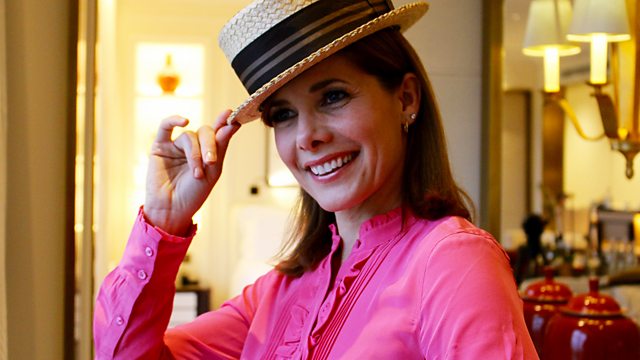 Darcey Bussell: Looking for Fred Astaire
Documentary in which Darcey Bussell profiles Hollywood dancer Fred Astaire, marking 30 years since his death.
There's one man Darcey Bussell never got to dance with, and always wishes she had: the legendary Hollywood dancer Fred Astaire, who died 30 years ago this year.
In this documentary, Darcey goes in search of Fred and discovers a very different story from the one she expected. Fred was born into an immigrant family in Omaha, Nebraska, in the middle of America. His name was Austerlitz, not Astaire. And, most surprising of all, Fred was never meant to be the dancer in the family. His mother only got him dancing to partner his sister Adele. For 30 years Adele, not Fred, was the star of their brother-sister song-and-dance act.
When Adele left the act to get married, Fred was finally able to shine in his own right, only to find his ambitions for a solo career thwarted when he came to Hollywood. 'What's all this about my being teamed with Ginger Rogers?' He wrote to his agent. 'I will not, repeat will not have it'.
In a journey that takes her from Nebraska to New York and from London to Los Angeles, Darcey marvels at Fred's discipline as a dancer. To outshine his sister Adele, Fred worked twice as hard as she did, always seeking out inventive new dance techniques to lift the act to another level. As a teenager, Fred discovered tap dance in the heart of black Harlem, introducing African-American steps into his routine. And Fred's success with Ginger Rogers was so great that ever since the golden age of the 1930s, Hollywood has tried to repeat the magical Astaire-Rogers formula - as Darcey learns from the choreographer of La La Land.
By the end of her quest, Darcey understands why there were three women who really made Fred Astaire. Not Ginger Rogers as everyone expects, but his mother, who first got him dancing, his sister, who gave him the competition to make him excel, and his wife Phyllis, whom Fred married as he made his way to Hollywood. That marriage gave Fred the love and security he needed when he broke away from his family to become a Hollywood star.
Clips

Credits
| Role | Contributor |
| --- | --- |
| Presenter | Darcey Bussell |
| Director | Marion Milne |
| Producer | Marion Milne |
| Photographer | Andrew Muggleton |
| Sound | Chris Syner |
| Assistant Producer | Imogen Walford |
| Production Manager | Paul McCaffrey |
| Production Coordinator | Adele Spark |
| Executive Producer | Ross Wilson |
| Production Company | Matchlight Ltd |