Main content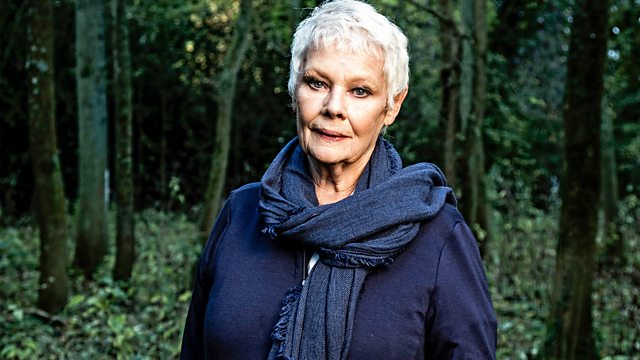 Judi Dench: My Passion for Trees
Documentary following Judi Dench as she explores the lives of trees, discovering how they feel, how they communicate and how they fight off invading armies and extreme weather.
Judi Dench is one of Britain's best-loved actresses, but few people know that Judi holds another great passion, a deep love for trees. Filmed over the course of a year, this is a study of the changing seasons and their effect on Surrey, the most-wooded county in Britain. Judi shared her passion with her late husband, and together they nurtured a collection of trees. For the past seven years, she has continued to care for this woodland with wildlife enthusiast David Mills. Throughout this time, Judi has continually planted trees for friends and family who have passed away.
This film follows Judi's experience through the seasons and her mission to understand the role of trees in history and the future. Judi joins tree scientists and historians to unlock the remarkable secret lives of trees and the stories that they cannot tell. With scientific techniques and equipment at her disposal, she is able to truly understand how trees work and gain an insight into their secrets. She meets a designer with a microphone to hear the trees around her, and a scientist with 3D scanning technology reveals her favourite oak in a new light.
Through the cycle of the four seasons, Judi discovers how trees feel, learns how they communicate and how they fight off invading armies and extreme weather. From Nasa satellite imagery, Judi is shown just how effective trees are as carbon capture machines that are fighting to protect our planet.
A fungi expert also shows Judi the action going on beneath her feet, revealing an underground fungal network that looks up to the tips of tree roots, connecting many trees in a forest together. It is confirmation for Judi that trees aren't just trees, they are a real community that help each other, humans and the planet.
Clips

Music Played
Timings (where shown) are from the start of the programme in hours and minutes

Credits
| Role | Contributor |
| --- | --- |
| Presenter | Judi Dench |
| Expert | Tony Kirkham |
| Interviewed Guest | David Mills |
| Expert | Lynne Boddy |
| Expert | Mat Disney |
| Expert | Chris Dobbs |
| Expert | Alex Metcalf |
| Expert | Charlotte Scott |
| Executive Producer | Anthony Geffen |
| Director | Harvey Lilley |
| Production Manager | Samantha Tilyard |
| Editor | Sally Yeadon |
| Producer | James Manisty |
| Production Company | Atlantic Productions |