Main content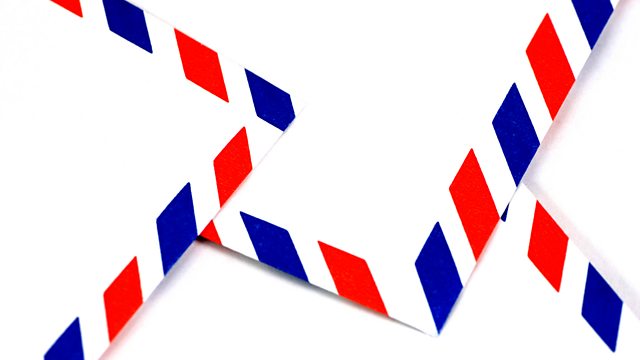 Lemn and Mark
Lemn Sissay's new pen pal is a schoolboy from Northern Ireland. They compare notes on Halloween, Harry Potter and learning to act as each takes to the stage at the same time.
A new series celebrating the phenomenon of the international pen-pal - the art of writing a letter the old-fashioned way, the tentative early forays into a new friendship, and the frisson of glamour when the air mail envelope drops through the letter-box.
Five favourite Radio 4 voices were asked to chose a pen-pal from anywhere in the world. The task was to write six letters in long-hand and send them through the post. What they wrote about was entirely up to them. But they had to finish before the end of 2017.
Poet, author and broadcaster, Lemn Sissay, chose a secondary-school boy in Northern Ireland as his pen-pal for this second episode.
Northern Ireland is one of Lemn's favourite places on earth. Both share a dark struggle and a love of good writing. Last year, Lemn ran a workshop at the new Seamus Heaney Centre near Magherafelt and loved the passion and enthusiasm of the local school children. He's been writing letters to one of them, Mark Comer, about Harry Potter, being on stage, and scaring children at Halloween.
Producer: Deborah Dudgeon
Executive Producer: David Prest
A Whistledown production for BBC Radio 4.