Main content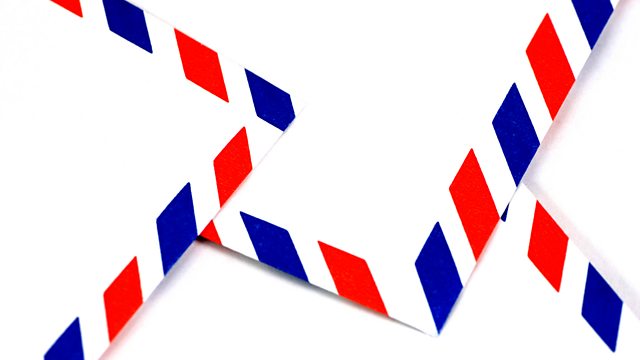 Fi and Ann
In a new series celebrating the art of letter writing, Fi Glover explores views on motherhood, Thanksgiving and Donald Trump with her new pen-pal in Ohio, Ann Plumley.
A new series celebrating the phenomenon of the international pen-pal - the art of writing a letter the old-fashioned way, the tentative early forays into a new friendship, and the frisson of glamour when the air mail envelope drops through the letter-box.
Five favourite Radio 4 voices were asked to chose a pen-pal from anywhere in the world. The task was to write six letters in long-hand and send them through the post. What they wrote about was entirely up to them. But they had to finish before the end of 2017.
Episode One features Fi Glover and Ann Plumley, an American mother in Ohio who voted for Donald Trump.
Ann is a former forensic scientist, who gave up her career to raise her daughter. She and Fi compare "mom culture" in Britain and the USA, and share parenting worries and precious memories of childhood. Along the way, they discuss the political events of the year - Donald Trump, Brexit and terror attacks.
Is this the start of a beautiful new friendship? Or is there more to divide than unite them?
In our globally connected world, how much do we really understand the lives of people born thousands of miles away? By trying to understand the individual, we may gain a better understanding of the bigger picture. And as each presenter learns more about their new friend, they also offer a small window into their own world.
Producer: Deborah Dudgeon
Executive Producer: David Prest
A Whistledown production for BBC Radio 4.