Main content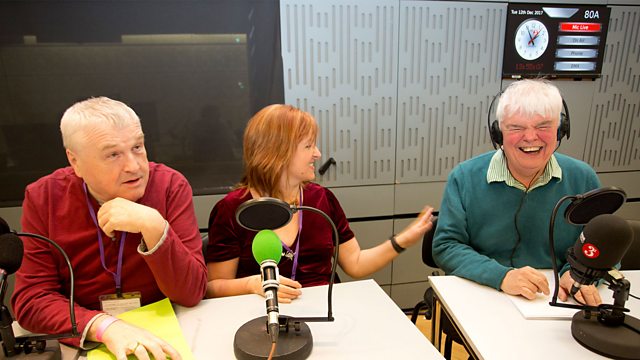 I'm Sorry I Haven't A Quiz
Peter White hosts a special Boxing Day edition of In Touch called 'I'm Sorry I Haven't A Quiz' with Kevin Mulhern, Denise Leigh, Sue Arnold and Dave Kent.
Peter White hosts a special Boxing Day edition called 'm Sorry I Haven't A Quiz' with a panel of guests: TV journalist Kevin Mulhern, opera singer Denise Leigh, audio-book reviewer Sue Arnold and musician Dave Kent.
Loosely based on BBC Radio 4 quizzes, the panel are asked to take part in games which have been given the In Touch twist.
There is a special guest appearance by the doyen of radio comedy script writing, Denis Norden/
Presenter: Peter White
Producer: Cheryl Gabriel.
Transcript
THIS TRANSCRIPT WAS TYPED FROM A RECORDING AND NOT COPIED FROM AN ORIGINAL SCRIPT.  BECAUSE OF THE RISK OF MISHEARING AND THE DIFFICULTY IN SOME CASES OF IDENTIFYING INDIVIDUAL SPEAKERS, THE BBC CANNOT VOUCH FOR ITS COMPLETE ACCURACY. 
IN TOUCH – I'm Sorry I Haven't a Quiz
TX:  26.12.2017  2040-2100
PRESENTER:          PETER WHITE
PRODUCER:            CHERYL GABRIEL
Applause
White
Well hello everyone and welcome to the In Touch Boxing Day bash.  Now over the years BBC Radio 4, which has hosted In Touch patiently for the past 50 years or so, has devised some cracking quizzes – panel games, shows which defied definition.  So what we decided to do was to take our favourite bits of the ones we love best and on our Boxing Day party to give it the In Touch twist.  So tonight, we bring you I'm Sorry I Haven't a Quiz.  By very narrow majority we rejected The Weakest Blink.  The small but perfectly formed audience is comprised of VIPs – visually-impaired people – family and friends of the programme.  They're friendly, they're frisky and they're free.
So let me introduce you to our panel.  Denise Leigh, rocketed to fame when she won a television reality show to find an opera star.  Denise has been hitting the high notes and performed all over the world and yet still, for some reason, she agreed to come and be with us tonight.  The next member of our panel is a man of many talents – filmmaker, investigative journalist, TV producer – well we tried for all of those but none was available but Kevin Mulhern agreed to take part.  I realised just how well connected Kevin was when he very kindly made three suggestions for guests on my No Triumph, No Tragedy series, only one problem when we investigated them they all turned out to be dead.  Can we hear your…
Mulhern
You still interviewed them.
White
Now next the woman who has, what I think, is the best job in the world – Sue Arnold sits at home reading audio books all day because she's a reviewer.  She's a dab hand in the kitchen and her efforts once got us into very hot water.  Finally former busker, rock star, actor, broadcaster Dave Kent comes from West Wales but he now wreaks most of his havoc in West London.
So let's get on with it.  Now on In Touch we pride ourselves on our tact and sensitivity, so how appropriate really that our first round with a room full of blind people is on films.  I'd like you to suggest film titles which might appeal to a blind and partially sighted audience.
Leigh
Jaws!
White
For those who don't understand that it's a kind of speech thing that helps people read.
Kent
Blinding Nemo.
Arnold
One Tripped Over the Cuckoo's Nest.
Mulhern
A Room with a View.
Arnold
Casa Blinka.
Kent
Sightless in Seattle.
Leigh
No we can't top that.
White
Okay, well I've already completely lost my mind and track of the score but you've all done very well. 
Now it's not widely known but I used to be a pub pianist so let me introduce the next round.  I've just got to wander off for a moment.  Okay here we go.
Piano playing
Now that of course was a snatch of the opening of the much loved Just a Minute but our panel isn't disciplined enough to do that so this evening what we're going to do we're playing our own version called Just Over a Minute.  So Sue Arnold I'd like you to talk using repetition and hesitation and we're quite partial to a bit of deviation on In Touch and your subject is 'my cooking disasters' and I'll start you off, if you'd like to go now.
Arnold
Well I've always been a good cook, she says modestly, but 20 years ago when I had not exactly 20/20 but about six and three quarters/six and three quarter vision I used to make puddings for my husband's new restaurant.  I used to do crumbles and brownies and stuff.   And one day I was showing my son how to do the crumbles – here you make the puree, here's the crumble, you put it together – oh I'm just going to add a bit of yesterday's leftover apple puree to this.  Mixed it up, put it in, in the oven – easy peasy.  What do you think?  And James said – Mum, what did you just put in the apple mixture then?  And I said – I told you, it was the leftover from yesterday's puree – and he said – No, you didn't, it was yesterday's chilli con carne. 
But I then decided, listen, I want to do better than that, I'm more sophisticated, I'm going to make crème brulee and I'm very good at crème brulee and I must have told Peter at some stage, he said – We'll do a piece about visually-impaired cooking.  So he came along with Cheryl, the producer, and they came into my kitchen, where's the crème brulee and I said here, it's alright, I haven't bruleed it yet because I've just got to climb up and get the blow torch which is on the top of a cupboard.  So I climbed up and usually I'm very clever at this, because I was nervous I suppose because Peter and Cheryl were there, I did actually on my way up knock up a couple of glasses from one shelf and a water jug from the top shelf and you know noises off – crash, crash, crash – and they were saying are you alright, yes it's perfectly alright, here's the blow torch.  So I said it's perfectly easy, all you do is you light the match and then you turn up the flame – gone across the kitchen this great sheet of flame and Peter and Cheryl were under the table at this stage.  Are you sure you're alright?  And I said yeah of course I'm alright.  So I did the brulees and they were fine.  I didn't realise I'd done anything amiss but that evening apparently the BBC switchboards were absolutely jammed with people ringing in and saying – I cannot believe that the BBC has been irresponsible enough to have this reckless, mad, impossible woman with a naked flame, the kind of thing that plumbers use to weld pipes together to do her thing.  We're never going to listen again.  [Horn noise]
White
Sue, thank you very much indeed.  And amazingly that was exactly just over a minute.  And we've been eternally grateful because we've been trying to get on Feedback for years and finally because we were encouraging blind people to cook with blow lamps we made it.   So thank you very much Sue Arnold.
[Applause]
Okay, time for a round called The Unretrievable Truth.  Kevin, you've been smuggling dodgy facts into your reports for years now, allegedly, but on this occasion you've got to see how many true facts, however unlikely, you can slip past your fellow panellists, so a kind of blind man's bluff.  Ready?  What's your subject?
Mulhern
Well when I started working on this programme I thought this was going to be wonderful because I'll be able to expose all those things about charities and government that I've always wanted to do.  And what I didn't realise when I started was it was going to become much more important to actually hide stuff about the blind world.  You see one of my greatest heroines in the whole world was Helen Keller, till I discovered that Helen Keller once made a sequence in a movie where she cavorted with a half-naked man under the guise of Ulysses on the Isle of Circe in a fantasy scene about her sex life.  This was such a shock to me I could never ever tell it until now.  Now the good news is if you're saying why did we never see that, the reason is quite simple – on the day that the film was actually going to be premiered in New York there was an actors' Equity strike and Helen Keller decided to join the picket line rather than actually go into her own movie.  Also staying with New York…
White
Well remember panel you can challenge some of this if you want to.  You clearly think that this is all completely true.  Carry on Kevin.
Mulhern
Oh and true.
Leigh
We're looking for truths?
Mulhern
You're looking for truth Peter?
White
Oh yes…
Mulhern
Bless him.  Bless him.
Leigh
He comes over so insincere you see.
Mulhern
I'll tell you, there's nothing untrue in this. 
Arnold
I think it's probably true that Helen Keller was blind.
Mulhern
I never said that. 
White
Carry on Kevin.
Mulhern
Nelson, who only had 50% of the requisite arms and eyes to actually be in the Navy was once fired by the Navy because they said it wasn't a very good idea because he couldn't cope with it.  It was only then when Lady Hamilton told him to put the patch over his bad eye, not his good eye, that he got his job back.
Leigh
That's so ridiculous, that's got to be true.
Arnold
That has to be true.
Mulhern
Which bit?
Arnold
That he put his patch over his eye.
Leigh
His bad eye.
Arnold
His bad eye.
Leigh
His good eye.
Arnold
But was he…
White
They're as confused as I am.
Mulhern
Well I have to tell you – I have to tell you, Nelson never ever wore an eye patch, so…you're entirely wrong.
Arnold
But what about I see no ships?
Leigh
That was using his bad eye.
Mulhern
It was a very foggy day.  You have fog, you're on board a ship.  Now Peter I will stop and tell you, actually it is true that Nelson was once sacked by the Navy though, that was a truth.  He was actually once told that with his obvious disabilities he couldn't continue in his work.  And there is a letter to that effect at the Admiralty.  So that was the true bit, not the other bit.
White
Is there much more of this?
Mulhern
Excuse me, I've been up all night doing this.  Now the typewriter was invented for a blind woman.  Some people say that it was so her lover could communicate with her.  But after many years the lover had to then go out, if he really was her lover, and invent carbon paper because there were no ribbons for the typewriter…
Leigh
Excuse me sir.
Mulhern
… and he couldn't read the messages.
Leigh
I think that's probably true.
Mulhern
Which bit?
Leigh
That it was invented for a blind person.
Mulhern
It was.
Leigh
Go me.
White
Well spotted Denise.
Mulhern
Would you like the second truth?  Later he had to invent carbon paper because she didn't have a typing ribbon. 
White
Right.
Mulhern
One other truth you missed.  In a film called The Midnight Palace Helen Keller had a fantasy scene with a man dressed as Ulysses, he was actually half dressed, and later when she went to the premier of the movie – true – there was an actor's Equity strike and they were picketing the building and she joined the pickets.  Now some people have very cruelly said she didn't know where she was going but I don't believe that.  So those things were true.
[Applause]
White
Good, well let's move on then because I'm sure you've all been looking forward to the moment when I can return to the piano.  Just going to move across to the – we have the piano here.  Now at the special request, nay pleading, of diva Denise, I'm going to assist her in a musical round.  This is our take on one song to the tune of another.  I will play a short selection from which Denise can then select a song she'd like to murder – perform.  Here we go.
Piano music – Teddy Bears Picnic
Leigh
Really!
Piano music
Arnold
Oh Pete, stop now, this is painful. 
Leigh
I've got an old man who's a pianist so – would you like to move over Peter?
White
Are you telling me that I've reached my Colin Selby date?
Right, so what are you going to do Denise?
Leigh
Well in the tradition and being as it is still Christmas, there's another 11 days to go, I thought I would perform Harold Dark's In the Bleak Midwinter to the words of Proper Crimbo by Bo Selecta. 
White
Some of the older people here are a little puzzled.
Leigh
It's actually the song my little boy was born to.  Proper Crimbo that is.
Piano playing – Denise singing
[Applause]
White
That was the inimitable Denise Leigh accompanied by the unpronounceable Stefan Andrusyschyn.  I did me best Stefan.
Okay, right it's time now for a solo performance from that noted raconteur Dave Kent.  Now Dave it's your turn to play just over a minute and your subject is Blind School. [Horn noise]
Kent
Well apart from the requisite compulsory sword fencing with white canes we had a boxing night.  There was an half blind pugilist called Philip – I'll refrain from his surname for his sake – but said to the duty master one night – Sir, do you mind if we set up a bit of a boxing ring.  So they said – Yeah go on then, try it out.  So there we were, put the gloves on, in the gym, in this blind school with a load of baying blind around the edges.  I stepped in with me PC PE shorts, down to my ankles, and my gloves, put them up, next thing – I lasted about two seconds?  I was on the canvas, that put an end to my boxing career. 
And moving swiftly forward into the Royal National College for the Blind in my student days, we would take inebriated totally blind students down on to the hard pitch, spin them round and play spin the dim.  Open a book, just to see how long it would take said person to make it back to the hall of residence.  If they did it by 9 o'clock the next morning they were doing well.  And now I wonder why I've gone completely blind – is it divine retribution for my past deeds?  They were fun days.  [Horn noise]
White
Thank you Dave Kent. 
[Applause]
It's a wonder any of us survived really.
Now there are times when – if you've tuned into In Touch without knowing what it's all about you could be forgiven for feeling a little confused.  We've selected a couple of such moments to see if the panel can work out what's going on.  This is fairly regular contributor Geoff Long, what's he on about now?
Long
I normally do it by width, you know, in my hand a width, so I can tell if – I'm not sure whether I would know, especially after a good evening out, whether this was bigger or not.
Leigh
Well…
Mulhern
I think your back on Feedback!
White
I think before I even let you speculate on this it so happens that Geoff is in the audience.  Geoff, I can't understand what all the tittering about, I don't know about you, would you like to enlighten us?
Long
Indeed and neither can I because it's obvious that what I was referring to was the introduction of the new £10 note, I can't see what I said that was anything wrong there.
Leigh
I don't think I've ever felt so disappointed.
Mulhern
Some of us have never had a £10 note.
White
Oh dear, thank you very much Geoffrey.
[Applause]
Let's bring a little decorum back to the proceedings.  Here's a very serious and important person.  CEO of the Macular Society, Cathy Yelf, so what we want to know is why did Cathy say next?
Yelf
We do recommend to patients that they sharpen their…
Kent
Long canes.
Mulhern
Elbows, to get an earlier appointment.
Arnold
Knives so they can cut up their cooking very small.
Leigh
Tongues.
White
Now Kevin slipped in, rather annoyingly, really a right answer there.  So well done Kevin.
Leigh
What did you say?  Elbows?
Mulhern
What did I say?  Elbows.
White
Let's just hear exactly what Cathy did say.
Yelf
We do recommend to patients that they sharpen their elbows and they make sure that they are heard and clearly we are willing to help wherever we can with that, via our helpline and our advocacy service.  But sharp elbows is what you need in the NHS these days.
White
Well…
[Applause]
Mulhern
Feel a bit…
White
She'll be very gratified because Cathy couldn't be here but we've tracked her down to the Macular Society Christmas Party.  So Cathy, we know what you said, why did you say it?
Yelf
Well I said it because we had had a member of our society who had been waiting for treatment on the NHS and it had not happened and he got so frustrated that he took himself off to the local NHS headquarters and he burst in and challenged their security people and filmed himself invading the offices.  And then he took that film and put it on Twitter to raise awareness of the problem that he had in trying to get treatment.  And I think your question to me Peter was whether all patients should do that, whether it was a Macular Society policy now to do this and of course it isn't, I don't think that is possibly the right way to do it but it is sadly the case that the NHS is under such pressure now that patients do need to be able to stand up for themselves and argue for their rights under the NHS and ensure that they do get the treatment when they need it because if they don't then their sight is at risk.  So sharp elbows, I'm afraid, does help you get to the front of the queue.  And it's an awful situation for patients to be in but all the evidence we have is that patients who are willing and able to fight for their care will get better care I'm afraid.
White
And I think what it shows is you don't mess about with In Touch listeners.  Cathy Yelf, thank you very much indeed.
Yelf
Thank you.  Happy Christmas.
[Applause]
White
Right, just one more game to play and we'll end as we started by cheating.  This wasn't actually ever actually a Radio 4 show, maybe it should have been, but it was a huge early television favourite in the '50s and the '60s – What's My Line.  Well, we have a what was my line contestant, sitting next to me, and all the panel needs to know about Susie is that she's visually-impaired, because you don't get on this programme if you're not.  What you have to guess is the job she did with shrewd questioning.  Susie can only say yes or no.  The studio audience are being shown Susie's job via our braille display board.  But unfortunately blind people have got to find the braille display board first.  That could take a while.  Also for listeners at home you'll hear it via the medium of audio description.
Audio description
Susie was a dancer at the Folies Bergère.  A dancer at the Folies Bergère.
White
Okay, start your questioning of Susie now please.
Arnold
Anything to do with politics?
Susie
No.
Mulhern
Are you paid for what you do?
Susie
Yes.
White
She was paid.
Kent
Do you work day or night?
Susie
Yes, no.
Mulhern
Were you an air traffic controller?
Susie
No.
Mulhern
Thank god for that.
Arnold
Did you wear a uniform?
Susie
No.
Kent
Did your job involve any telephone work?
Susie
No.
Leigh
Was it an indoor job?
Susie
Yes.
Arnold
Did you work on your own?
Susie
No.
Kent
Did your job involve manual tasks?
Susie
Yes.
Arnold
So you worked with your hands – we've got to work out what you did with your hands?
Susie
No.
Leigh
Was this job before you lost any sight?
Susie
No.
Leigh
So you weren't driving, you weren't a driver?
Susie
No, no.
White
They're all looking very puzzled.
Mulhern
Tell me are you the only person who ever did this job with a visual impairment?
Leigh
Ooh good question.
White
Yes that's a good question.  Do you know the answer – you have to say yes or no – don't worry about lying to them, I don't care.
Susie
Alright, no.
White
Say no.
Mulhern
What does that mean?
Leigh
It means she doesn't know.
Mulhern
Oh she doesn't know. 
White
Oh I've had enough of this.  [Horn noise]
Mulhern
Give us one more clue.
White
Susie – no, no more clues – tell them what you did.
Susie
I used to be a dancer…
White
At, at?
Susie
The Folies Bergère.
White
We got there in the end.
[Applause]
Mulhern
Can I just ask…
White
Not really.
Mulhern
…you know when you said you weren't wearing uniform…
Arnold
You weren't wearing anything!
Susie
At times.
White
Well I was hoping one of you would ask that but you never did.  What I did ought to ask you though, because you were a visually-impaired dancer, any embarrassing situations?
Susie
One in particular.  I was working in Amsterdam but I was working with a French troop, which is what I normally did, travelled with the French, and I, not for the first time, I fell off stage, right into the lap of Bob Hope.
White
Did he tell you a joke?
Susie
No he just screamed – She's attacking me.  And then I said – I'm terribly sorry.  And then he shouted out – She's English, please get her off.
Kent
Shut up Bob, you know you love it.
White
Susie, thank you very much indeed for playing the game.
[Applause]
Right, finally we thought we ought to end by showing our panel how this is really done by bringing in one of the real pros in the world of entertainment.  They don't come much realer than Denis Norden.  Now Denis is the doyen of scriptwriters, the originator with his long time writing partner Frank Muir of such classics as Take it From Here, My Word and then almost 30 years presenting It'll Be Alright on the Night on television.  Since beginning to lose his sight with Macular Degeneration Denis has also been a great friend to this programme, with a staring performance on our 50th anniversary celebration programme six years ago.  He's still as sharp as a tack at 95 and he agreed to do a turn for us today.  Now on My Word Denis and Frank used to be given a well-known phrase or proverb and they had to come up with what they would claim was its real derivation, as opposed to the one people thought it was.  And when I went to his home recently Denis chose to reveal how the phrase attributed to philosopher René Descartes – I think therefore I am – really came about.
Music
Norden
It happened in 1636.  Mrs Descartes held a New Year's Eve party and René, he hated parties.  So she said – Well I'm going to sit you in the room where people will eat while we do the New Year together, all the guests in the other room.  And she sat Descartes down and she said – Now just get on with some philosophising and we'll come and see you later.  Now she'd decided that they wouldn't eat till after they'd done the New Year celebrations and they would wait about an hour afterwards before they put anything inside them.  And to this purpose she'd made a lot of quiche, she had this table piled up with quiche and because the word buffet actually means – we have more people than chairs – René sat down on the carpet with his friend, his dear friend at pre-school Father Durante.  So while René did his philosophising Father Durante read the good book.  And René wrote down anything that came into his head on the subject of corporal rationality.  And while he was writing on a paper napkin he looked up and saw to his horror that Father Durante had absently taken one of the quiche and was munching it.  Now Mrs Descartes was a rather stern lady, he noticed her looking in from the other room, so he took a paper napkin and wrote a message to his friend and that is the source of the 300 odd years misunderstanding because it was not – I think therefore I am – what he actually wrote was – I think they're for one am. 
[Applause]
White
Absolute genius and it's wonderful to have him here in spirit today.  Denis Norden still in cracking form at 95.  I'm not going to try and top that, no one could.  Many thanks to the audience for coming along to join our Boxing Day party and to the panel – Sue Arnold, Dave Kent and Kevin Mulhern.  But one person's work is still not quite done because Denise this is a party, would you and your old man like to play us out?  How about Olivia Newton John's Let's Get Quizzical.  [Groans]
Leigh
Come on then get up here.  You can't drop me in it and not expect to be dragged up here yourself.
White
Me? Me?
Leigh
Yeah come on.
White
No I've finished, I'm finished.
Leigh
Oh no come on.  Peter! Peter! Peter! Peter!
White
Oh alright.
Kent
You don't want to hear Pete sing.
White
Okay, okay Stef off you go we'll see what happens.
Leigh
I think Stefan's got a train to catch.
Denise and Peter singing – Baby's It's Cold Outside
[Applause]