Main content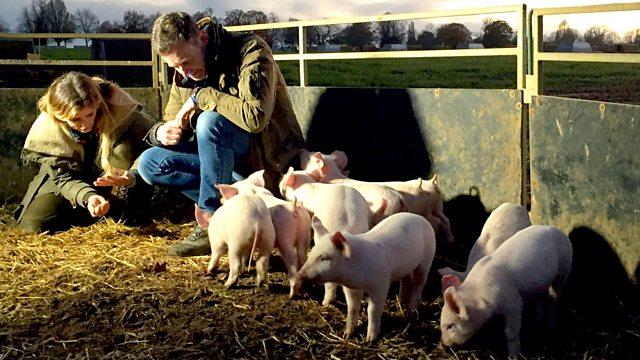 The Brecks
Ellie Harrison finds out about a conservation effort to save two species from extinction in Breckland, on the Norfolk-Suffolk border.
Ellie and Matt are in the Brecklands on the Norfolk-Suffolk border. Ellie finds out all about a major conservation effort to save two Brecks species at threat of extinction. She also hears how the Brecks rabbit is playing a key role in this effort. Later, Ellie meets the mum-and-daughter team helping to make Ipswich the most hedgehog-friendly city in the UK.
Matt joins an arable farmer who is able to harvest veg all year round thanks to the Brecks' sandy soils and temperate climate. He also meets the pig farmer who swears by the soil for rearing his livestock.
Margherita joins a shepherd turned artist for a lesson in watercolours out in the Brecks, and Adam has got his hands full with two alpacas who have an unusual job to do.
Tom Heap looks at the animal diseases worrying farmers at this time of year and asks if there is a chink in our armour.
Back from the Brink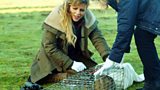 Ellie is in the Brecks, in the border of Norfolk and Suffolk, to find out more about one the most ambitious conservation projects ever undertaken. 'Back from the Brink' aims to save some of our most threatened species and the distinct Brecks' habitats are prime spots. Ellie learns how the Breckland rabbit has helped shape this landscape and how disease has recently hit their numbers. She also helps rabbit expert Dr Diana Bell run a rather unusual rabbit health check… Ellie's never done this before!
Animal Diseases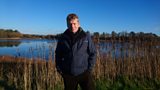 It's almost exactly a year since Avian Influenza last broke out in the UK and there are warnings that we could see the same again this year. Tom Heap's been looking at the possible weak links in our biosecurity and finding out what both commercial farmers and hobby farmers can do help keep their flocks safe and healthy.
Beneath the Brecks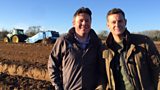 Matt Baker is also in the Brecks meeting the Abrey's, a 3rd generation farming family that discovered the potential of the sandy soil of the area for growing root vegetables. Cousins Giles and Tom show Matt how the sand allows multiple harvests throughout the year. The Abreys are now supplying onions to the UK market all year around but conservation is also at the top of their priority list.  
Watercolour Masterclass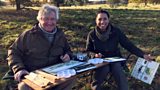 Margherita meets wildlife and landscape artist Jonathan Yule for an art lesson in the beautiful wilderness of the Brecks. In between brush strokes Jonathan tells Margherita why he's drawn to the distinctive landscape and what makes it so special for him. Jonathan gave up his life as shepherd to become an artist after one special encounter with a well-known figure of the natural world. 
Caterpillar Hunt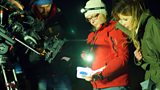 Ellie continues delving into the 'Back from the Brink' conservation project. This this time she meets Sharon Hearl from Butterfly Conservation Society and her team of volunteers for a night-time survey of some rare caterpillar species of the Brecks, at Cavenham Heath Nature Reserve. The elusive Lunar Yellow Underwing is one of the target species at risk of extinction and dusk is when it can found when it comes out to feed. Head torches at the ready!
Care Home Alpacas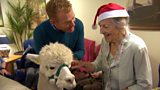 Adam's visiting an Alpaca farm on the Dorset/ Wiltshire border. Making a living from farming Alpacas can be difficult, but Wendy Williams has been farming this herd in Dorset for 7 years. She has various ways of making a living out of them - She offers visits to the farm, where people can walk with alpacas. Adam also joins Wendy on a visit to a care home where the residents love to them. They visit the communal areas, individual bedrooms and even go up and down in the lifts, what could possibly go wrong?
Breckland Pigs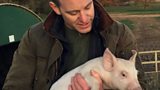 Matt meets outdoor pig farmer Chris Fogden who shows him the wonders of farming pigs in the sandy soils of the Brecks. The quick draining soil means that farmers can easily feed them every day of the year and for the pigs it means a high welfare environment free from boggy mud. Matt gives Chris a hand with some maintenance work to help them enjoy their outdoor life. 
Hedgehog Champions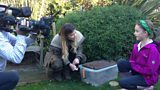 Ellie travels a few miles down from the Brecks to Ipswich, where a huge effort is being made to make it the most hedgehog friendly town in the UK. It's a project ran by the Suffolk Wildlife Trust. Ellie meets mum and daughter hedgehog champions, Emma and Daisy, who know exactly what it takes to create a hedgehog friendly garden and will show how you can do it too.
Credits
| Role | Contributor |
| --- | --- |
| Presenter | Ellie Harrison |
| Presenter | Matt Baker |
| Presenter | Margherita Taylor |
| Presenter | Adam Henson |
| Presenter | Tom Heap |
| Executive Producer | William Lyons |
| Series Producer | Joanna Brame |