Main content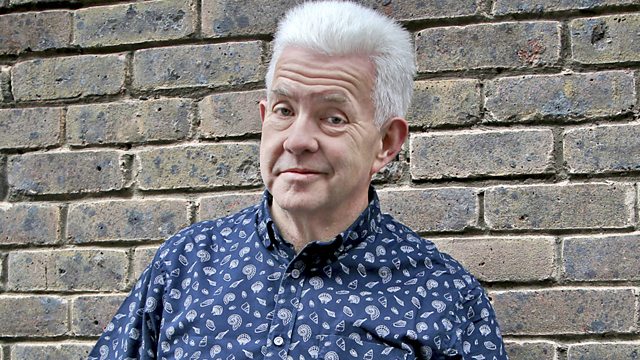 The Verb's 'Out of this World' Christmas Special
Joining Ian McMillan for a sci-fi themed Christmas party are Carol Ann Duffy, Hollie McNish, Abandoman, Paul Magrs, Katy Manning and Verb New Voice Laura Potts.
Recorded in front of a studio audience at Media City.
Last on
Carol Ann Duffy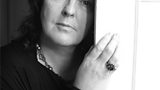 The Poet Laureate Carol Ann Duffy reads a brand new poem for Christmas, 'Pablo Picasso's Noel', illustrated by Lea Maupetit and published by Picador. She explains how the poem was inspired by something un-Christmassy, a summer visit to Provence, and delves into the poetic roots of some of our most popular Christmas Carols. Carol Ann Duffy was appointed Poet Laureate in 2009. Her collection 'Rapture' won the T.S. Eliot award in 2005. 
Abandoman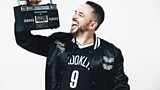 Rapper and comedian Rob Broderick performs as 'Abandoman', creating an improvised rap using suggestions from our audience. For our 'out of this world' Christmas Rob crafts a song called 'New Rules for a New Planet' with guest vocals from Ella Haggis. We also hear about Rob's youth as a rap fan in Ireland in the pre-internet days, when the most reliable hip-hop dictionary available was a slightly older kid, leading to some strange misunderstandings of the rapper's lexicon.
Hollie McNish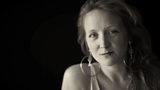 The Verb's guest curator Hollie McNish, reads a brand new poem to celebrate the new Doctor Who, drawing on some of the responses to the casting of Jodie Whittaker in the role. She tells Ian how her own experience of motherhood led her to discover the hidden labour that many women perform at this time of year. Hollie's book 'Nobody Told Me' is published by Blackfriars.
Laura Potts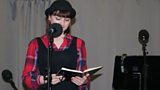 Laura is one of the winners of our 2017 Verb New Voices Scheme, in partnership with Arts Council England, The Writing Squad, Arvon Foundation and New Writing North. Laura Potts is a poet based in Yorkshire who has been twice nominated for Foyles Young Poet of the Year. Laura's new poems are examinations of grief in wartime, and have been inspired by interviews she conducted with members of the public about their experience of loss. Laura performs with Keely Hodgson on Cello.
Paul Magrs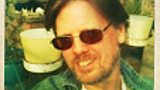 The writer Paul Magrs is the creator of 'Iris Wildthyme', a female time-lord and 'transtemporal adventuress' , part of the Doctor Who universe Paul has written a brand new monologue for The Verb in the voice of Iris (performed by Katy Manning)  and he tells Ian that the character was inspired by his aunts and nanas, and their wicked stories. He also goes back to the roots of his love for Doctor Who, and what it meant for a queer kid growing up on a council estate to watch something so clever, articulate and silly.
Katy Manning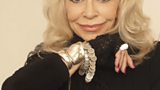 The actress Katy Manning played Jo Grant alongside Jon Pertwee in Doctor Who in the early 70s, a role she reprised in the Sarah Jane Adventures. As Iris Wildthyme, she's not an assistant, but a fully-in charge-independent-Lady of Means, righting wrongs on the number twenty-two bus. 
Broadcast