Main content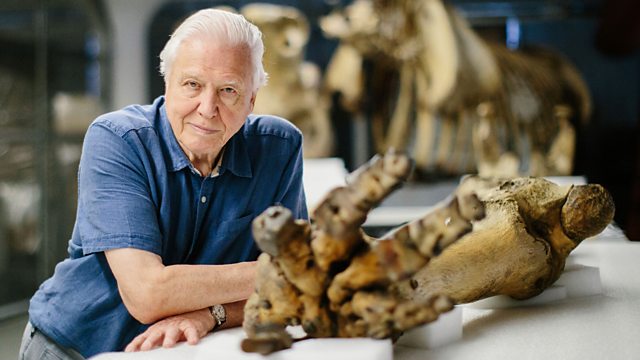 Attenborough and the Giant Elephant
David Attenborough investigates the remarkable life story of Jumbo the elephant - the animal superstar who is said to have inspired the movie Dumbo.
David Attenborough investigates the remarkable life and death of Jumbo the elephant - an animal superstar whose story is said to have inspired the movie Dumbo.
Attenborough joins a team of scientists and conservationists to unravel the complex and mysterious story of this large African elephant - believed by many to be the biggest in the world. With unique access to Jumbo's skeleton at the American Museum of Natural History, the team work together to separate myth from reality. How big was Jumbo really? How was he treated in captivity? And how did he die? Jumbo's bones may offer vital clues.
Arriving in London Zoo in 1865, Jumbo fast became a firm favourite of Queen Victoria and her children, and was nicknamed the Children's Pet. Yet behind the scenes, this gentle giant was living a double life - smashing his den, breaking his tusks and being pacified by large amounts of alcohol given to him by his keeper, Matthew Scott. Scott had no human friends but had a deep empathy for animals, developing a particularly strong and near mystical bond with Jumbo.
Then, quite suddenly, London Zoo caused public outrage by selling Jumbo to PT Barnum's circus in America, where he travelled with his devoted keeper to start a new life. But while his time in America turned him into star with 20 million people coming to see him, his life ended tragically and
mysteriously.
As well as Jumbo's skeleton, Attenborough explores the lives of wild elephants to explain Jumbo's troubled mind, and he discovers how our attitude to captive elephants has changed dramatically in recent years.
Clips

Credits
| Role | Contributor |
| --- | --- |
| Presenter | David Attenborough |
| Director | Stephen Dunleavy |
| Producer | Sharmila Choudhury |
| Producer | Dugald Maudsley |
| Production Company | Humble Bee Films |
Featured in...
Celebrate Sir David Attenborough's amazing programmes from the 1950s to the present day.

Documentaries delving deeper in to real life stories, the world around us, and our past.