Main content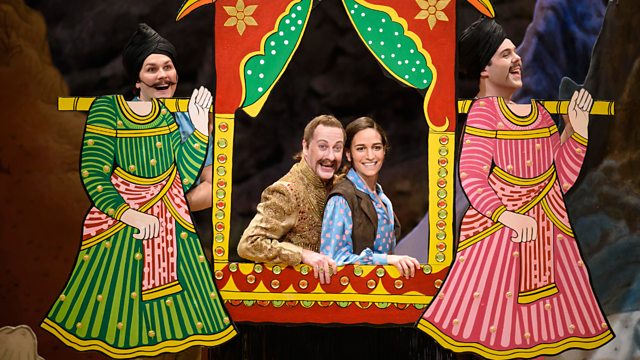 Thursday Opera Matinee: Chabrier's L'Etoile
Penny Gore presents L'Etoile, Chabrier's sparkling opera, in a performance conducted by Mark Elder and recorded last year at the Royal Opera House.
Penny Gore presents L'Etoile, Chabrier's sparkling opera, in a performance conducted by Mark Elder and recorded last year at the Royal Opera House
Chabrier's comic opera L'Étoile is a rarity but is considered to be a masterpiece of the genre
It was first performed to great success in 1877 and was performed 48 times in its first run. It's a wonderfully ridiculous plot, with each role perfectly characterised in the music
The story begins on King Ouf's birthday (the tenor Christophe Mortagne), which he always celebrates with a public impalement, and this year his victim is the pedlar Lazuli (a role for a mezzo-soprano and sung here by Kate Lindsey), who unwittingly struck the King without knowing who he was. However, when the King's astrologer Siroco (bass-baritone Simon Bailey) tells the King that his star and Lazuli's are so closely bound that they will die on the same day, the King cancels the execution
Mark Elder conducts what was the Royal Opera's first ever production of L'Étoile, directed by Mariame Clément
King Ouf I ..... Christophe Mortagne (tenor)
Siroco ..... Simon Bailey (bass-baritone)
Prince Hérisson de Porc-Epic ..... François Piolino (tenor)
Tapioca ..... Aimery Lefèvre (baritone)
Lazuli ..... Kate Lindsey (mezzo-soprano)
Princesse Laoula ..... Hélène Guilmette (soprano)
Aloès ..... Julie Boulianne (mezzo-soprano)
Patacha ..... Samuel Sakker (tenor)
Zalzal ..... Samuel Dale Johnson (baritone)
Smith ..... Chris Addison (actor)
Dupont ..... Jean-Luc Vincent (actor)
Royal Opera House Chorus
Royal Opera House Orchestra
Mark Elder (conductor).
Synopsis
Act I
King Ouf I walks about the town in disguise, searching for a victim for the annual public execution by impalement that he holds on his name-day. As soon as he hears anyone speaking ill of him, they will be arrested and condemned to death. But to Ouf's frustration, the people have grown wise to his plans, and have nothing but praise for their king. 
The court astrologer Siroco arrives. Ouf tells him that he has included a clause in his will that states that Siroco must die 15 minutes after him, so the astrologer will always have the monarch's longevity and best interests at heart. Princess Laoula, her father's emissary Hérisson de Porc-Épic (Hedgehog of Porcupine), Hérisson's wife Aloès and Hérisson's private secretary Tapioca have just arrived in Ouf's kingdom, to effect Laoula's marriage to Ouf (of which she is unaware). Ambassador Hérisson has decided that as they are on a secret diplomatic mission the party must travel in disguise as department store employees. Furthermore, Laoula is posing as Hérisson's wife, and Aloès as Laoula.
The pedlar Lazuli has been following the travellers for a few days and has fallen in love with Laoula, who has also taken a liking to him from afar. When Hérisson and Tapioca leave Aloès and Laoula to go to the palace, the two women spot the sleeping Lazuli, and start tickling him to wake him up. Lazuli declares his love to Laoula, but unfortunately, Laoula doesn't have time to explain that she is not Hérisson's wife. Lazuli's disappointment at falling for a married woman makes him cantankerous. When he encounters the disguised Ouf, they get into an argument, during which the pedlar boxes Ouf's ears twice. Ouf is delighted: here is his victim for the execution. Siroco interrupts the plans for Lazuli's impalement to tell Ouf of his latest astrological discovery: Lazuli's destiny is irrevocably linked to Ouf's, which means that if Lazuli dies, Ouf will die the next day (and Siroco 15 minutes after). Ouf calls off the execution, and orders Lazuli to be brought to the palace.
Act II 
At the palace, Lazuli is treated like a great lord – but he's none too happy to discover that he's in effect a prisoner. He tries to jump out of a window, but Ouf and Siroco coax him back. Lazuli confesses that he's in love with a married woman. Ouf and Siroco are worried that the husband will turn up and try to kill Lazuli, but Lazuli reassures them: he knows how to deal with husbands. 
Hérisson and his entourage arrive. Lazuli is furious to see his beloved's 'husband'. To ensure Lazuli's safety and happiness, Ouf arranges for Hérisson to be arrested, then leaves. Laoula, who was unaware of the diplomatic wedding plans, faints when she understands that she is supposed to marry the king, but swiftly recovers when Lazuli kisses her; meanwhile, Tapioca and Aloès indulge in a little flirtation. Lazuli is greatly relieved to find out that Laoula is not married after all. Ouf re-enters. Still believing that Laoula is Hérisson's wife and keen to make Lazuli as happy as possible, he allows Lazuli and Laoula to escape – thus organizing his own bride's elopement, to the amusement of the two lovers. 
Hérisson explains to Ouf that he has been imprisoned by mistake, and reveals the true identities of Aloès and Laoula. Ouf's confusion turns to dismay when Hérisson tells him that he's ordered his men to capture and shoot Lazuli. A shot is heard. Laoula is brought back safe, but Lazuli has vanished in the lake. Ouf and Siroco are convinced that their end is near. The people present their condolences to the princess and the king. 
Act III 
Lazuli is still missing, and the chief of police believes him dead. Unbeknownst to everyone, Lazuli has in fact returned (he had leapt into the lake to avoid the shooting), and is very much alive, if cold and sneezing. Hérisson and Tapioca ask Ouf about his wedding plans, but Ouf orders them to take Laoula home: the wedding is off. He explains that Lazuli's drowning means that he himself will die soon. Lazuli, secretly listening to the conversation, finally understands why the king treated him so well – and he decides to make good use of Ouf's concerns. Hérisson and Tapioca leave, and Ouf and Siroco, convinced that they have only an hour more to live, console themselves with a large drink of green chartreuse. 
Laoula mourns her beloved pedlar, while Aloès tries in vain to comfort her. To their great surprise, Lazuli reappears. The lovers rejoice and plan to get married – after all, Ouf's called off his wedding plans, and believes the pedlar is dead. Unfortunately for them Ouf suddenly changes his mind: he will marry Laoula at once, and use his remaining hour of life to leave an heir. But Siroco interrupts the wedding preparations to announce that Ouf's death is imminent. As the bells toll everyone waits with bated breath – only to discover that Ouf is still alive, and therefore Siroco must be a charlatan. Ouf has just got over this surprise when he has another: the chief of police arrives with Lazuli. When Ouf announces that he's going to marry Laoula after all, Lazuli declares that he would rather die than see this happen. Still fearing for his own life if anything happens to Lazuli, Ouf allows the young lovers to marry, and moreover names Lazuli his heir and successor.
- With thanks to the Royal Opera House.
Episode image (c) ROH / Bill Cooper
Featured in...
We broadcast more live and specially-recorded concerts and opera than any other station.