Main content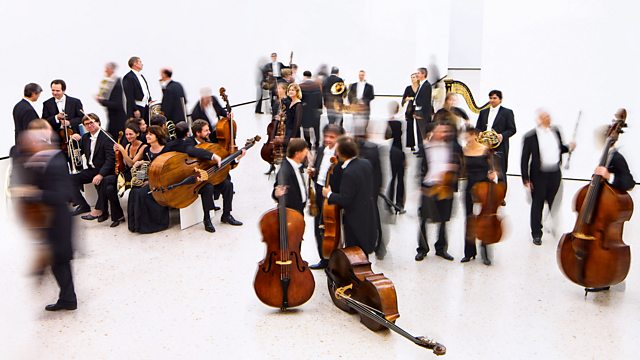 Nuremberg, Sofia, Copenhagen and Frankfurt
Ian Skelly continues Radio 3's annual journey around Europe for a sequence of specially recorded concerts, visiting, Nuremberg, Bulgaria, Copenhagen and Frankfurt.
Ian Skelly continues Radio 3's annual journey around Europe for a sequence of live and specially recorded concerts. Part 2 includes a Bach and Vivaldi programme from Ensemble 1700, recorded at the German National Museum in Nuremberg. Then at 5pm we go to Bulgaria for a performance of Dimitar Nenov's Christmas Oratorio. The Danish contribution to the day is part of Bach's Christmas Oratorio followed by Scandinavian Christmas songs, and then to Frankfurt for Bach and Handel performed by Le Concert d'Astrée Chorus and the Frankfurt Radio Symphony Orchestra.
4.00pm from the German National Museum, Nuremberg
Bach: Brandenburg Concerto No 4 in G, BWV 1049
Vivaldi: Sol da te mio dolce amore, from 'Orlando furioso', RV 728
Corelli: Concerto gross in G minor, Op.6'8 'Fatto per la Notte di Natale'
Vivaldi: Trio Sonata in D minor, RV 63 'La Follia'
Bach: Jesus bleibet meine Freude, from cantata 'Herz und Mut und Tat und Leben', BWV 147
Vivaldi: Allegro molto from Flute Concerto in D, RV 443 (encore)
Dmitry Sinkovsky (violin/countertenor)
Emiliano Rodolfi (recorder/baroque oboe)
Ensemble 1700
Dorothee Oberlinger (recorder/director)
5.00pm from Bulgaria Concert Hall, Sofia
Dimitar Nenov: Christmas Oratorio
BNR Symphony Orchestra
Mark Kadin (conductor)
6.00pm from Concert Hall, DR Concert House, Copenhagen
Bach: Cantatas I-III from Christmas Oratorio, BWV 248
followed by a selection of Scandinavian Christmas songs performed by the Danish National Girls' Chorus
Christina Landshamer (soprano)
Wiebke Lemkuhl (alto)
Benjamin Hulett (tenor)
Andre Morsch (bass)
DR Vocal Ensemble
Danish National Symphony Orchestra
Marcus Creed (conductor)
8.00pm from the Hessischer Rundfunk Broadcasting Hall, Frankfurt
Handel: Dixit Dominus, HWV 232
Bach: Magnificat in E flat, BWV 243a
Emoke Barath, Lea Desandre (sopranos)
Damien Guillon (alto)
Patrick Grahl (tenor)
Victor Sicard (bass)
Le Concert d'Astrée Chorus
Frankfurt Radio Symphony Orchestra
Emmanuelle Haïm (conductor)
Photo of Frankfurt RSO (c) Ben Knabe.