Main content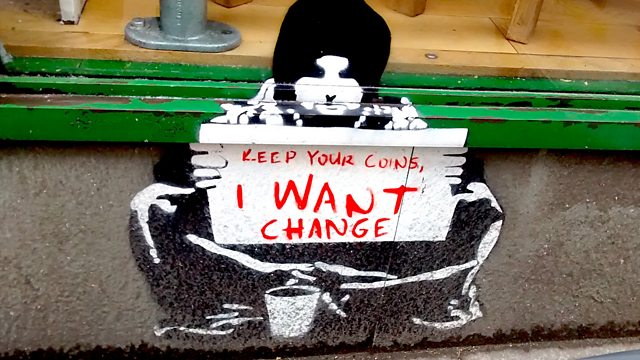 Skippering
Sounds and stories of homelessness across Scotland, recorded and told by people with first-hand experience.
How does the world sound to someone who's experienced homelessness? "You don't use your eyes a lot. You make yourself small and quiet, so you're not noticed. You're listening all the time." (- Alex, Glasgow)
This feature was conceived by a group of people affected by homelessness themselves. They wanted to record the soundtrack to their lives: in doorways, hostels, back alleys, and in a variety of temporary and often dangerous locations and situations. They want listeners to hear what they hear, close up. "You're all right until the pubs and clubs come out. That's when the mayhem starts, the fearkicks in." (- Margaret, Edinburgh)
'Skippering' is a colloquial term for rough sleeping. But the definition of homelessness extends much further. From Cheryl's experience at a Dundee soup kitchen to Liam's long solitary walks, many people are affected in many different ways. These are the voices of just some of them, and the sounds they hear.
With thanks to: Shelter Scotland; Streetwork (Edinburgh); Parish Nursing (Dundee); Lodging
House Mission (Glasgow); The Pavement magazine.
Narrated by James Blakeley, who has personal experience of homelessness.
Researcher: Karin Goodwin
Producer: Steve Urquhart
A White Stiletto production for BBC Radio Scotland.
Last on

Broadcasts