Main content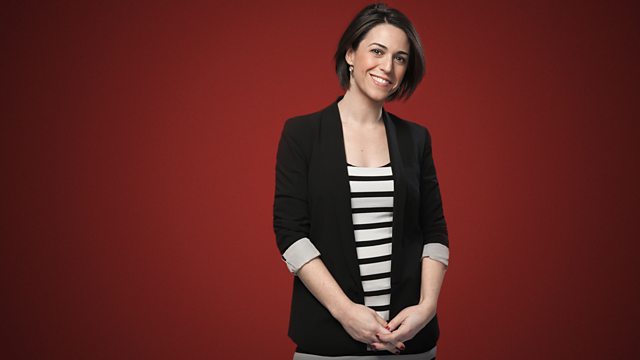 Tuesday with Suzy Klein - Terence Stamp, The First Woman on Ice
Suzy Klein takes us through the morning with the best in classical music, with quirky features and a variety of cultural inspirations.
Essential Classics with Suzy Klein
Suzy takes us through the morning with the best in classical music:
0930 Suzy explores potential companion pieces for a well-known piece of music.
1010 Time Traveller. A quirky slice of cultural history
1050 Actor Terence Stamp talks about his cultural inspirations.
Last on
Music Played
Frédéric Chopin

Study in C minor, Op 10 No 12, 'Revolutionary'

Performer: Nelson Goerner.

Chopin, Polonaise-Fantasie: Nelson Goerner.
Wigmore Hall Live.
17.

Georg Philipp Telemann

Concerto in B flat major for 3 oboes, violins and continuo

Performer: Hans-Peter Westermann. Performer: Michael Niesemann. Performer: Piet Dhont. Ensemble: Musica Antiqua Köln. Conductor: Reinhard Goebel.

Telemann: Wind Concertos: Musica Antiqua Koln, Goebel.
Archiv Produktion.
5-7.

Richard Strauss

Wiegenlied, Op 41 No 1

Singer: Christine Schäfer. Orchestra: Berlin Philharmonic Orchestra. Conductor: Claudio Abbado.

Mozart: Arias & R. Strauss: Orchestral Songs - Schafer, Abbado.
Deutsche Grammophon.
7.

Wolfgang Amadeus Mozart

Piano Concerto No 16 in D major, K 451 (3rd mvt)

Performer: Daniel Barenboim. Orchestra: English Chamber Orchestra. Director: Daniel Barenboim.

Mozart The Collectors Edition 50 CDs The Masterpieces The Greatest Artists.
EMI Classics.
9.

Anatoly Konstantinovich Lyadov

Prelude in B minor Op 11, No. 1 arranged for cello and piano

Performer: Laura van der Heijden. Performer: Peter Limonov.

Sergei Prokofiev

Lieutenant Kije Suite

Orchestra: Los Angeles Philharmonic. Conductor: André Previn.

Jonathan Dove

Seek Him that maketh the Seven Stars

Performer: Jeremy Filsell. Choir: Tenebrae. Conductor: Nigel Short.

Madeleine Dring

Mazurka (3 Dances)

Performer: Ro Hancock-Child.

Franz Liszt

Les préludes

Orchestra: Philharmonia Orchestra. Conductor: Constantin Silvestri.

George Enescu

Cantabile and Presto

Performer: Sharon Bezaly. Performer: Roland Pöntinen.

Café au lait: Music for Flute and Piano.
Bis.
4-5.

John Rutter

Blow, blow, thou winter wind

Choir: The Cambridge Singers. Orchestra: City of London Sinfonia. Conductor: John Rutter.

Felix Mendelssohn

String Symphony no.10 in B minor

Orchestra: Orpheus Chamber Orchestra.

Mendelssohn: Streichersinfonien Nr.8, 9, 10: Orpheus Chamber Orchestra.
Deutsche Grammophon.
9.

Thomas Ravenscroft

Remember, O thou man (Melismata)

Choir: Choir of King's College, Cambridge. Conductor: Stephen Cleobury.

A Festival Of Nine Lessons and Carols.
EMI Classics.
5.

Frederick Delius

Sleigh Ride (Winter Night)

Orchestra: Bergen Philharmonic Orchestra. Conductor: Andrew Davis.

Delius in Norway.
CHANDOS.
5.

Leroy Anderson

Sleigh Ride

Orchestra: Boston Pops Orchestra. Conductor: Arthur Fiedler.

Sergey Rachmaninov

Études-tableaux, Op 39 (No 2 in A minor)

Performer: Freddy Kempf.

Freddy Kempf plays Rachmaninov.
BIS.
5.

Sergey Rachmaninov

Études-tableaux, Op 39 (No 8 in D minor)

Performer: Freddy Kempf.

Freddy Kempf plays Rachmaninov.
Bis.
11.

Giuseppe Verdi

La donna è mobile (Rigoletto)

Singer: Mario Lanza. Orchestra: RCA Victor Symphony Orchestra. Conductor: Constantine Callinicos.

Maurice Ravel

Piano Concerto in G major

Performer: Jean-Efflam Bavouzet. Orchestra: BBC Symphony Orchestra. Conductor: Yan Pascal Tortelier.

Debussy/Ravel: Works For Piano And Orchestra.
chandos.

George Frideric Handel

Eternal Source of Light (Birthday Ode for Queen Anne)

Singer: Iestyn Davies. Performer: Alison Balsom. Ensemble: The English Concert. Conductor: Trevor Pinnock.

Charles Wood

Hail gladdening light

Choir: The Sixteen. Conductor: Harry Christophers.

A New Heaven, The Sixteen.
UCJ.
13.

David Lang

Light Moving

Performer: Hilary Hahn. Performer: Cory Smythe.

In 27 Pieces: the Hilary Hahn Encores.
Deutsche Grammophon.
4.

Lucas Ruiz de Ribayaz

Paradetas (Luz y Norte)

Ensemble: Harp Consort. Director: Andrew Lawrence‐King.

Richard Wagner

Lohengrin (Act 1 Prelude)

Orchestra: The Philadelphia Orchestra. Conductor: Christian Thielemann.

Giovanni Gabrieli

Canzon duodecimi toni à 10, C178

Ensemble: Wallace Collection. Conductor: Simon Wright.

Gabrieli and St.Marks: Venetian Brass Music: The Wallace Collection/Wallace/Wrig.
Nimbus.
1.

Joseph Haydn

Piano Trio in E flat major, H.15.10

Ensemble: Beaux Arts Trio.

Peter Warlock

Cradle Song

Singer: John Mark Ainsley. Performer: Roger Vignoles.

Songs by Peter Warlock.
Hyperion.
30.
Broadcast

The Classical Companion Collection