Main content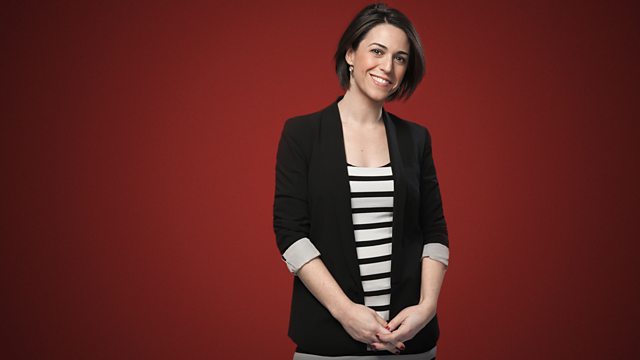 Monday with Suzy Klein - Poisonous Hosiery, Mendelssohn Symphony No 4, Terence Stamp
Suzy Klein takes us through the morning with the best in classical music, with quirky features and Terence Stamp's cultural inspirations.
Essential Classics with Suzy Klein
Suzy takes us through the morning with the best in classical music:
0930 Suzy explores potential companion pieces for a well-known piece of music.
1010 Time Traveller. A quirky slice of cultural history
1050 Actor Terence Stamp talks about his cultural inspirations.
Last on
Music Played
Tielman Susato

4 Dances from Danserye

Music Arranger: Crispian Steele‐Perkins. Ensemble: London Gabrieli Brass Ensemble.

Peter Warlock

Bethlehem Down

Choir: Westminster Cathedral Choir. Director: James O'Donnell.

Erich Wolfgang Korngold

Violin Concerto in D major Op.35 (3rd mvt)

Performer: Vilde Frang. Orchestra: Frankfurt Radio Symphony Orchestra. Conductor: James Gaffigan.

Frédéric Chopin

Allegro de concert Op.46

Performer: Louis Lortie.

Felix Mendelssohn

Symphony No 4 in A major 'Italian' (1st mvt)

Orchestra: Bergen Philharmonic Orchestra. Conductor: Andrew Litton.

Mendelssohn: Symphonies nos 1 & 4: Bergen Philharmonic Orch/Litton.
BIS.
6.

Grażyna Bacewicz

Capriccio for violin and piano

Performer: Joanna Kurkowicz. Performer: Gloria Chien.

Henry Purcell

Welcome to all the pleasures

Director: Trevor Pinnock. Singer: Michael Chance. Singer: John Mark Ainsley. Singer: George Michael. Choir: Choir of English Concert. Orchestra: The English Concert.

Purcell: Odes: The English Concert and Choir/Pinnock.
Archiv Produktion.
10-15.

Pyotr Ilyich Tchaikovsky

Marche slave, Op 31

Orchestra: Russian National Orchestra. Conductor: Mikhail Pletnev.

Tchaikovsky: Symphony No.6; russian National Orchestra, Pletnev.
Virgin Classics.
5.

Francesco Cilea

'Ecco: respiro appena. Io son l'umile ancella' from 'Adriana Lecouvreur'

Singer: Angela Gheorghiu. Orchestra: Royal Opera Orchestra. Conductor: Ion Marin.

Angela Gheorghiu Live from Covent Garden.
Warner Classics.
008.

Antonio Vivaldi

Concerto in F minor, 'L'Inverno' (The Four Seasons)

Performer: Dmitry Sinkovsky. Ensemble: La Voce Strumentale. Conductor: Dmitry Sinkovsky.

Hector Berlioz

Harold in Italy i) Harold aux montagne

Performer: Tabea Zimmermann. Orchestra: London Symphony Orchestra. Conductor: Colin Davis.

Franz Schubert

Piano Quintet in A major, D 667, 'Trout' (2nd mvt)

Performer: Christian Zacharias. Performer: Andreas Seidel. Performer: Ivo Bauer. Performer: Matthias Moosdorf. Performer: Christian Ockert. Ensemble: Leipziger Streichquartett.

Schubert: Piano Qunitet D 667.
MD&G.
2.

Eric Coates

Calling All Workers

Orchestra: Eric Coates Orchestra. Conductor: Eric Coates.

Trad.

The Angel Gabriel

Performer: Ruth Wall. Music Arranger: Graham Fitkin.

Joseph Canteloube

Songs of the Auvergne: Brezairola

Singer: Victoria de los Ángeles. Orchestra: Orchestre Lamoureux. Conductor: Jean‐Pierre Jacquillat.

Astor Piazzolla

La muerte del Angel

Ensemble: Aquarelle Guitar Quartet.

Dances Aquarelle Guitar Quartet.
Chandos.
14.

Joseph Haydn

Symphony No 100 in G major, 'Military'

Orchestra: Les Musiciens du Louvre-Grenobles. Conductor: Marc Minkowski.

Haydn, 12 London Symphonies: Marc Minkowski, Les Musiciens du Louvre-Grenobles.
Naive.
5.

Grace Williams

Calm Sea in Summer (Sea Sketches)

Orchestra: English Chamber Orchestra. Conductor: David Atherton.

Ludwig van Beethoven

32 Variations for piano in C minor, WoO.80

Performer: Cédric Tiberghien.

Beethoven: Variations: Cedric Tiberghien.
Harmonia Mundi.
2.

Gustav Mahler

Der Einsame im Herbst (Das Lied von der Erde)

Singer: Jessye Norman. Orchestra: London Symphony Orchestra. Conductor: Colin Davis.
Broadcast

The Classical Companion Collection