Main content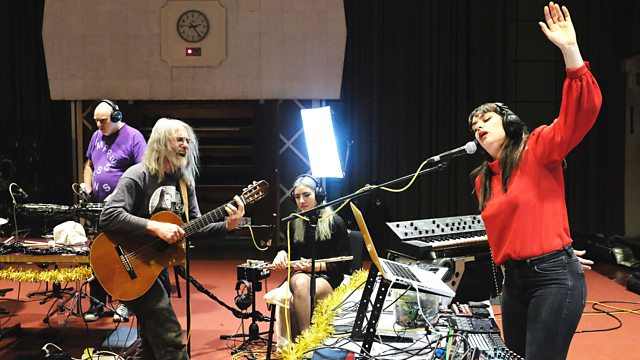 faUSt and Lone Taxidermist
The Late Junction team wish you an Industrial Christmas. Jean-Herve Peron and Zappi Diermaier of faUSt collaborate with erotic-electronic artist Lone Taxidermist aka Natalie Sharp.
Celebrate an Industrial Christmas by listening to the latest in the line of Late Junction collaborations, in which musicians who have never met have a day to play in the BBC's Maida Vale studios. For this special session Jean-Hervé Peron and Zappi Diermaier from the pioneering Krautrock band faUSt make music with erotic-electronic artist Natalie Sharp, aka Lone Taxidermist.
For this collaboration session Natalie Sharp will be keeping it clean with cling film, scanners and a flautist covered in contact mics. Meanwhile, Jean-Hervé Peron from faUSt will be crafting musique concrète with his trademark, fully operational cement mixer, this time filled with festive baubles. Celebrate Christmas the Late Junction way...
Known for taking a chainsaw to large sheets of metal on stage, or playing a cement mixer while doing their ironing, Franco-German band faUSt have been disassembling the nuts and bolts of rock music since they formed in Wümme in 1971. Possibly the strangest band ever to have signed to Virgin Records, faUSt swung from dadaist tape experiments to propulsive space rock, all the time eschewing the hallmark sounds of the Krautrock genre that they were associated with. They have previously worked with the likes of Nurse with Wound, Gnod and Tony Conrad.
Cumbrian-born Natalie Sharp is a body painter, performance artist, and noise-maker who's been described as "an unholy amalgamation of Grace Jones, Ari Up and John Cooper Clarke". Her debut album as Lone Taxidermist came out earlier this year and featured dark electronic pop marked by a taste for the grotesque. Her live performances are a carnival of leering facemasks, latex outfits,and whipped cream.
Produced by Jack Howson for Reduced Listening.