Main content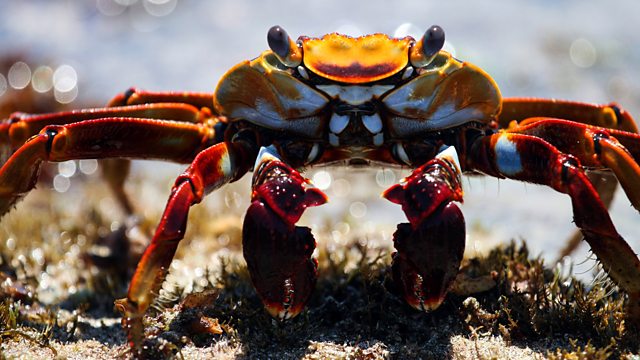 The wildlife series narrated by David Attenborough explores the planet's coasts. They are the most changeable of the ocean worlds, but they offer great riches.
On the coast, two worlds collide. Coasts are the most dynamic and challenging habitats in the ocean - that brings great rewards but also great danger. The extraordinary animals that live here must find ingenious ways to cope with two very different worlds.
This episode is a rollercoaster ride of heart-stopping action and epic drama, peopled with characters from the beautiful to the bizarre. We meet fish that live on dry land and puffins that must travel 60 miles or more for a single meal, and witness a life-and-death struggle in a technicolour rock pool.
In a secluded cove in the Galapagos, sea lions feast on 60kg tuna. It should be impossible - tuna are usually far too fast for sea lions to catch. But here the sea lions club together to herd their prey inshore. Once trapped in the shallows, these huge fish are easy pickings.
As the tide recedes in Brazil, lightfoot crabs leap from rock to rock, desperately avoiding the water - their lives depend on it. Moray eels launch themselves from rock pools, jaw gaping. Then octopuses, too. Both crawl across dry rock to set their ambush. Elsewhere, the ever-changing tides create rock pools. But these temporary worlds are a battleground. Predatory starfish turn a magical garden into the stuff of nightmares.
All around the world, immense waves pound the shore, and this episode reveals some of the largest on the planet, over 30 metres high. Over millennia these forces carve exquisite coastal sculptures and cliffs that are home to huge colonies of seabirds. Puffins fly up to 30 miles out to sea to find food for their chicks. A father returns with one precious beakful of food... then pirates attack. Desperate dads must escape the faster and more aerobatic skuas before finally delivering a meal to their young puffling.
Meanwhile, in the remote Pacific islands lives the most terrestrial fish on the planet. It lives in miniature caves above the tide lines and uses its tail like a coiled spring to jump from rock to rock. A male tries to attract a mate, but waves are a constant hindrance. These are fish that seem to hate water!
Once a year, king penguins return to the cold Antarctic shores of South Georgia for a month-long moult. First they must cross the biggest wall of blubber on the planet - thousands of gigantic elephant seals. Then they face a month with no food, before they can return to their natural home, the chilly Antarctic seas.
The planet's coasts are changing fast as they are among the most built-up areas of the world. Just off the beaches of Miami, the largest gathering of coastal sharks on the planet can still be found. But today they must face the many challenges that come from our world too.
Credits
| Role | Contributor |
| --- | --- |
| Narrator | David Attenborough |
| Executive Producer | James Honeyborne |
| Series Producer | Mark Brownlow |
| Producer | Miles Barton |
| Production Manager | Katie Hall |
Broadcasts