Main content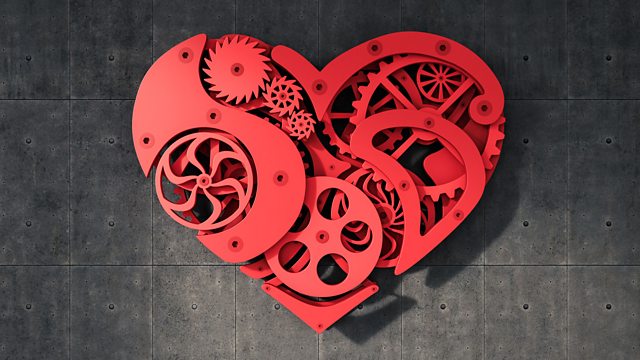 The Broken Heart
Following his own quadruple heart bypass surgery, Giles Fraser continues his exploration of the workings of the human heart, meeting cultural historian Dr Fay Bound Alberti.
Reverend Giles Fraser recently had a heart attack followed by quadruple bypass surgery. His heart has suddenly become very real to him in a way it never was before. This is life and death stuff, and he has been forced to look at changing his ways.
He sets out to find people who can help him understand the workings of this most resonant and symbolic of organs.
How can he find a way to live better with his quite literally broken heart? And how can he understand the human heart in its broader context - negotiating a path from the pump, to the Valentine's Day card emblazoned with the instantly recognisable two-curves-with-a-point-at-the-bottom?
The heart has been demoted in relation to the status of the brain. Death is no longer decided by the stopping of the heart, but by brain death. The heart can be re-plumbed, jump-started, and even transplanted. And yet it retains a mystique and is, for many of us across culture and time, the place where we feel our true self to be located, as well as our emotions and the torch of our romantic passions - a sacred heart for many.
Episode 1: The Broken Heart
Giles meets cultural historian Dr Fay Bound Alberti at Poets' Corner in Westminster Abbey and ask how the landmark moments in the story of heart surgery and medicine to fix the pump - the transplants and bypasses - relate to the heart as poetic symbol. The heart has long represented love and courage, and been perceived of as the home of emotions. Is cutting edge science hinting that the Romantic poets were right all along? Recent research into the heart is tantalisingly suggestive of the idea that the heart is associated with emotion on a chemical level, and might even be able to transfer memory during transplant.
Producer: Victoria Shepherd
A Somethin' Else production for BBC Radio 4.