Main content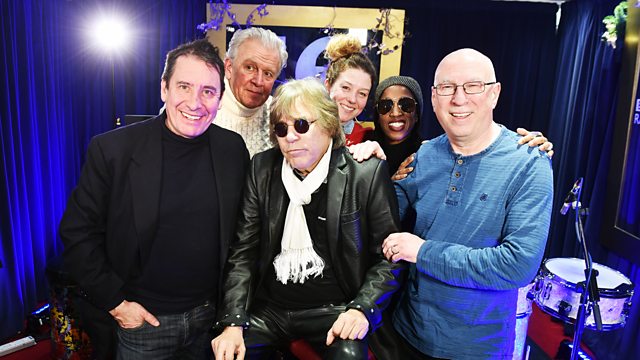 Jools Holland and Jose Feliciano perform live
Jools Holland and Jose Feliciano perform live in the Radio 2 Piano Room. Clarke Peters chooses the Tracks of My Years plus another round of PopMaster.
Jools Holland and Jose Feliciano perform live in the Radio 2 Piano Room. Jose is the Puerto Rican guitarist, singer and songwriter best known for many international hits including his rendition of The Doors' Light My Fire and the best-selling Christmas single Feliz Navidad. Jools is the much-loved pianist, bandleader, singer, composer and television presenter. He was an original member of the band Squeeze and his work has involved him with many artists including Sting, Eric Clapton, Mark Knopfler, George Harrison, David Gilmour, Magazine and Bono. In addition to all his other gigs he presents a weekly show on this network every Monday from 11pm.
Clarke Peters, American actor, singer, writer and director chooses the Tracks of My Years with music from Pink Floyd and Ray Barretto. Clarke has a long-established and wide-ranging career in theatre, television, radio and film. His many stage credits include: King Lear (Shakespeare in the Park), Race, Chicago, The Iceman Cometh (New York), Guys and Dolls, Ma Rainey's Black Bottom and Mourning Becomes Electra (National Theatre), Porgy in Gershwin's Porgy and Bess (Savoy Theatre), Driving Miss Daisy, Kiss of the Spiderwoman, Little Shop of Horrors, Blues in the Night and the Olivier Award-winning musical Five Guys Named Moe also written by Clarke. Films include: Spike Lee's Red Hook Summer, Notting Hill, Mona Lisa, Bad Education, Marley and Me, Freedomland, The Benefactor, Endgame, Mandela: The Prison Years and Nativity! Peters is also known for his varied television career including regular appearances in The Wire, Treme, Jericho, The Divide, Chance and The Corner.
Ken also has the daily love song, record and album of the week plus PopMaster. If you'd like to get in touch with the show email Ken.Bruce@bbc.co.uk.
Clips