Main content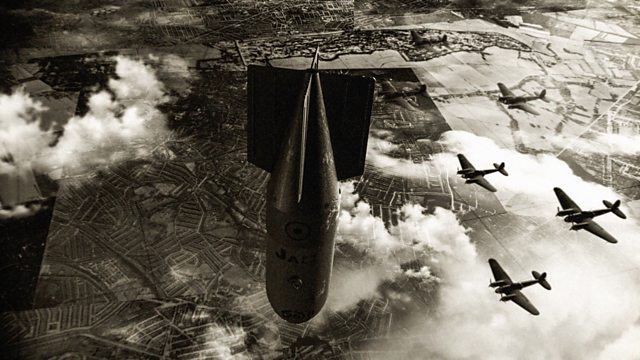 Documentary series examining the impact of four individual bombs during the Blitz. This episode explores the ramifications of a bomb that fell on 6th Avenue in the city of Hull.
During the Blitz over 450,000 bombs dropped on Britain, and every bomb has its own story. This second episode explores the ramifications of a bomb that fell on 6th Avenue in the port city of Hull, flattening two houses and changing the lives of two families. The Taylors lost baby Peter and 14 year-old Vera was very badly burned. Her sisters Doreen and Tina remember that terrible night and it is the first time they have talked about the trauma they endured.
Next door Mrs Owens had put three of her children under the stairs for safety but they sadly didn't survive. Their sister Janet who was born after the war didn't know about their existence until she was in her twenties. Her father was so traumatised that he refused to discuss anything to do with the Blitz. It means she has a lot of unanswered questions, which are finally answered when Janet meets Doreen and Tina, and she learns that her siblings were buried with baby Peter.
It is the beginning of a poignant journey of discovery for Janet and she finds out that the bomb that fell on her parents' house is recorded as bomb 31 on Hull's bomb map. Its impact is also described in a unique collection of essays that were written by Hull's children in 1941, giving a unique insight into children's experience of the Blitz, tragic and shocking in equal measure. These essays were actually part of a survey conducted by a government scientist Professor Solly Zuckerman. In the film his son Paul learns that his father was collating data regarding the psychological effects of bombing on civilians, which included interviews with adults.
Case number one records the trauma of dock master Albert Eastwood who lost two children to another of the Luftwaffe's bombs, moving his grandson Phillip to tears.
Despite Zuckerman finding no evidence of a breakdown in morale in Hull's citizens, his work was ultimately used to lend a powerful stamp of scientific approval to the decision by the British government to area bomb German cities. Janet knows only too well what bomb 31 cost her family and the thought of the effects of this British bombing campaign on innocent children in Germany is horrifying.
Clips

Credits
| Role | Contributor |
| --- | --- |
| Narrator | Shaun Dooley |
| Director | Elizabeth Dobson |
| Series Producer | Tim Kirby |
| Executive Producer | Cate Hall |
| Executive Producer | Francesca Maudslay |