Main content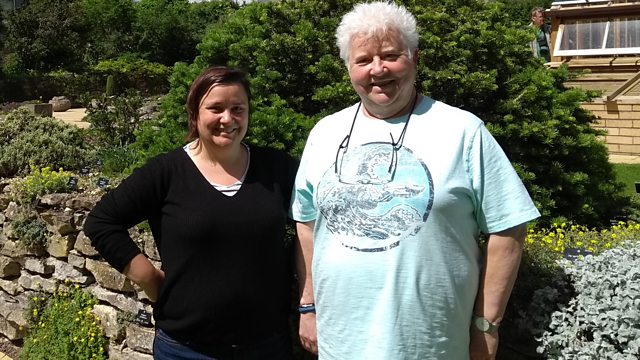 Gardening
Susan Calman tries to learn how to unwind, by learning about gardening from Val McDermid.
Susan Calman is the least relaxed person she knows. She has no down time, no hobbies (unless you count dressing up your cats in silly outfits) and her idea of relaxation is to sit on her sofa playing Assassin's Creed, an hour into which she is in a murderous rage with sky high blood pressure. Her wife had to threaten to divorce her to make her go on holiday, and she's been told by the same long-suffering wife that unless she finds a way to switch off, and soon, she's going to be unbearable.
Susan decided her best bet was to try to immerse herself in the pursuits that her friends find relaxing, to find her inner zen and outer tranquillity. In the first series of this show she attempted to ditch the old Susan Calman and attempted to find the new Susan Calm, by watching Cricket; going Hillwalking; visiting an Art Gallery and being spontaneous. She enjoyed these pursuits, but all too soon found herself slipping back into her old ways. So she's trying again. This week she takes a trip to the Royal Botanic Gardens Edinburgh to learn about Gardening with Val McDermid, in the hope of one day being able to tell her Euphorbia from Euphoria.
In other episodes Susan will go to a music festival with Robin Ince, try her hand at baking with Selasi Gbmormittah and have a go at birdwatching with Emma Kennedy.
Keep Calman Carry On is an audience stand up show in which Susan reports on how successful she's been - both at relaxing and at the pursuit itself - as well as playing in and discussing a handful of illustrative clips from her efforts. It's an attempt to find out how people find solace or sanctuary in these worlds and how Susan can negotiate her own place in them.
Written by Susan Calman and Jon Hunter.
Produced by Lyndsay Fenner.
A BBC Studios Production.
Credits
| Role | Contributor |
| --- | --- |
| Presenter | Susan Calman |
| Interviewed Guest | Val McDermid |
| Producer | Lyndsay Fenner |
| Writer | Susan Calman |
| Writer | Jon Hunter |