Main content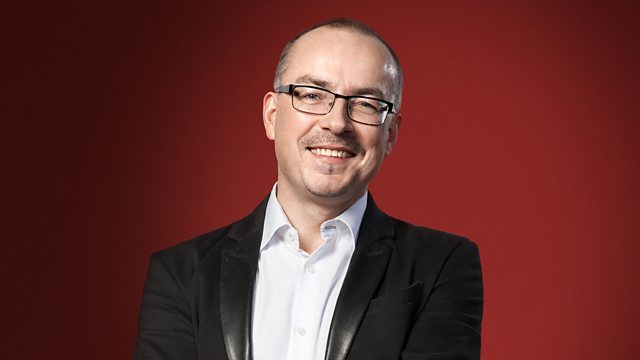 Andrew McGregor with Jonathan Freeman-Attwood and Harriet Smith
Presented by Andrew McGregor. Jonathan Freeman-Attwood looks at some Bruckner motets, Harriet Smith reviews recordings of music by Alkan, and McGregor picks his Disk of the Week.
with Andrew McGregor
0930
Building a Library: Jonathan Freeman-Attwood on Bruckner's motets. Bruckner wrote about 40 motets during his life, of which a handful have become staples of the choral repertory. Jonathan considers the most popular motets including Locus iste, Christus factus est, Tota pulchra es and Os justi.
1030
Andrew talks to Harriet Smith about recent recordings of Alkan. Charles-Valentin Alkan was a French-Jewish composer and virtuoso pianist. A contemporary of Chopin and Liszt, his output was mainly for the piano, for which he wrote pieces requiring extraordinary virtuosity. And there is a persistent but apparently unfounded legend that his death was caused by a falling bookcase.
1145
Andrew chooses an outstanding new release as his Disc of the Week.
Record Review
9.00am
BRUCKNER: MASS IN E MINOR
ANTON BRUCKNER: Mass No.2 in E minor; Motets
Kammerchor Stuttgart, Deutsche Blaeserphilharmonie, Frieder Bernius (conductor)
SONY 88843056202 (CD)
UN OPERA POUR TROIS ROIS
A Versailles entertainment for Louis XIV, Louis XV & Louis XVI: Music by Lully, Rameau, Gluck et al.
Chantal  Santon-Jeffery (soprano), Emőke Baráth (soprano), Thomas Dolié (baritone), Purcell Choir, Orfeo Orchestra, György Vashegyi (conductor)
Glossa GCD924002 (CD)
MARTINŮ BOUQUET OF FLOWERS / NOVAK PHILHARMONIC DANCES
BOHUSLAV MARTINŮ: Bouquet of Flowers
JAN NOVAK: Philharmonic Dances
Katerina Knezkova (soprano), Michaela Kapustova (alto), Jaroslav Brezina (tenor), Adam Plachetka (bass), Prague Philharmonic Choir, Prague Radio Symphony Orchestra, Tomáš Netopil (conductor)
Supraphon SU4220-2 (CD)
SAINT-SAËNS: WORKS FOR VIOLIN AND ORCHESTRA
CAMILLE SAINT-SAËNS: Caprice andalou, Op.122; Romance in C major, Op.48; La Muse et le Poète, Op.132; Morceau de concert in G major, Op.62; Havanaise in E major, Op.83; Romance in D flat, Op.37; Introduction et Rondo capriccioso, Op.28
Tianwa Yang (violin), Gabriel Schwabe (cello), Malmö Symphony Orchestra, Marc Soustrot (conductor)
Naxos 8573411 (CD)
GRANDE SYMPHONY: DAVID LEIGH PLAYS THE ORGAN OF ST.FIN BARRE'S CATHEDRAL, CORK
FERNANDO GERMANI: Toccata
JONATHAN T. HORNE: Three Introductory Voluntaries
CESAR FRANCK: Grande Pièce Symphonique
EOGHAN DESMOND: Four Simple Chorale Preludes
EDWIN H LEMARE: Symphony No.2 in D minor Op.50
David Leigh (organ)
Priory PRCD1190
9.30am – Building a Library
Composer: Bruckner
Piece: Motets
Reviewer: Jonathan Freeman-Attwood
Recommended Recording:
Tenebrae; Nigel Short (conductor)
Signum SIGCD430 (CD)
Other Recommended Recordings:
Below is a shortlist of other recordings which Jonathan also liked, although we can't guarantee the availability of these discs.
Polyphony; Stephen Layton (conductor)
Hyperion CDA67629 (CD)
Chorus of Bavarian Radio; Eugen Jochum (conductor)
Deutsche Grammophon 4577432 (CD)
Ealing Abbey Choir; Jonathan Brown (conductor)
Herald HAVPCD213 (CD)
10.20am – NEW RELEASES
KARAYEV: ORCHESTRAL WORKS
KARA KARAYEV: The Seven Beauties; Don Quixote; Leyla and Mejnun; Lullaby from 'The Path of Thunder'
Bournemouth Symphony Orchestra, Kirill Karabits (conductor)
CHANDOS CHSA5203 (Hybrid Essay CD)
COKE: PIANO CONCERTOS NOS 3, 4 & 5
ROGER SACHEVERELL COKE: Piano Concerto No.3 in E flat major; Piano Concerto No.4 in C sharp minor; Piano Concerto No.5 in D minor
Simon Callaghan (piano), BBC Scottish Symphony Orchestra, Martyn Brabbins (conductor)
Hyperion CDA68173 (CD)
PAGANINI / WOLF-FERRARI: VIOLIN CONCERTOS
NICCOLO PAGANINI: Violin Concerto No.1 in D Major, Op.6
ERMANNO WOLF-FERRARI: Violin Concerto in D Major, Op.26
Francseca Dego (violin), City of Birmingham Symphony Orchestra, Daniele Rustioni (conductor)
Deutsche Grammophon 4816381 (CD)
GAL – CASTELNUOVO-TEDESCO: CELLO CONCERTOS
HANS GAL: Cello Concerto Op.67 in B minor
MARIO CASTELNUOVO-TEDESCO: Cello Concerto in F major
Raphael Wallfisch (cello), Konzerthausorchester Berlin, Nicholas Milton (conductor)
CPO555074-2
RICHARD STRAUSS: SALOME
Emily Magee (soprano), Wolfgang Koch (baritone), Peter Bronder (tenor), Michaela Schuster (mezzo-soprano), Benjamin Bruns (tenor), Frankfurt Radio Symphony, Andrés Orozco-Estrada (conductor)
Pentatone PTC 5186 602 (Hybrid Essay CD)
11.01am – Reissues: Harriet Smith on Brilliant Classics Alkan Edition
ALKAN EDITION
CHARLES HENRI VALENTIN ALKAN: This Edition includes the major piano works: both cycles Studies in all the minor and major keys (Op. 39 and 35), the Grande Sonata, the Concerti da Camera, organ works and chamber music.
Various performers
Brilliant 95568 (13 CDs)
11.45am – Disc of the Week
DEBUSSY: SONATES & TRIO
CLAUDE DEBUSSY: Sonata for cello & piano in D minor; Syrinx for solo flute; Sonata for violin & piano in G minor; Sonata for flute, viola & harp; Trio for piano, violin & cello in G Major.
Renaud Capuçon (violin), Emmanuel Pahud (flute), Gérard Caussé (viola), Edgar Moreau (cello), Marie-Pierre Langlamet (harp), Bertrand Chamayou (piano)
Erato 0190295773960 (CD)