Main content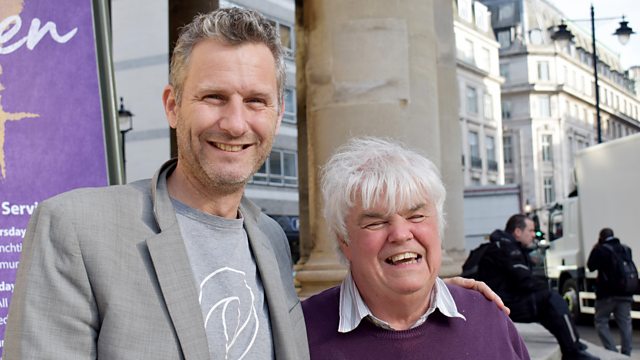 Adam Hills
Adam Hills tells jokes about disabled people for a living, so how will he fare when he comes face to face with blind presenter Peter White?
Peter White and Adam Hills explore the boundaries of humour and who can mock who. Adam sprang to fame with his series The Last Leg, which began life as an accompaniment to the 2012 Paralympics, but has now become a staple of Friday night viewing to round off the week's news.
In No Triumph No Tragedy Peter White, blind since birth, challenges Adam about the ethics of disability humour - its cruelty, its inconsistency - and asks what the rules really are. The two take an irreverent tour of the jokes you can and can't tell and just who can tell them.
Adam reveals how he even took humour to his father's death bed and says that it's the greatest way to cope with all that life throws at you. He grew up in Sydney and his parents were told not to treat him differently from his brother - he grew up thinking there was nothing he couldn't do:
"The problem with the word disabled, he says, is that it has so many negative connotations: "I don't think people who are disabled consider themselves disabled."
His shows are based on audience interaction and he loves the liberation of performing in this way. On stage he feels most closely that he's the person he wants to be: "When I'm performing it's the closest I get to the person I wish I was every day - positive, interested in people, nothing rattles me and in the moment I feel relaxed and happy."
No Triumph No Tragedy is a no holes bared interview with prominent disabled people and later in the series Peter meets up and coming politician Cyrus Habib, dubbed the man to watch by the Washington Post. Cyrus lost his eyesight to cancer when he was eight but has gone on to become America's first blind Lieutenant Governor.
His rise through the political ranks brings with it change to the way that Government runs. He controls who speaks in the Senate, which has now been kitted out so that lawmakers will push a button before jumping in - the list transmitting in braille to Cyrus, who can then call on them to speak in turn. He discusses the impact technology is having on improving the opportunities of disabled people in the workplace.