Main content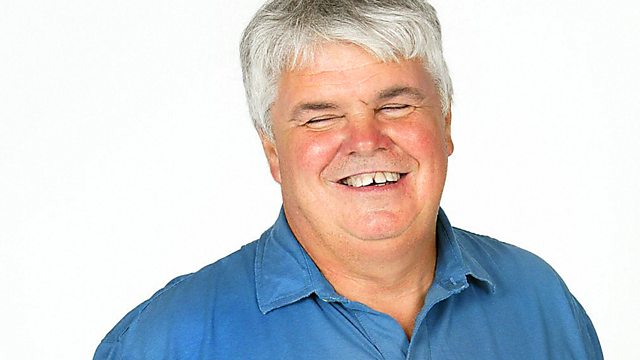 Christmas Presents
Peter White is joined by Red Szell, Chris McMillan and Joy Addo to talk about ideas for the best and the worst Christmas present suggestions for someone with little or no sight.
Peter White is joined in the studio by author Red Szell, keen cook Chris McMillan and blogger Joy Addo, to talk about their suggestions for the best and worst Christmas present for a person with little or no sight. One of the suggestions was to buy people an experience or tickets to an event, as this would also involve the gift of the giver's time.
Transcript
THIS TRANSCRIPT WAS TYPED FROM A RECORDING AND NOT COPIED FROM AN ORIGINAL SCRIPT.  BECAUSE OF THE RISK OF MISHEARING AND THE DIFFICULTY IN SOME CASES OF IDENTIFYING INDIVIDUAL SPEAKERS, THE BBC CANNOT VOUCH FOR ITS COMPLETE ACCURACY.
IN TOUCH – Christmas Presents
TX:  05.12.2017  2040-2100
PRESENTER:          PETER WHITE
PRODUCER:            CHERYL GABRIEL
White
Good evening, tonight we're hoping to help out with what can, at this time of year, be a bit of a worry for some people.  I'm talking about Christmas presents and Christmas shopping, both the giving and the receiving.  There's the issue of what actually makes an appropriate present, if you're buying for visually-impaired friends and relatives, but there's also the practical business of actually finding the stuff in the first place, and just how to navigate what's on offer when you can't see what's on the shelves. 
Well I'm joined by three people who for one night only will be known as Peter's little helpers.  They are blogger and mum Joy Addo, author and climber Red Szell and making a welcome return after a bit of an absence China enthusiast (that's the country, not the crockery) and grandmother Chris McMillan.  How long is it actually Chris?
McMillan
Oh since I was last on the show?  Was your anniversary one.
White
You were a questioner in the audience.
McMillan
I was indeed yes.
White
Well welcome back anyway.
McMillan
Thank you.
White
Let's start with just how we go about buying and choosing presents because this can be obviously the starting point for ideas.  Not so easy in a way just to go out with a blank mind and hope you'll spot something.  Joy, how do you go about it?
Addo
What I do first of all is think about the person that I'm buying for.  So whether they have a visual impairment or not I kind of think what do they like and then if they do happen to be blind then I kind of try and make it accessible.  If I think oh they might like this and I'm like okay how can I make this blind friendly.  Also what I do is I don't know how to type braille but I have friends that do, so what I'll do is I'll ask one friend to type another friend's Christmas card for me and vice versa, because I don't like to give people cards that they can't read.
White
That's a neat idea.  Right, that's just the sort of thing we're after.
Red, traditionally men are thought to be more haphazard about this process, if not downright lazy, and leaving it to their partners.  Now you've got the excuse of poor sight now, do you use it?
Szell
To an extent.  I tend to be more a buyer of practical presents, whether my friends and family are sighted or not.  So if it's a present for somebody who has lost their sight or is losing their sight then I tend to try and choose a present that will help them do something that they don't find so easy to do anymore, something that might help them read, something that might help them navigate round the house.  And yes I do relentlessly use my daughters, especially for helping me go out and actually buy the presents or shop for them online.
White
And I must plead guilty to that as well, I used my kids as soon as they could walk really and I'm still using them now and they're in their 40s.  What about you Chris?
McMillan
Well it's a mixture of all sorts of things.  I know my friends far better than I do my family.  So I have an idea, having been with them during the year or stayed with them, of something I might buy for them.  I would look it up online from the shops that I use to get an – to see it and then go to the shop and physically buy it, rather than online.  If I have to order it and pick it up in the store I will.
White
So you want to handle it?
McMillan
Yes I must handle things.  When you get to our age sometimes it's better to use a voucher because then the people that you're giving them to can fill in the things that they really want, particularly if you're going to send them through the post now.
White
Okay, we've established a few ground rules.  So let's get on to concrete suggestions.  Chris, I know you're a keen cook, so stuff for the kitchen maybe?
McMillan
Well my very, very best present of all I have had 41 years.  It was a wedding present.  We now use it every single day, sometimes twice.  It is a salad spinner.  I didn't bring it because it's a bit bulky, it's lightweight, put it all together, put your green leaf vegetables, ignore the fact it says salad, they still call it a salad spinner…
White
So why is it so good for visually-impaired people?
McMillan
Well what you do you put the lid on, you spin it and it's a manual task and when you hear it going up and you can't twirl it round anymore you take your hand off and it winds down and when you take it out your green vegetables are as dry as anything.  It's a lot better than patting them dry with a tea towel or a paper towel.
White
Right and things don't kind of get lost presumably, everything is contained…
McMillan
No that's right and then you just lift the colander out and bob's your uncle.
White
You said it was 41 years ago, are they hard to find?
McMillan
No, they are now very popular.  I'm just surprised that ours is still going.  It seems to be indestructible.  The cheapest ones are sort of clear but if you want and need colour contrast look more for the branded goods because a lot of them have very bright green on it somewhere or in it somewhere, makes it stand out a lot easier in your kitchen.
White
And just to reassure people we will have some additional information about the products we mention and where appropriate prices.  Any other favourite culinary things?  Joy, are you into the cookery stuff?
Addo
Not really.
White
Not really.
Addo
So I'm very keen on giving people not just what they need but also what they want.  I think when you're giving a present it's kind of like you want to put a smile on their face and you want them to enjoy what you're giving them.  So a lot of the time I get friends like perfume and earrings and jewellery, things like that.
White
Have you brought some?
Addo
Yeah I've brought a perfume along, it was given to me as a gift actually.  It's a Mariah Carey perfume and it's really nice and also my sister gets me lots of jewellery for Christmas all the time.  And that's cheap and cheerful really, you can get that from anywhere.  I like big hoop earrings, I've brought some along with me. 
White
Shall we pass them round?  Hang on.
Szell
Here you go Peter.
White
That's very exciting, oh they're quite big aren't they.
Szell
I think these would probably suit you.
Addo
You can try them on Peter.
White
It's like pass the parcel here.  Yeah they are quite big.  I always worry about jewellery because it's really quite hard to visualise.  I mean clearly if you know somebody really well you know the kind of things but it is quite a risky business isn't it?
Addo
No not really, you can't really go too wrong with jewellery.  I mean you should probably – you'll know what kind of jewellery that person likes anyway, if they're a friend or a family member, if they like small studs then get them some small studs.  I think it's really handy.
White
What do you think Chris?
McMillan
Yeah they're too big and clunky for me.
Addo
Yeah but I think I'm looking at my friends who are in their 20s, 30s…
White
Yeah we're old.
Addo
…and I know that – I know that it's the kind of thing that they would like.
White
Now Red I think you've been shopping in the RNIB shop haven't you?
Szell
I have, the best thing I've bought for a long time for myself and I hope my brother's not listening because he will be getting one too.  It's a USB stick Sovereign Sonic Player, so basically you plug a USB stick into it, turn it on and it will play your…
Sovereign Sonic Player
This is an RNIB talking book.
Szell
…talking books.
Sovereign Sonic Player
A study in Scarlett by Sir Arthur Conan Doyle.
Szell
It's about the size of a glass's case, it's got a big chunky button on the front of it which is pretty idiot proof and it's got very few buttons to control it, all of which I believe are in bright yellow.
White
Is it specifically for RNIB audio books?
Szell
No I plugged a USB stick in that had a load of music on it and it played that quite happily as well and it's very portable.  I'll pass it round if anybody's interested.
White
Yeah pass it to me but while you're doing it – because it's interesting, there are now such a range of audio books and some of them are from organisations like RNIB and from Calibre but there are a lot of commercial ones.  I'm just wondering Chris do you use audio books and which ones do you use?
McMillan
I don't use audio at all Peter.
White
Do you not?
McMillan
No, I'm very much addicted to print and I use a Kindle these days.
White
Right and you can enlarge that satisfactorily for yourself?
McMillan
Yes, it's much easier than holding any type of book up to your nose, particularly when it's a book of four or five hundred pages with very tiny print.
White
On this business of audio I'd just like to throw my own five eggs in here because I think one really good present would be to suggest use of the RNIB's talking newspaper service because it offers digital versions of just about every national and many regional newspapers plus a large number of magazines all for an annual subscription – and that's where the present idea comes in – of just 40 quid, 39 quid.  You can get them from their website but if you're not so hot at going online, which we're trying to remember that some people don't go online and don't find that easy to handle, but can handle a laptop then they can have them emailed directly to you as well.
And Red, you went to the RNIB shop, I'm just interested to know what you felt about the range of stuff?
Szell
There's a really good range, there are visually-impaired people there who will walk you round and let you play with the samples that they've got out on show.  And actually it was a really pleasurable hour that I spent there just poking round stuff that is there to help us.  And in many cases actually very thoughtfully and well designed.
White
I thought it might be interesting to explore unwelcome gift ideas, the kind of things that you really wish – that weren't very appropriate for you as a blind person or just weren't appropriate at all.  Chris, what would you prefer not to receive this Christmas?
McMillan
The phrase one size fits all fills me with horror because one size does not fit me.  And into this category comes something that was bees knees four or five years ago, the dressing gown that you could wear like a blanket, sometimes known…
White
Oh sort of onesie type thing but it wasn't a onesie was it?
McMillan
Yeah it wasn't a onesie.  No…
White
I know the thing you mean yeah.
McMillan
They quite often were sold as a slanket, so I think it was a sort of sloppy blanket.  But unfortunately on me there was about three foot at the bottom where I would have fallen over.  So I had to pick it up and carry it.  So I had to abandon that and I use it just as a blanket these days.
White
Didn't you – you also had some cookery thing that was a bit of a disaster didn't you?
McMillan
Yes the mandolin, which was last year or this year's must have device.  It was too small, it was too sharp.  I was absolutely petrified to use it in case I cut my fingers.  My husband used it once and that was it, never again.
White
Right, so not the musical mandolin?
McMillan
No, no.
White
Which might have been more useful to you probably.
McMillan
It would certainly have been a better idea.
White
And Red?
Szell
I love cooking, I loathe getting cookery books, partly because they have lots of pictures that I can't see and partly because they are so randomly laid out that you spend most of the time, more than the preparation time, looking for step two of the recipe and it just drives me round the twist.  So no more cookery books please.
White
Right, now Chris because you are a cookery fan have you got a view on that or an answer to Red's aversion?
McMillan
I would go with the Kindle, which is what we do now.  We don't buy many recipe books but if we do we get them on Kindle because although my husband doesn't use cookery books, except for just checking on the cooking times perhaps, I use a cookery book all the time and it's very easy to get the pages mucky.  It's either that or you write – you type them out, which is more likely now, type them out and print them and we've laminated them in the past, particularly for things like bread making.
White
Right.  I'm not going to ask Joy about this because she said she wasn't particularly keen on kitchen stuff, so I'm not going to do it.  Amongst bête noire presents I must admit two things really.  I got a braille scrabble set and I must admit scrabble fills me with horror.  It's one of those things that people made you play as a child to keep you quiet.  When the adults were getting drunk after Christmas dinner they said why don't you go and play scrabble.  And I got this braille set and I didn't like that.  And I also – I'm slightly averse to smelly things because it seems to fit into that image that blind people – that we must all go around – it's like scented gardens – we must all go around sniffing things.  But you're quite keen on perfumes aren't you Joy?
Addo
I'm keen on perfumes but what I really wouldn't want to get as a present is like you know you can get those like bath sets and they're like – and it has like the little fizz bomb that you put in the bath, and it can come with like a hand cream and a body lotion and you can get them from like Boots – and I find it really just like not a very personalised thing to get someone.  I feel like that's like last minute dot com, she's a girl what can – I'll get her a girl's one or he's a boy I'll get him a men's one.  And it's just like – no, there's no thought in that.
White
Now one of the things which is often said to us by visually-impaired listeners is that it's – life is not just about gadgets and equipment, it's about people and experiences and often what they want is more people, more experiences.  So I'm thinking about maybe offering something such as perhaps a trip somewhere?  Someone might not have had the confidence to go on on their own.  So suggestions, because I think Joy that was another idea that you quite liked the idea of – an experience rather than a thing.
Addo
Yeah definitely, an experience is always really good.  And there's so many different things you can do.  A friend of mine actually went and did a driving experience.  He used to drive before he lost his sight and obviously he can't drive now and his partner took him for a driving experience and he really, really enjoyed it and I think that could be something that's really fun.  And as I said before as well if someone likes music maybe get them tickets to go to their favourite artist's concert, is a really good idea – gets them out of the house, gets them doing something, it's something you can enjoy together or they can take someone else if they want.
White
Have you got one in mind, I think, for yourself?
Addo
Beyonce, Stormsy, Mariah Carey.
White
So a bit of a hint…
Addo
…if anyone's listening.
White
A bit of hinting here from Joy.  Red, the experiential idea?
Szell
Yeah actually a couple of years ago my wife bought me membership of the local theatre and that means actually we've had a few really nice evenings out together watching visual entertainment that doesn't have jump cuts in it, like the TV does.  So that's been really fun.  And actually for maybe younger visually-impaired people or anybody who's sighted as well, I'd buy a book of tickets to your local bouldering wall, so you can find out whether you're any good at climbing without having to rope up and just climb a wall and fall on to a crash mat, it's really good fun.
White
Are there a lot of these climbing walls around then?
Szell
All over the place.
White
Really?
Szell
Every town in England has one now I would say, if it's over a certain size.  They're springing up all over the place.  And they're a great place to meet other people, do some fun exercise which makes you focus on your physicality without necessarily your level of sight.
White
There are gentler versions of this aren't there, couldn't you join a rambling club or something like that?
Szell
One could, it's kind of not for me.
White
Okay.  And Chris, on this idea of experiencing, any thoughts on that yourself?
McMillan
We have had some very good ones, we've also had some terrible experiences.  So mixed bag.  I'd say do your research extremely carefully.
White
I guess the other important thing is you really have to be certain that it's something that – if you're giving the present – it's something a person really is going to want.
McMillan
Yeah well that was the actual thing.  I'd probably be inclined to say if it's something you can experience yourself first or you know the venue you might be more confident than something out of the blue. 
White
Okay.  I haven't asked you – favourite gift or best gift?
McMillan
A China table setting, containing everything from plates, saucers, cups, chopstick rests, little soy sauce jugs and much more besides.
White
Now Red I gather you brought a present in for someone.
Szell
I have indeed Peter.  These are for you and I hope they're the first ones that you've had this festive season.
White
Well they are because I haven't had anything this festive season as yet.
Szell
There you go.
White
Oh, ah, it feels like socks.
Szell
They are fantastic tactile socks.  If you reach round the top you'll feel that they've kind of got a ridge running round the top which none of my other pairs of socks have.  So when I'm sorting them out from the tumble dryer I know that they're a pair, unlike all the other sort of generic socks where I have to wait for one of the other members of my family to have five minutes to sort through them, I can actually be empowered in my laundry.
White
Well thank you, thanks for the socks Red, as opposed to the red socks.  Joy, I gather you also had some thoughts about socks didn't you?
Addo
Yeah, everyone loves socks but I think tactile socks – interesting – or Red you could do what Tom said a few weeks ago…
White
That was Tom Skelton wasn't it?
Addo
Yeah, just get black socks, you can't go wrong with black socks.  And if you lose one you'd pair them with another black sock, it's fine, it's great.  Stock up – black socks.
Szell
I will accept any socks for Christmas because I have to.
White
Well that was truly a little bit of Joy at Christmas, not to mention a little bit of Red and a little bit of Chris.  There were be details about some of the suggestions that we've come up with on our website and prices where appropriate.  And that's just about it from us.  From Red Szell, from Joy Addo, Chris McMillan, me – Peter White – producer, Cheryl Gabriel, not to mention the team, goodbye and good hunting.