Main content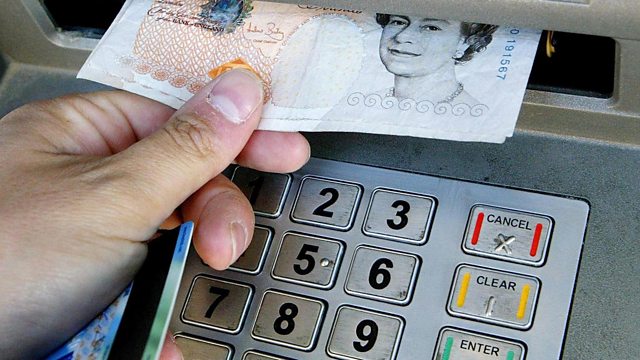 What's next for free cash machines?
The latest news from the world of personal finance. What next for free cash machines, bank closures, and the Equifax cyberattack.
The future of ATMs is under scrutiny. Will changes proposed by LINK, the UK's largest cash machine network which includes banks, building societies and independent operators, lead to hundreds of independently-owned machines disappearing? John Howells, Chief Executive of LINK and Ron Delnevo, Director of the ATM Industry Association discuss.
This week Royal Bank of Scotland, Lloyds and Yorkshire Building Society Group all announced plans to close branches. RBS is closing 259 branches, 49 are going at Lloyds and 13 at Yorkshire Building Society.
Puzzled listeners have been contacting Money Box. They've received a letter from the credit reference agency Equifax warning them that their name, telephone number and date of birth data had been hacked in a cyberattack which targeted the company's US systems in May. They say they're confused because they're not Equifax customers and they'd never knowingly used its services. Guests: Emily Orton, Chief Marketing Office of the cyber security firm Darktrace and Nicola Fulford, Head of Data Protection and Privacy for the technology and digital media law firm Kemp Little.
Reporter Tony Bonsignore has an update on the case of pensioners Naresh and Madhu Shah, the couple who lost nearly £200,000 to a fraudster.
Presenter: Paul Lewis
Producer: Charmaine Cozier
Editor: Andrew Smith.