Main content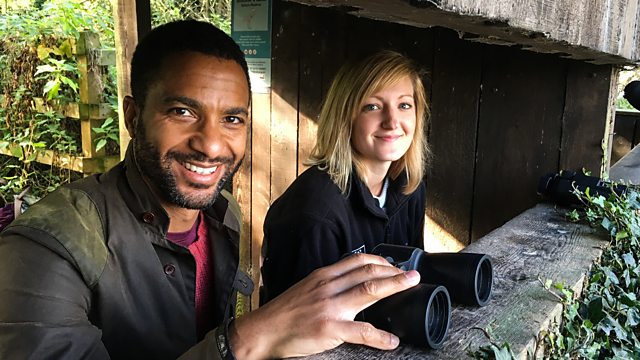 Hertfordshire
Countryfile is in Hertfordshire, where Charlotte Smith meets the man who's made it his sole mission to save the barbel in the Old River Lea.
Countryfile is in Hertfordshire, where Charlotte Smith meets the man who's made it his sole mission to save the barbel in the Old River Lea. Sean Fletcher builds a home fit for a Kingfisher and forages for a wild dinner. John Craven returns to his days as a scout and cooks up a storm on a woodland fire. And Adam Henson discovers the estate where rewilding and farming sit side-by-side.
Now in its fifth year, what effect is culling badgers actually having on rates of TB in our cattle? Tom Heap's looking at the science behind this controversial practice.
The Old River Lea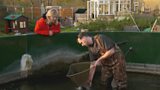 The River Lea, bordering Hertfordshire is a popular river with anglers, all keen on catching Barbel, a fish prized for its strength and stamina. But the River Lea is one of London's largest rivers, set in a historically industrial landscape it's seen considerable change. Charlotte Smith meets Andy Tregdett whose family have lived and managed the fishery at King's Weir for forty years and Andy has made it his mission to ensure there is successful barbell fishing on the River Lea for the next generation. 
The Badger Cull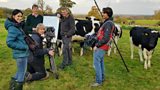 Tom's looking at the latest science analysing the controversial badger cull that's been government policy for the last four years in an attempt to stop the spread of bovine TB in cattle. The report shows that incidents of TB have fallen in two cull zones, but as Tom finds out, it might be too early to trust the results and the fall could be down to something else.  
Kingfishers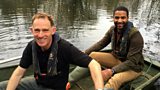 The kingfisher, with its unmistakable bright colours, could teach us a thing or two about fishing. At Stockers Lake nature reserve in Hertfordshire, a small team from the Herts & Middlesex Wildlife Trust have devised ingenious ways to encourage more to this area, by creating their very own kingfisher 'Grand Design'. Using traditional methods they are constructing their very own Kingfisher nesting bank. The task has been handed to Reserve officer Rob Hopkins and with the help of Sean Fletcher they'll put the finishing touches to this by using a 'Cobbing process'. There's a catch though, it's on an island, and you have to take a boat to get there.
Barbel Fishing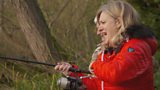 Charlotte gets a fishing lesson with angler, Phil Buckingham, a local character and founding member of the Barbel society who's been fishing the Lea for most of his life. Phil tells Charlotte of how he and his friends used to catch the train up from London on a Saturday night to get the best fishing spots for dawn on Sunday morning. Together Charlotte and Phil try to catch a barbell and end with up with something quite different in their net!  
Wild Pub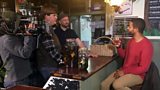 Sean Fletcher meets pub owner George Fredenham and head forager Richard Osmond who  have combined their passion of food and drink with a professional knowledge of wild and foraged foods to create a menu with a twist.  Sean joins them both on the local common, a hot spot for wild ingredients for the pub menu. Together they source the ingredients for a new batch of 'bitters', which they turn into a delicious cocktail back at the pub.
The Knepp Estate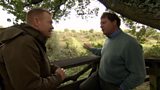 Back in 2000 the owners of the Knepp estate in West Sussex took the unusual decision to re-wild 3500 acres of unproductive farmland. Now nearly 20 years into the project nature has established a firm and profitable foothold.  Adam joins them on a safari to see how successful the project has been and to meet the animals that now pay the bills.  
Electric Fishing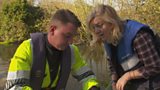 Charlotte meets George Horne and a team from the Environment Agency for a spot of electric fishing. George explains how barbel are an indicator species, demonstrating the health of the river, so their decline is serious. Electric fishing is done to help understand the health of the fish currently in the river. It allows the team to measure the fish and take scale samples to see how quickly the fish are growing before returning them to the water. Charlotte dons her waders to find out more.
Wild Baking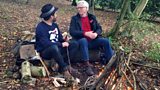 As winter approaches, it's easy to snuggle-up indoors, but for Tom Herbert, one half of the 'Fabulous Baker Brothers', it's the perfect time to get outdoors. In woodland in Gloucestershire John Craven meets Tom to discover why he's left the family baking business to return to nature.  He's now all about wild cooking and uses fire in all sorts of ingenious ways to create delicious seasonal food.  It's a feast for the eyes as well as the taste buds.
Tom's Beer Bread recipe
Makes: 1 large loaf

Takes: 45 minutes

Fire: a good bed of hot coals

Kit: big mixing bowl, wooden spoon, chopping board, Dutch oven or large skillet with a lid, tongs (or hunting knife)
for turning the bread over during baking, dough scraper, infrared thermometer
3 ½ cups flour, plus extra for dusting

Pinch (6g) of sea salt

1 heaped tsp baking powder

1 × 330ml bottle beer (something crafty), plus 1 for yourself while the loaf is baking
2 glugs oil
First, set your pan or Dutch oven to gently heat above the fire. Mix the dry ingredients together by hand in a large bowl.
In your bowl mix the beer into the dry ingredients until there are no dry lumps. The mixture should be very sticky and tacky but firm enough to stay in the bowl when turned upside-down. Think DIY crack filler.
Dust the chopping board generously with the dusting flour. Plop all the dough out onto the floured board. Flour your hands and flip the dough so it is dusted top and bottom with flour. Then cup the damp dough and round it into a pleasing shape. Cut the dough through with a cross (in honour of the traditional Irish soda bread): it'll also bake quicker and make 4 handy batched rolls. Carefully lift the dough into the hot pan or Dutch oven and put the lid on, adding some embers on top if you can (the pan should ideally be 210–230°C).
Bake for 15–20 minutes or until it has started to form a good golden crust that sounds hollow when tapped on the bottom. If black smoke wafts out (and you smell burnt toast), it is indeed starting to burn. If it has had less than 10 minutes, it's too hot and you should raise the pan and flip the loaf over.
Try foraging for these seasonal edibles and then add them to your bake: wild garlic, elderberries, blackberries, cobnuts, fennel seeds, samphire, sea purslane. 
Credits
| Role | Contributor |
| --- | --- |
| Presenter | Charlotte Smith |
| Presenter | Sean Fletcher |
| Presenter | John Craven |
| Presenter | Adam Henson |
| Presenter | Tom Heap |
| Series Editor | William Lyons |
| Series Producer | Joanna Brame |