Main content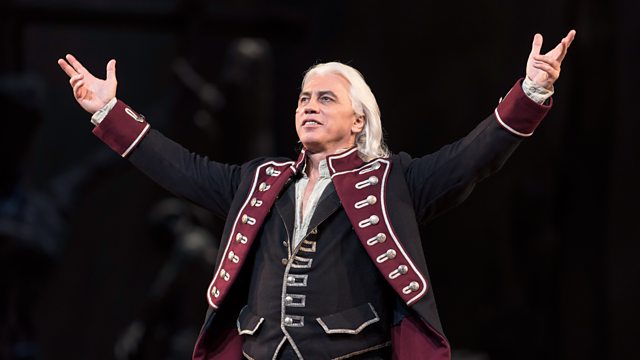 Dmitri Hvorostovsky, Unity Spencer, Lewis Golden OBE, John Butler, Joy Lofthouse
Obituary series. Matthew Bannister on singer Dmitri Hvorostovsky, businessman Lewis Golden, painter Unity Spencer, piano tuner John Butler and pilot Joy Lofthouse.
(Photo: Russian baritone Dmitri Hvorostovsky)
Matthew Bannister on
The Russian baritone Dmitri Hvorostovsky, known for playing leading operatic roles - and for his silver hair and matinee idol looks.
Unity Spencer who overcame a dysfunctional upbringing as the daughter of the painter Stanley Spencer to be recognised as an accomplished artist in her own right.
Lewis Golden, the war veteran who set up the successful Everest Double Glazing business.
John Butler - piano tuner to stars like Oscar Peterson, Sammy Davis Junior and Frank Sinatra.
And Joy Lofthouse, one of the last surviving female pilots who delivered Spitfires to their airbases during the war.
Dmitri Hvorostovsky
Last Word spoke to classical music critic Norman Lebrecht, and Antonio Pappano, Music Director of The Royal Opera.
Born 16 October 1962; died 22 November 2017, aged 55.
Unity Spencer
Last Word spoke to her son John Spencer.
Born 24 May 1930; died 18 October 2017, aged 87.
Lewis Golden OBE, JP, FCA
Last Word spoke to his daughter, Deborah Golden.
Born 6 December 1922; died 27 October 2017, aged 94.
John Butler
Last Word spoke to musician and former Private Eye cartoonist Barry Fantoni.
Born 9 April 1936; died 8 November 2017, aged 81.
Joy Lofthouse
Born 14 February 1923; died 15 November 2017, aged 94.
Credits
| Role | Contributor |
| --- | --- |
| Presenter | Matthew Bannister |
| Interviewed Guest | Barry Fantoni |
| Interviewed Guest | Deborah Golden |
| Interviewed Guest | Norman Lebrecht |
| Interviewed Guest | John Spencer |
| Interviewed Guest | Antonio Pappano |