Main content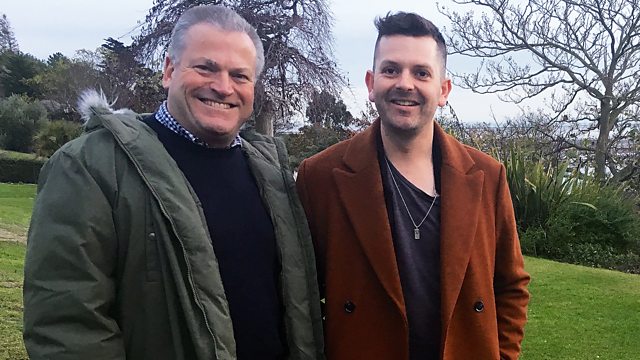 Lancaster
Eric Robson and his panel of experts are in Lancaster to answer listeners' horticultural questions.
Eric Robson and the panel are in Lancaster. Bunny Guinness, Anne Swithinbank and Matthew Wilson answer this week's questions.
The experts offer their advice on cutting tall hedges and pruning an encroaching Itea Ilicifolia, and they suggest plants for a very small pond. They also come up with plant ideas for a garden with a shallow top soil and discuss managing a small concrete yard with very little sunlight.
Matt Biggs chats to Lee Connolly - aka the Skinny Jeans Gardener - about ways of getting children hooked on horticulture.
Produced by Hannah Newton
Assistant Producer: Hester Cant
A Somethin' Else production for BBC Radio 4.
Fact Sheet
Q – How should I cut a very tall hedge? (15ft (4.5m) Leylandii)
Matthew – I had a similar hedge and I had to get tree surgeons in to do it safely. 
Bunny – I use a tripod ladder because they're much more stable.  Then I use an electric hedge trimmer.  That helps me feel secure.  Or I get a tree surgeon.
Q – I have a twenty-year-old Itea ilicifolia on a south-facing wall.  Last year it was covered in beautiful racemes but this year not so much.  When should I prune it?
Matthew – It's a beautiful thing.  You might think it's a Garrya elliptica from a distance but it has lovely mid-green, soft, serrated foliage.  The catkins are an acid green.  It produces on wood formed after flowering so prune it immediately after flowering.
Anne – You need to wait until it has flowered next year and then prune
Q – In our small urban garden I have dug a pond (1m x 1.5m and 40cm deep (3ft x 5ft and 15inches).  What can I plant in and around the pond please?
Anne – Japanese Water Iris (Iris ensata).  Marsh Marigold (Caltha palustris).  The Iris would be good for dragonfly larvae too.
Bunny – Small water lilies.   Get some air movement in there. 
Q – Prairie planting seems to be fashionable at the moment and we're told not to cut back in the autumn.  With our Lancaster weather is this true?
Matthew – We now seem to have gone from 'cut everything back' to 'don't cut everything back'.  I think do both; only cut back what needs it.  I have clumps of Miscanthus that look amazing but I also have Molinia 'Skyracer' that collapses and needs tidying away.  Leaving things standing is a good thing for wildlife. 
Anne – I bought Teucrium hircanicum 'The Iranian Wild Sage' specifically for its seed heads that you can scatter in the winter and look great
Bunny – I like to take things down when they're messy but otherwise leave it
Q – We have four inches (10cm) of topsoil and then at least six inches (15cm) of reinforced concrete.  What shrubs and trees can you recommend?  It's 0.3 acres (1200sqm) in size.
Matthew – If you go to Chapel Style near here, go to the quarry, you'll see what trees might do well in those conditions.  Silver Birches, Rowans, shrubs like Bilberry, Heaths.  They'll never reach their full potential in size though.
Eric – Hawthorns
Matthew – Yes, the native Crataegus monogyna, but also North American the Crataegus pedicellata, the Crataegus persimilis 'prunifolia'.  Try and make pockets in the concrete.  Use a mini digger rather than a Kango.  Four inches of topsoil won't provide for much.
Anne – Buddleja would find the cracks in the concrete.  Lavatera 'Alba'.  Verbena bonariensis, Evening Primrose, Lychnis coronaria, South African Gazanias for the summer. 
Bunny – Get big baseless pots for trees.  Do veg in raised beds.
Matthew – Visit places that have succeeded in this like Ninfa in Italy or Lowther Castle.
Correspondence –
Variegated Sedum
Monstera
Q – I live at a small housing development for the over-55s and we have five raised flower beds, which shrubs and perennials can you recommend for foliage and colour?
Anne – Cistus, Lavender.  Abelia 'Francis Mason'.  There are small evergreens to cover you through autumn/winter like Pittosporums, Euonymous. 
Matthew – Daphne bholua 'Jacqueline Postill'.  Winter Sweet (Chimonanthus praecox).  Osmanthus delavayi and Osmanthus heterophyllus. 
Bunny – Put some small standards in there like Lilacs.  Salvia 'Amistad'.  Helleborus 'Anna's Red'
Q – Lancaster has a lot of terraced housing with concrete back yards.  What would you recommend for a north-facing yard that stores wheelie bins?
Anne – You'd need containers or raised beds.  Climbers up the walls would be good.  Honeysuckles, some roses, Japenese Quinces (Chaenomeles)
Matthew – Make a wheelie bin den to hide them and then you can give it a green roof.  Use plants that have volume like Choisya ternata