Main content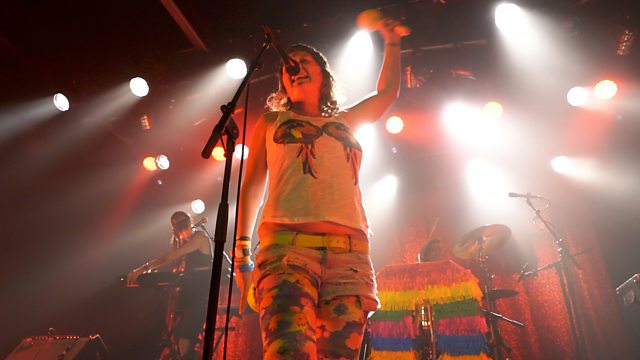 Cumbia
Artists at the forefront of Latin America's protest art movement discuss the revival of Cumbia music in Peru and Argentina.
Latin America's protest and socially conscious art. A continent-wide commitment by many artists to social activism makes Latin America not just one of the most diverse art scenes in the world - but also one of the most compelling, with music, visual arts and street art calling out injustice, often in the face of discrimination, oppression and impunity.
The third programme in the series explores the pan-Latin music genre Cumbia. Popular with the working class, the genre was largely rejected by middle-upper class society. Now a cumbia revival is prompting widespread enjoyment of Latin America's quintessential party music - but can it heal social divisions?
Cumbia styles like Peruvian cumbia chicha and Argentinian cumbia villera explicitly voice the daily lives and struggles of the poor. Chicha legend Pascualillo says chicha is "a total identity". DJ Diego Hernandez notes that chicha's popularity has accompanied increasing tolerance between ethnicities and classes in Lima.
Despite Cumbia's growing popularity, new bands from the villas (akin to Brazilian favelas) still face hostility. Singer Ivan Brasil states, "I was talking with our mayor, and I said I have my cumbia band and I want to play in a plaza and he said 'cumbia - no, it will bring a lot of vagrancy'".
Cumbia's rebellious and infectious rhythm has also been drawn on by Tropipunk band Kumbia Queers. Singer Juana Chang (pictured) says they use their music "to say something without losing the joy and purpose - which is to bring people together". Fellow Argentinian Miss Bolivia wants to "re-appropriate cumbia to let some alternative contents appear" to counter the misogyny that she believes has infected the genre's lyrics.
Is the increasing popularity of cumbia raising awareness of social issues? Or is it simply Latin America's best loved party soundtrack?
Producers: Louise Morris, Andrew McGibbon
Peruvian Dubber: Kieffer Santander
Argentinian Dubber: Guillermo Fiallo Montero
Film Editor: Nick Romero
Field Broadcast Assistant: Annie-Rose Harrison-Dunn
Executive Producer: Sarah Cuddon
A Curtains for Radio production for BBC Radio 4.