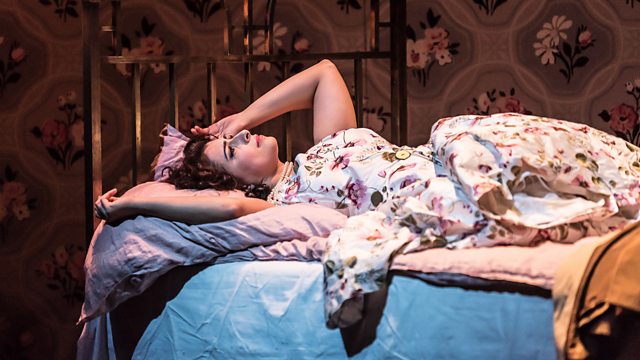 Thursday - Opera matinee: Jacopo Foroni's Margherita
Tom McKinney presents Jacopo Foroni's Margherita, recorded at Wexford Festival Opera.
Tom McKinney presents Jacopo Foroni's Margherita, recorded at Wexford Festival Opera. Wexford uncovers another rarity - Foroni was a 19th-century Italian composer who spent most of his working life in Sweden, and he tragically died of cholera aged 33. Margherita is a comedy set in the mountains, where Margherita, a pretty, rich orphan girl, is in love with the soldier Ernesto but is pestered with proposals of marriage by the well-connected Roberto.
Foroni: Margherita
Conte Rodolfo ..... Yuriy Yurchuk (baritone)
Ser Matteo ..... Matteo d'Apolito (baritone)
Margherita ..... Alessandra Volpe (mezzo-soprano)
Ernesto ..... Andrew Stenson (tenor)
Giustina ..... Giuliana Gianfaldoni (soprano)
Roberto ..... Filippo Fontana (baritone)
Gasparo ..... Ji Hyun Kim (tenor)
Chorus and Orchestra of Wexford Festival Opera
Timothy Myers (conductor)
Plus more from the Prague Spring Festival as part of this week celebrating 50 years of the European Broadcasting Union's music exchange - a swapping service between European broadcasters.
Ethel Smyth - Concerto for violin, horn and orchestra
Jan Mrácek (violin),
Radek Baborák (horn),
Prague Symphony Orchestra,
Conductor Jonathon Heyward.
Image © Wexford Festival Opera, Photo by Clive Barda
Synopsis
ACT 1

Ser Matteo has just become podestà (mayor) of the little village. A choir comes to celebrate him, but he confesses aside that he is a lazy person and has no intention of doing any work in his new role. His nephew Roberto enters, and tells his uncle that he plans to marry Margherita, who is an orphan, the prettiest girl in the village and also the richest. It becomes clear that Roberto's interest is purely financial: he is heavily indebted.
They go to seek Margherita, propose to her but get the answer that she is in love with the soldier Ernesto. While they are talking, Ernesto's sister Giustina enters and tells them that Ernesto's regiment has just arrived. Ernesto and Margherita meet and decide to marry the next day, Giustina leaves to get the notaio, but just then the colonel of Ernesto's regiment, Conte Rodolfo, arrives. Margherita has given Ernesto a ribbon as a love token, which he has attached to his cap. Conte Rodolfo needs Ernesto's help as he has been involved in a duel because of the girl he loves. His own general is his rival. Ernesto is to wait for the count in a wagon, to help him escape after the duel. Ernesto follows the count, losing his cap in the process, while Margherita expresses her worries. Roberto picks up the cap, together with his friend Gasparo.
Giustina returns, very upset, and reports that she has seen a man being attacked by two other men in the forest. She does not know if he has been killed, but she has found a cap on the spot – Ernesto's cap with Margherita's ribbon.
ACT 2             
Ser Matteo promises to find and punish the culprit. The cap is passed around, but nobody recognises it. Suddenly Ernesto returns, worried because the count did not turn up at their meeting point. Matteo asks him about the cap, which he unsuspectingly acknowledges as his. He is immediately arrested and thrown into prison. Margherita comes to talk to the podestà, but meets Roberto instead. She implores him to help Ernesto, but he refuses. She offers him everything she possesses, but he wants only one thing: her hand in marriage. Finally, she gives in to save Ernesto and signs a marriage contract. Coming home, she meets Giustina, tells her about her act to save Ernesto and hands over her engagement ring.
The count reappears, telling the audience that his rival, the general, instead of punishing him for his love of Matilda, has promised to help him with the marriage. He meets Giustina and is informed about Ernesto's misfortune.
In the prison, Ernesto claims his innocence. Suddenly the count, Giustina and Margherita enter. Count Rodolfo explains that he was the man who was attacked, and that it was another man, not Ernesto, who attacked him. Ernesto is freed and wants to join Margherita, but gets the terrible information that she has signed a marriage contract with Roberto. He accuses her of infidelity, but Giustina tells him the true story about the contract. They are united. The count sets eyes on Roberto, and recognises him as the attacker. Roberto is carried off to prison, the contract is torn in pieces, and the count invites the couple to celebrate their wedding at his castle. The choir praises the strength of love. - WFO 2017