Main content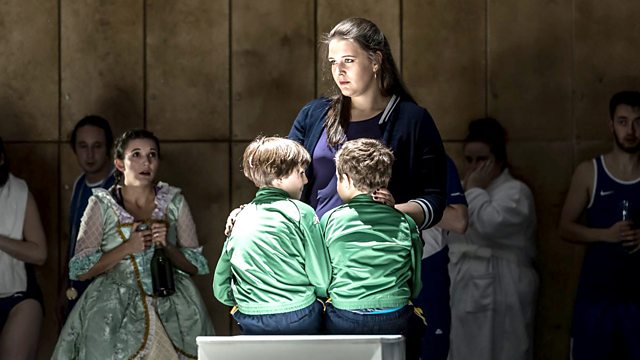 Cherubini's Medea from Wexford Festival Opera
Sean Rafferty introduces a new production by Fiona Shaw of Cherubini's Medea from Wexford Festival Opera, with soprano Lise Davidsen in the title role, conducted by Stephen Barlow.
Recorded at Wexford Festival Opera 2017, Sean Rafferty introduces a new production by Fiona Shaw of Luigi Cherubini's Medea with Lise Davidsen (soprano) in the title role and Sergey Romanovsky (tenor) as Jason.
Medea is a notorious figure from Greek mythology, a sorceress with blood on her hands. She has already killed her brother to help Jason, the legendary Argonaut, steal the Golden Fleece. Jason promised he would never leave her but, as the plot unfolds and the tension builds, it becomes all too apparent that Jason will not remain true to his word and the consequences are utterly horrifying. Medea is a drama of raw passion and brutal violence - the title role, made famous by Maria Callas, demands an exceptional voice as well as extraordinary dramatic talent.
Medea, first performed at the Théâtre Feydeau in Paris, 13 March 1797, is an opéra comique in three acts with libretto by François Benoit Hoffman (Italian version by Carlo Zangarini), based on Euripides' tragedy of Medea and Pierre Corneille's play Médée, and is sung in Italian.
During the interval Sean's guests include tonight's director, Fiona Shaw who has famously played the title role in Euripides' 'Medea' in the West End and on Broadway; tonight's conductor, Stephen Barlow; and the writer, Colm Tóibín, who hails from Co. Wexford and whose most recent novel deals with the psychology of Greek tragedy.
Medea ..... Lise Davidsen (soprano)
Glauce ..... Ruth Iniesta (soprano)
Neris ..... Raffaella Lupinacci (mezzo-soprano)
Jason ..... Sergey Romanovsky (tenor)
King Creon ..... Adam Lau (bass)
Chorus and Orchestra of Wexford Festival Opera
Stephen Barlow (conductor).
Synopsis
Years ago, Medea killed her brother to help Jason steal the Golden Fleece.
Jason promised he would never leave her.
ACT 1
Glauce's friends reassure her about the forthcoming wedding. Glauce knows all about Medea, and she's afraid of her. She prays to the gods to bless her union with Jason.
When Jason arrives in Corinth, Creon promises to protect both Jason and his children. Jason then presents Glauce with the Golden Fleece. That reminder of his past upsets her, and Jason comforts Glauce in a tender duet. It doesn't help, and Glauce's fears seem justified when Medea herself appears and denounces the pending marriage.
Creon promptly banishes Medea from the city, but she is allowed one chance to speak with Jason. He's moved when Medea reminds him that she's the mother of his children. But Jason is still determined to marry Glauce, and Medea vows that he'll regret his decision.
ACT 2
Medea is furious with Jason, who has refused to let her see their children. Her confidante Neris tells Medea that she should also beware of Creon, who wants her out of Corinth immediately.
Instead of leaving, Medea decides to confront Creon. She begs him for a little more time before she goes, so she can say goodbye to her children. Reluctantly, Creon agrees.
Neris sings a moving aria about her mistress's sad predicament, while Medea considers the situation. She knows that Jason has great affection for their sons and decides that his love for the children might be the key to getting back at him.
As the wedding festivities begin, Jason and Glauce go into the temple to pray, and Medea prays to the god of marriage to help her.
ACT 3
Medea decides to send Glauce some wedding presents: a diadem and veil which have been poisoned. Neris takes the children into the palace to present Medea's gifts to Glauce. Medea is left alone, and as she sings, we learn that she has another plan of vengeance against Jason. She intends to murder their children.
Neris reappears, leading the children out of the palace for their last visit with Medea. She tells Medea that Glauce has accepted the gifts – the plan has worked. Medea can barely look at the two boys, and lets Neris know that her revenge against Jason is not complete. Neris begs her not to harm the children, and Medea seems to relent.
A commotion is heard from inside the palace. Glauce is dead, her flesh melted by the poisoned diadem and veil. Jason emerges from the palace gates, grief-stricken, along with an angry crowd intent on seizing Medea. Jason searches for the children, but Medea has taken them.
As the crowd gathers and Jason prays for the safety of his sons, Medea appears. Desperately, Jason asks, 'where are my children?' Medea replies, 'They were your children.' She has killed the boys.