Main content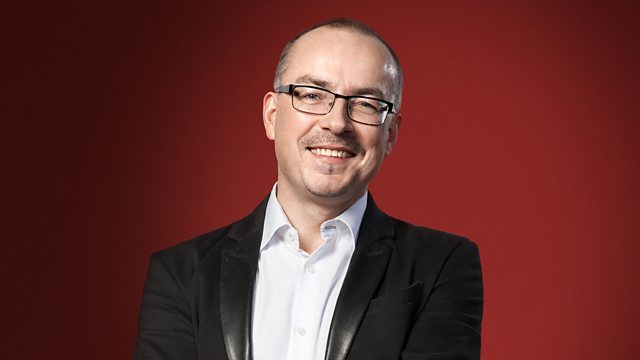 Andrew McGregor with Katy Hamilton and Alexandra Coghlan
Building a Library focuses on Brahms's 3rd String Quartet, with Katy Hamilton, plus Alexandra Coghlan reviews recent releases of Monteverdi and Croce. Andrew McGregor presents.
with Andrew McGregor
0930
Building a Library: Katy Hamilton explores Brahms's Third String Quartet in B flat major, Op 67. Brahms composed this quartet 1875 and dedicated it to a cellist friend, even though the cellist is the one instrument that doesn't get a prominent solo in the work. The work is composed in a lighter vein than we sometimes associate with Brahms's chamber works; he described it as "a useless trifle, to avoid facing the serious countenance of a symphony", by which he meant work on his First Symphony, which was premiered a week later.
1045
Andrew talks to Alexandra Coghlan about a new batch of choral discs including Monteverdi's Selva morale e spiritual, motets by Giovanni Croce, and madrigals by Cipriano de Rore.
1145
Andrew chooses an outstanding new release as his Disc of the Week.
Record Review
9.00am
GERSHWIN: ANIMA ETERNA BRUGGE
GEORGE GERSHWIN: Catfish Row; Summertime; By Strauss; An American In Paris; The Man I Love; My Man Is Gone Now; I Got Rhythm; Rhapsody in Blue
Claron McFadden (soprano), Bart van Caenegem (piano), Anima Eterna Brugge, Jos van Immerseel (conductor)
Alpha Classics ALPHA 289 (CD)
JOHANNES BRAHMS: AN ENGLISH REQUIEM
JOHANNES BRAHMS: Ein Deutsches Requiem, sung in English
Mary Bevan (soprano), Marcus Farnsworth (baritone), James Baillieu & Richard Uttley (piano), The Choir of King's College London, Joseph Fort (conductor)
DELPHIAN DCD34195 (CD)
AMANDA MAIER: VOLUME 2: VIOLIN SONATA, NINE PIECES FOR VIOLIN & PIANO, FOUR SONGS
AMANDA MAIER: Sonata for Violin & Piano in B minor; Nine Pieces for Violin & Piano; Four Songs; Bonus track: Johannes Brahms: Auf dem See (Op.106)
Cecilia Zilliacus (violin), Sabina Bisholt (soprano), Bengt Forsberg (piano)
dB Productions dBCD182 (CD)
VOX LUMINIS SINGS HANDEL & BACH
JOHANN SEBASTIAN BACH: Magnificat in D Major, BWV 243
GEORGE FRIDERIC HANDEL: Dixit Dominus, HWV 232
Vox Luminis (choir), Lionel Meunier (conductor)
Alpha Classics ALPHA 370 (CD)

9.30am – Building a Library
Composer: Brahms
Piece: String Quartet in B major op.67
Reviewer: Katy Hamilton
Recommended Recording:
Takács Quartet
DECCA 4756525 (CD)
Other Recommended Recordings:
Below is a shortlist of other recordings which Katy also liked, although we can't guarantee the availability of these discs.
Leon Fleisher (piano), Emerson String Quartet
DEUTSCHE GRAMMOPHON 477 6458 (CD)
Alban Berg Quartet
WARNER CLASSICS 7548292 (CD)
Smetana Quartet
TESTAMENT SBT1120 (CD)
10.20am – NEW RELEASES
TRIO ISIMSIZ: BRAHMS, TAKEMITSU, BEETHOVEN
JOHANNES BRAHMS: Piano Trio in C minor Op.101
TORU TAKEMITSU: Between Tides
LUDWIG VAN BEETHOVEN: 'Ghost' Piano Trio No.5 in D major Op.70/1
Pablo Hernán Benedí (violin), Michael Petrov (cello), Erdem Misirlioglu (piano)
RUBICON CLASSICS RCD 1013 (CD)
BERLINER PHILHARMONIKER: JOHN ADAMS
JOHN ADAMS: Harmonielehre; Short Ride in a Fast Machine; City Noir; Lollapalooza; Scheherazade; The Wound-Dresser; The Gospel According to the Other Mary
Berliner Philharmoniker, Gustavo Dudamel (conductor), Alan Gilbert (conductor), Kirill Petrenko (conductor), Sir Simon Rattle (conductor)
Berliner Philharmoniker Recordings BHPR 170141 (4CD + 2 Concert Video Blu-Ray Discs)
11.01am – NR: Alexandra Coghlan's Choral
GIOVANNI CROCE: MOTETTI & SACRAE CANTIONES
GIOVANNI CROCE:  Motetti à 8 voci, Book 1
GIOVANNI PICCHI: Canzoni Da Sonar
VINCENZO BELLAVERE: Toccata del primo tuono
GIOVANNI CROCE: Sacrae cantiones
GIOVANNI GABRIELI: Canzon III
ANDREA GABRIELI: Canzon ariosa
GIOVANNI GABRIELI: Canzon III (1596)
GIOSEFFO GUAMI: Canzon Settimadecima a 4
CLAUDIO MERULO: Toccate d'intavolatura d'organo, Book 2
Voces Suaves, Francesco Pedrini (conductor), Concerto Sirocco, Giulia Genini (conductor)
Arcana A439
CIPRIANO DE RORE: PORTRAIT OF THE ARTIST AS A STARVED DOG
L'ineffabil bontà del Redentore; Queste non son più lagrime; Non son io che pai' in viso; Era il bel viso suo qual'esser suole; Convien ch'ovunque sua sempre cortese; Come la notte ogni fiammella è viva; Alcun non puo saper da chi sia amato; L'inconstantia che seco han; La giustitia immortale; O morte eterno fin; Se ben il duol; Mia benigna fortuna; Beato mi direi
Poi che m'invita Amore; Dissimulare etiam sperasti; Se come il biondo crin de la mia Filli;
Mentre, lumi maggior
Graindelavoix, Bjorn Schmelzer (conductor)
Glossa GCD P32114 (CD)
DIXIT: CHORAL WORKS BY HANDEL & CALDARA
HANDEL: Dixit Dominus, HWV 232
CALDARA: Missa Dolorosa
CALDARA: Crucifixus a 16 voci
Balthasar-Neumann-Chor & Solisten, Balthasar-Neumann-Ensemble, Thomas Hengelbrock
Deutsche HM DHM 88697568682 (CD)
MONTEVERDI: SELVA MORALE E SPIRITUALE
CLAUDIO MONTEVERDI: Selva Morale e Spirituale SV 252-288
MONTEVERDI: Confitebor secondo SV 266
Balthasar-Neumann-Chor & Solisten, Balthasar-Neumann-Ensemble, Pablo Heras-Casado (conductor)
Harmonia Mundi HMM 902355 (CD)
PETERIS VASKS: LAUDATE DOMINUM
PETERIS VASKS: Da pacem, Domine; Mein Herr und mein Gott; Laudate Dominum; Prayer (Lord, open our eyes); The Fruits of Silence
Ilze Reine (organ), Latvian Radio Choir & Sinfonietta Riga, Sigvards Kļava (conductor)
Ondine ODE 13022 (CD)
JOHN TAVENER & ROXANNA PANUFNIK – 99 WORDS
JOHN TAVENER: Svyati; Look in thy glass; Threnos; Maha Maya
ROXANNA PANUFNIK: Heav'nly harmony; 99 Words to my darling children; The tablet of your heart
MATTHEW BARLEY: Improvisation on Tavener themes
Matthew Barley (cello), James Sherlock (organ), Simon Russell Beale (narrator), Voce Chamber Choir, Suzi Digby (conductor)
Signum SIGCD 519 (CD)
11.45am – Disc of the Week
BERLIOZ: LES TROYENS
Joyce DiDonato (Dido, soprano), Michael Spyres (Aeneas, tenor), Les Choeurs de l'Opéra du Rhin, Badischer Staatsopernchor, Chœur Philharmonique de Strasbourg, Orchestre Philharmonique de Strasbourg, John Nelson (conductor)
Erato 0190295762209 (4CD + DVD highlights)