Main content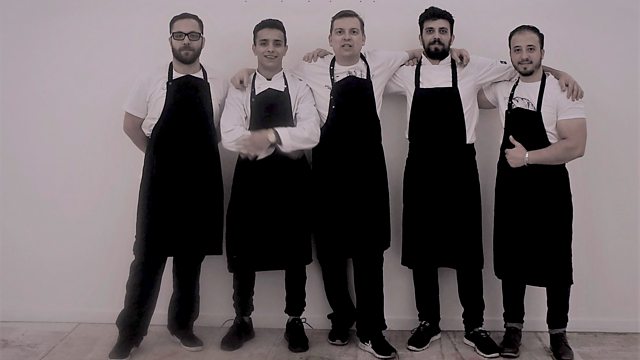 Food on the Edge (A Food Story Mix-Tape)
Dan Saladino is at Food On The Edge, a gathering of people with food stories to tell, from a Black Panther breakfast to a chef convinced her emotions could be tasted in her food.
Dan Saladino is at Food On The Edge, a gathering of people with food stories to tell; from a Black Panther breakfast to a chef convinced her emotions could be detected in her food.
Held in Galway, the west of Ireland each year chef JP McMahon invites fellow cooks, chefs and restaurateurs to take to a stage and for 15 minutes share a food story of experience. Over two days more than 40 different stories from countries as diverse as Japan, Italy, Bolivia and Australia are told.
Dan selects a handful of the stories that made an impact on him during his time at Food On The Edge.
The first story is of how a Syrian kitchen came to be set up in Amsterdam. Tens of thousand of Syrians arrived in the city during the peak of the recent refugee crisis. Among them was a photographer, fashion designer, fitness machine repair man and a lawyer. Together they ran a kitchen in the Salvation Army centre where they were being housed, aiming to feed their fellow refugees with food from home. After spotting an appeal for help on Facebook, Dutch chef Jurriaan Momberg visited the kitchen to see if he could help teach them to cook. What he discovered were some of the greatest culinary talents he'd encountered in his career. It led to the creation of a pop-up restaurant which caused a sensation in Amsterdam. But all good things comes to an end and in the programme Jurriaan explains why one day he walked into an empty kitchen.
Another story comes from Oakland California. It was there in 1966 that the radical political movement The Black Panthers were created in response to police violence against black communities. By 1969 what had first looked like a militia, promoting armed resistance, the organisation had also created a series of social programmes. The most successful of which was a breakfast programme set up to feed black children who were often going to school undernourished and hungry. Chef Saqib Keval of the People's Kitchen Collective, a group of cooks, historians and researchers who tell stories through food, explains why he's brought the free breakfasts back to California.
Meanwhile Chef Matt Orlando of the Copenhagen restaurant Amass reveals some of the kitchen experiments he's been undertaking to convert so called "waste food" and by-products into delicious meals. He explains the ingenious way flavours and nutrients inside used coffee grounds can be released to make a meal.
Irish chef Domini Kemp took to the stage to express her frustration of how, based on her own experience of cancer treatment, the medical profession neglect the power of food in conversations about prevention, recovery and long term health.
Finally, New York chef Elise Kornack tells the story of how a mental breakdown led her to become convinced that her own powerful emotions were being transferred through her cooking and onto her customers. Like a scene from the book and film, Like Water For Chocolate, she believed every mouthful of food she was serving would result in diners sensing what was unfolding in her troubled mind.
Produced and presented by Dan Saladino.
Additional recording in Oakland, California by Meradith Hoddinott.
Last on
Credits
| Role | Contributor |
| --- | --- |
| Presenter | Dan Saladino |
| Interviewed Guest | Jurriaan Momberg |
| Interviewed Guest | Saqib Keval |
| Interviewed Guest | Matt Orlando |
| Interviewed Guest | Domini Kemp |
| Interviewed Guest | Elise Kornack |
| Producer | Dan Saladino |
Broadcasts